A dispute of intellectual property rights that was initiated by a famous hair dye- Kanta is back in court with lawyers sighting possibilities of Rwandans suffering health consequences over purchasing products that have a similar label to the original one.
Kanta is an Indian family business that has been producing the hair dye since 1940 and the product first hit the Rwandan market and across the region in 1960's becoming a common product for most rural Rwandans seeking to dye their hair black.
Through local lawyers, the Indian investor has in the past years battled five separate court cases involving one Rwanda business-Dobusjes and others which have previously been accused of duplicating the Kanta product trademark on the local market with altered labels and trademark names.
For example, according to the plaintiff, the duplication of the trademark has been happening since 2012 with names that allegedly retain the original Kanta (with a slight change in the trademark). In 2012, the defendant is alleged to have introduced Kanfa and then Kanto in 2016 And of recent, he is said to have introduced Wild Olive, Smart Shine. 
The case resurfaced on Wednesday – March 6, in the Kigali commercial court with the CEO of Indian Kanta producing company (Minintco), Rahul Gulab Jham travelling from India to appear in court and present his argument.
Jham was accompanied by two Amilex chambers lawyers while the accused Dobusjes proprietor Fabiola Murakatete, was represented by three local lawyers in a case trial that took almost a full day.
The Indian plaintiff argued that Rwandans are ignorantly buying this product on the local market because most cannot read and differentiate the labels.
"This causes confusion for most Rwandans who cannot read and differentiate the products. Even if shop keeper says that there is an original and duplicate product available, most would go for the latter which is cheap but could have health consequences," Maitre Cyridion Nsengumuremyi told court.
Minitico accuses the Rwandan businesswoman, Murakatete for continuously changing  from one trademark to another but selling a product with trademark colours and design similar to the Indian made Kanta.
For example in 2012 she was allegedly nabbed with three cartons of Kanta branded hair dye imported from China and in a hand written letter she apologized saying she didn't know it was illegal and will not repeat the same mistake.
The plaintiffs claimed that they should be paid compensation for illegally using their patent rights in the trade mark but defendants argued that after 20 years of patent rights it gives an opening for anyone to replicate a product which was already invented.
The defendant lawyers agreed that it's true there is a similarity in products and trademark but argued that their clients is just an importer of made in China branded hair dye  thus should not be held responsible.
"It's like the phones on the market, we no longer invent phones as a new invention but different types and our client is just an importer of a Chinese product, but also has a right to compete equally on the hair dye market," Maitre Félix Mutalindwa said.
During the court hearing, Jham was agitated on hearing the responses and accused the defendants lawyers of playing with his family business which has taken ages to build a reputation in the region.
Jham said that his brand is a registered trademark with Rwanda Development Board and does not understand how one can make a similar brand and similar colors to confuse clients. He said this reduced Kanta imports from ten to five containers annually. 
"Our customers look at the colors. If I changed the color to green the same clients in Rwanda would not buy my Kanta and would not sell even 10 percent of products, because it a popular brand, and hard to differentiate if someone else uses my trademark" Jham said.
By placing boxes of the original Kanta inside a court shelf, and mingling them with boxes of Kanto, Jham demonstrated to court how difficult it would be for a Rwandan to differentiate the colors on the two kinds of brands.
Looking at the mixed boxes a meter away, they appeared almost the same- with each of them having the same red color on the left with a dark blue color crossing diagonally, except slight alteration in labels.
Jham's lawyers took the advantage to convince court over Dobusjesintent of manipulation of the local market in its operations and demanded Rwf30million in compensation and crack down on importing such products.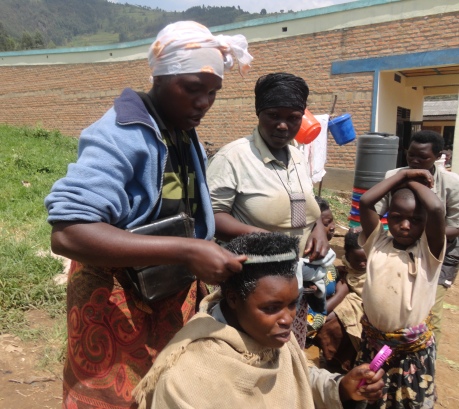 "How is it indeed possible for common citizen who cannot read be able to differentiate these brands and boxes if placed in a shop? How do you say that the Chinese are responsible for this…does that mean that if one sold drugs from Columbia, responsibility will be held on the source," Maître Safari Gahizi said.
But defendants said that the Indian wants to monopolize the market which has seen their client's products worth Rwf44million confiscated by an earlier court ruling.
Basing their argument on having a right to open market competition, the defendants asked court for damages worth over Rwf8.4million- as 20% interest on confiscated good for the last seven months.
The plaintiff watered down the argument saying it was baseless and non-evidence based and asked court to protect the rights of the investor by revisiting previous intellectual property rights case tried in Rwanda and outside.
The case ruling was set for March 25, 2019.