Rwanda has witnessed the inauguration of the first association of environment professionals adding to other existing careers-based organisations like in the media, medics, lawyers and business community in Rwanda.
The long awaited organization dubbed RAPEP- Rwanda Association of Professional Environmental Practitioners was launched this Monday March 18, 2019, in Kigali by the Minister of Environment, Dr. Vincent Biruta.
Its mission will be to coordinate and facilitate professional environmental practitioners' activities at the community and national levels, in order to enhance environmental management and empower sustainable development.
Its main objective will be formalization of an active and growing environmental profession which will advocate for and promote awareness of the importance of Environmental Assessment (EA) in Rwanda.
For one to become a member, this is possible in two categories. The first category being members who are licensed to conduct EA's- which includes lead experts, associate and junior experts and a firm of experts.
The second category includes members of the association who are not yet licensed to conduct EA's as per the law that established RAPEP.
The association was established in 2016 by the government under Law No 36/2016 of 08/09/2016, to manage the practice of environmental assessment and the quality of Environmental Impact Assessments (EIAs) in both public and private environment interests.
However, both categories are entitled to the same voting rights, after registration on the www.rapep.org.rw website.
The RAPEP chairman, Egide Nkuranga said that the association has been around but its official activities including making project proposals that will impact on the environment were not able to start in the past three years.
"We will need to lay a three year strategic plan this year and also write several proposals which will need assistance of the ministry, but we are committed to work with all in order to contribute to the beauty of Rwanda," Nkuranga said.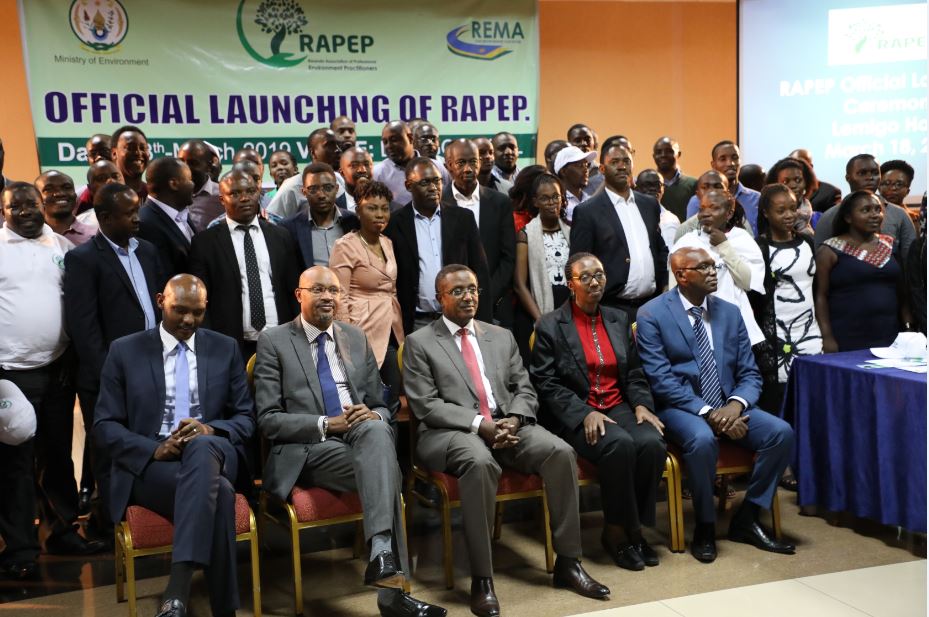 The Director General of Rwanda Environment Management Authority (REMA) Coletta Ruhamya said: "It's time to be recognized locally and have an impact in the country, where they recently been looking for environment assessors and no one was available, now that you are organized that should happen easily before we move to the region."
While the Environment Minister, Dr. Vincent Biruta said that this association should be a key player in boosting the green agenda 2050.
"I hope that you will use this as a platform to work and agree on ways in which you can enable the country to attain these goals. In case of any disagreements the association laws will be a way of reminding members of their goals," Biruta said.
Currently Rwanda has witnessed introduction of recycling e-waste, mobility solutions, no plastic initiative in public offices, a study on air pollution, and millions of trees planted every years at school and community levels.