Rwanda's protocol teams, the hospitality industry players are working hard to offer the warmest welcome to the business class arriving in hundreds in Rwanda for the Africa CEO forum.
Already coming for this 'business class' forum is newly elected Felix Etienne Tshisekedi, President of the Democratic Republic of Congo (DRC) who had confirmed his participation way earlier.
Upon arrival at Kigali International Airport, Tshisekedi received a fanfare reception from the army band and a delegation headed by Rwanda's  Minister of Foreign Affairs and Cooperation Richard Sezibera.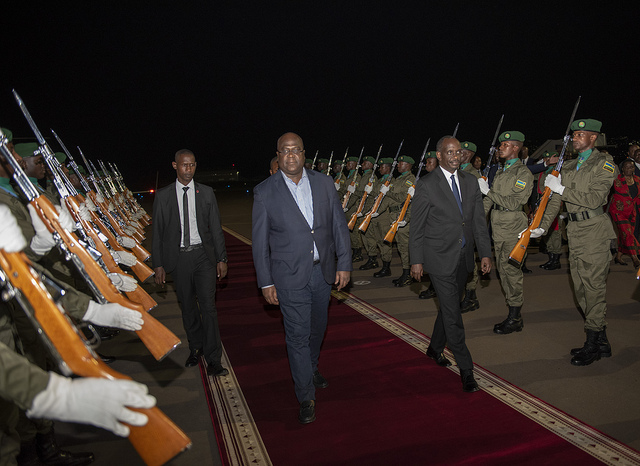 Right after his arrival to Rwanda, Tshisekedi headed to Village Urugwiro to meet the host, President Paul Kagame.
Faure Gnassingbé, the president of  Togo, Sahle-work Zewde of Ethiopia and Amadou Gon Coulibaly, Prime Minister of Ivory Coast also arrived minutes before Tshisekedi and they also received warm welcome from Kigali International Airport Sunday evening.
In its 7th edition, the Africa CEO forum will bring together 1500 participants under the roof of the outstanding facility of Rwanda – Kigali Convention Centre.
The Africa CEO Forum is the world leading high-level international meeting of Africa CEO focusing on growth strategies. It will run from 25 through 26 March 2019.
The Kigali edition of the Africa CEO Forum is the first held in the East and Central Africa region.
For more photos click here