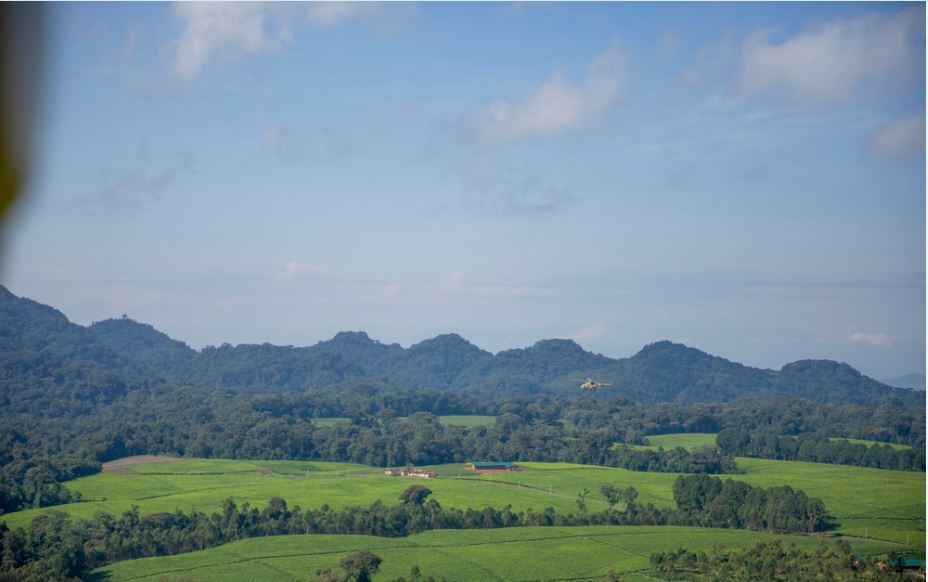 My Saturday started with a very nice weather for a helicopter to fly and for tourists to enjoy wildlife.
At Kigali International Airport, I joined a team of twenty colleagues and a – 4 people flight crew on board a helicopter for Nyungwe tour. In fact, there were two helicopters in the fleet.
We took off at 8.31am and arrived at 9.10am at Nyamasheke, GS Scolaire Gisakura's playground in the middle of tea plantations that make beautiful scenery for everyone, even regular visitors.
For a first time visitor to the famous land of 'thousand hills', the green tea in the mist of Nyungwe National Park leaves a mark to remember.
We were first ushered to a five star eco lodge – the One and Only Nyungwe House, a three minute drive where we started enjoying the real beauty of the park.
The striking view and the hospitality before you even set foot inside, will tell you that you are home away from home or to say it better, it reminds you of your roots.
In fact, the South African designer used a combination of wood, stones and clay which dominate the modern construction materials.
He maintained the style from the main house to the eye catching presidential suites, the spa and all other facilities which  you easily discover while at the place because most of them are hidden in the middle of the forest that the lens of a camera cannot easily show them.
Once inside, the attitude exhibited by the hotel staff, the setting of a traditional fireplace, a marriage between modernity and traditional and all the rest will convince you that you need to prolong your stay by some days if budget allows.
Most importantly though, the understanding of activities or the 'What to Do' at the One and Only Nyungwe House will indeed show you that, the lodge is in the middle of a secure environment where tourists should never fear for their security.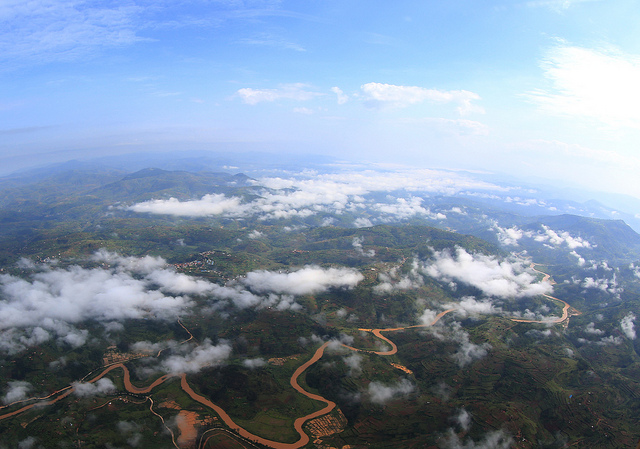 For example, Jacques LeRoux, the Nature Resort Manager of the One and Only Nyungwe House told KT Press; "we have nocturnal tours where tourists explore the beauty of the park at night and the environment, the sky in their horizon."
I thought being a resort in the middle of tea plantations, at the entrance of a thick forest – or the exit depending on where you are, meant that you have to be very careful.
On the contrary, at the lodge, you enjoy your life, 24/7.
"Hospitality is really outstanding, people are very friendly. I have visited 20 african countries but Rwanda is unique both in safety and hospitality. I feel very safe here. I think Rwandans want to genuinely welcome every tourist who comes to them, " said Victor Dizon who was on his 8th day of inaugural visit to Rwanda. He was on his second day in Nyungwe after visiting Akagera and volcano national park in Eastern and Northern Province respectively.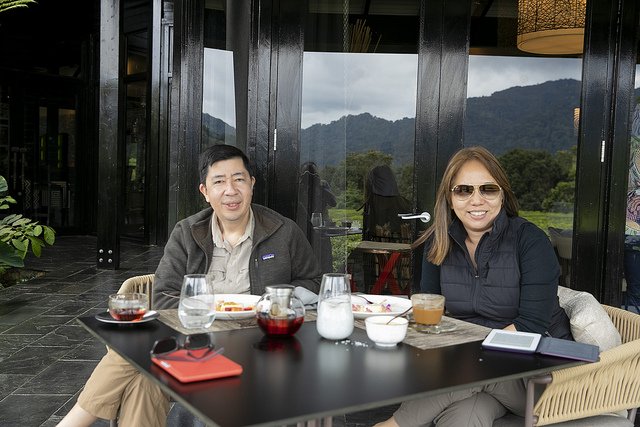 Apparently, Rwanda Development Board (RDB) is even increasing the nocturnal tour activity across Nyungwe Park.
"We have finalized all the requirements in terms of security and tour guides. All is set for us to start. We shall launch it very soon," said Eugene Mutangana, the head of conservation at Rwanda Development Board.
"It will include going out at night and explore the constellation and the beauty of the Nyungwe view at night. A tour guide will be there to explain everything and we know, our tourists will love it."
According to Mutangana, there are beautiful birds and primates which, in their nature only show up at night.
RDB will soon make it even much easier for tourists to visit during the night. After a-4 hour stay at the One and Only Nyungwe, we had an opportunity to drive through the Park. We realized that already, poles were installed as the country prepares to install street lights along the 97-kilometer road network of Nyamagabe – Nyamasheke and Pindura- Bweyeye road, which meanders through the park.
No wonder, this visit revealed much more of the fauna and flora wonders in the only park of the continent which survived the ice era disaster – This will be a story for another day.
For me, however, it was unfortunate that I couldn't see the orchids, beautiful flowers that are more than 200 species in Nyungwe.
For a number of other colleagues, they also wished to have more time for a walk at the only Canopy walkway in East Africa. When we reached Uwinka, the road to the Canopy and saw convoys of tourists from visiting it, everyone shouted "oh! No! Let's just go there!"
Our guides resisted the idea because they concurred on a concern that, "if we take you there, business will come to a standstill because you will want to take endless selfies."
There was no time to explore all the beauty of Nyungwe, because driving through the forest; we aimed at visiting activities of community empowerment at the park belt especially at Kitabi – Nyamagabe district.
This is a 1.5 hour drive but time was running so quickly because we were on pressure to return to the helicopters and fly back to Kigali before it is dark.
At 3.30 Pm, we reached one of these activities, the Nyungwe honey processing and sales centre. It is a one stop center beekeeping services and a honey basket of the country.
"We have 15 cooperatives supplying us honey. On a good season, we process 39 tons of honey. Our only concern is pesticide that is used in agricultural boost; flowers with pesticide are harmful to the bees" said Theophile Kayiranga, the honey processing head technician.
The bee farmers, now estimated in 700, earn a living from the honey.
Honey has created a vibrant trading center at Kitabi. After having a taste of Nyungwe honey, we grabbed the best of  Kitabi food and boarded back to our helicopters in Nyamasheke.
We got back to Kigali around 8.30PM.
Nyungwe National Park made our day. I can't wait to go back.