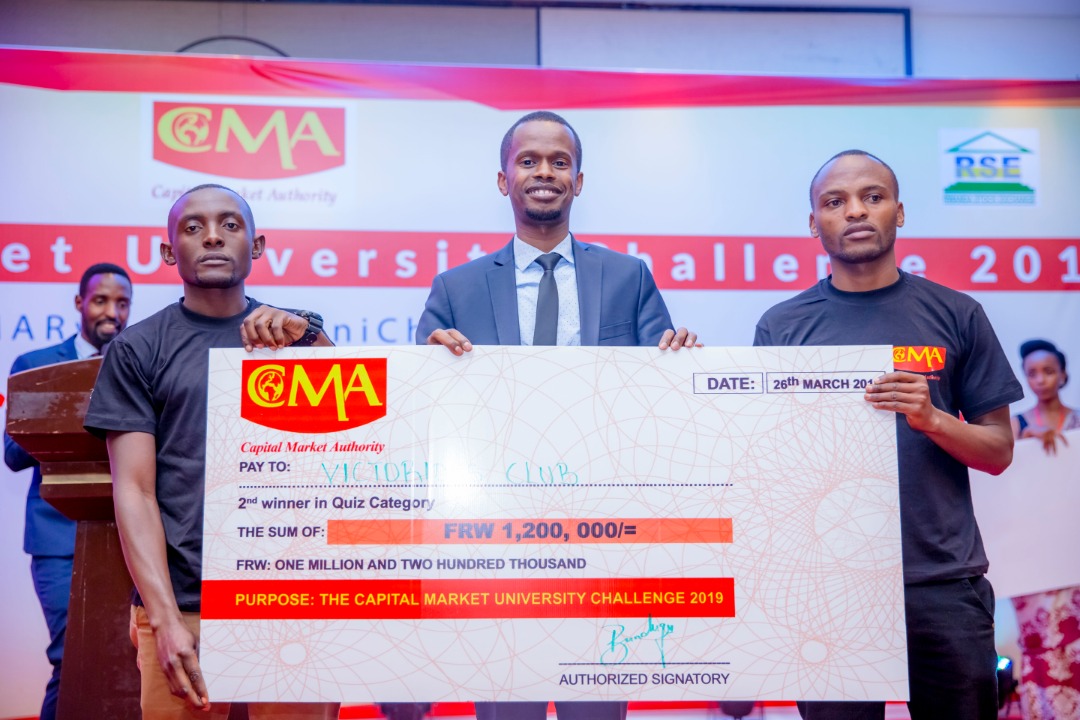 The third, second and first teams from Universities and higher institutions were awarded this year's Rwf800,000, Rwf 1.2 million and Rwf 1.5 million of this year's edition of Capital Market Authority challenge.
At a colourful ceremony held at Kigali Serena Hotel in the capital Kigali on Wednesday night, Katlego Betsi Paakanyo, Sincere Izabayo and Francis Nkurunziza emerged as the third, second and first winners of the essay category and were awarded prizes worth Rwf 200,000, Rwf300,000 and Rwf500,000 respectively.
In the highly contested quiz competition; The Brains Club came third, Victorious Club came second and Talented club emerged as the 2019 champions.
Pomp and colour characterised the awarding ceremony of the 2019 Capital Market University Challenge after a rigorous and hectic preselection stages in all provinces from across Rwanda and the City of Kigali.
This year's competition attracted 672 contestants in both the essay and quiz categories from 16 universities and higher learning institutions.
The one-month long competition whose aim is exposing students from various universities and other higher learning institutions to the capital market industry while also ensuring that the same students acquire a saving and investment culture through capital market.
The Acting Executive Director of CMA, Eric Bundungu stressed that "We believe that the most effective way for young people to secure their future is to venture into smart saving and investment opportunities in order to guarantee sustainability and it was through this that the concept of the competition was born. Enabling young people to explore capital markets through investing in shares, bonds, and any other instruments offered by different firms at the stock market is one of the best ways for them to secure their future."
Bundugu emphasized on the fact that for youth to secure a bright future, saving was inevitable and therefore that was why this competition was important since it provided a basic platform for investment on Rwanda's capital market.
Olivier Muvunyi, a member of Victorious Club from University of Rwanda who emerged among winners in the quiz category said that "The Capital Market University Challenge provided me with an excellent foundation on how to embrace the saving through capital market as young people; This unique opportunity gives us the chance to learn more how to save and invest through securities as youth; we committed ourselves to share with our friends and families the benefits of the stock market to our future."
The Executive Director of High Education Council, Dr. Emmanuel Muvunyi in his closing remarks commended the participants of this year's Capital Market University Challenge for their hardwork and commitment. He said that "I am glad to learn today that this program 'Capital Market University Challenge' has started bearing its fruits by having savings clubs having been created in various Universities and HLIs, this is a very important milestone that should be sustained through capacity building or training of the said savings clubs that the CMA has started undertaking. Building capacity of the so far created savings clubs will enhance their knowledge and motivation towards saving further and better."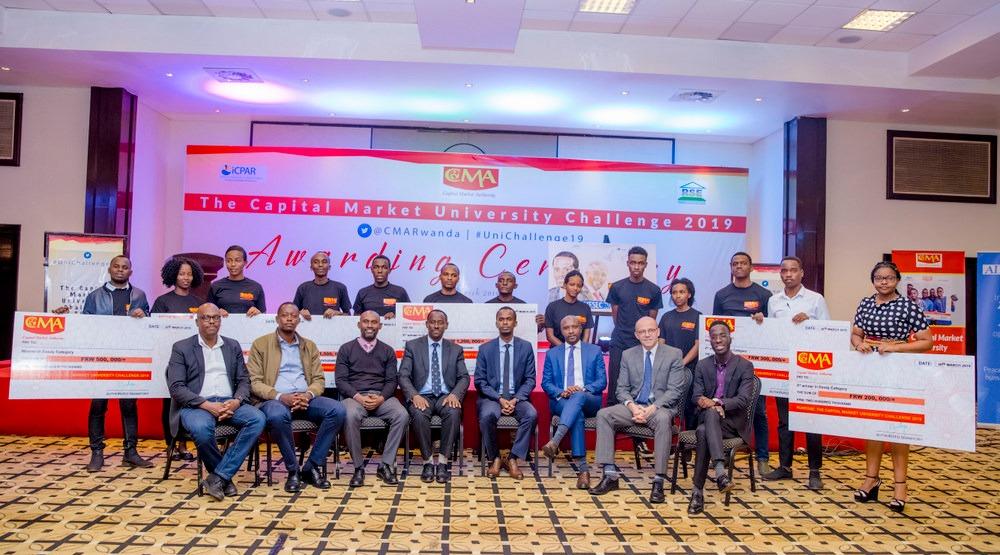 He further reiterated the importance of becoming ambassadors of the Rwanda's capital market and challenging their friends to invest in them as he believed was a right step towards wealth creation and financial independence. "I would therefore call upon students in Universities and HLIs to follow the trend by either joining existing savings clubs or creating new ones. Allow me to encourage the Administration of Universities and HLIs to facilitate and educate their students on how best to do so," Dr. Muvunyi stressed.
The 6th edition of the University Challenge was organised by Capital Market Authority (CMA) in collaboration with the Rwanda Stock Exchange(RSE), the Institute of Certified Public Accountants Rwanda (iCPAR) and AIESEC Rwanda, the Rwandan chapter of the world's largest youth run organization.