From the first phone contact with Pierre Kavubi 59, you learn that you are talking to a very humble person whom you cannot wait to meet, while your first encounter convinces you that the man is a successful person, full stop.
That first impression is genuine, but inside the heart of the father of four, there is a story of injustice which he experienced since early childhood.
You won't know what he has gone through until you see the scars on his right fingers and the head and when he tells you how he survived the 1994 genocide against Tutsi and previous persecution.
Kavubi was born in 1960 in Uganda where his parents had fled the massacre of the Tutsi which correspond with the first phases of the Genocide trial.
He was born Jean Pierre Mugabowakigeli, a name that had a lot of meaning to his father who had allegiance to the era of the then Kings of Rwanda especially King Kigeri but an extremist Hutu teacher would later change the first name – Mugabowakigeli.
The teacher, said Kavubi, was always scared to spell my name.
"My class teacher refused to register me in my real name. He instead called me  Kavubi Pierre, which made me feel so bad but I had no choice," Kavubi said.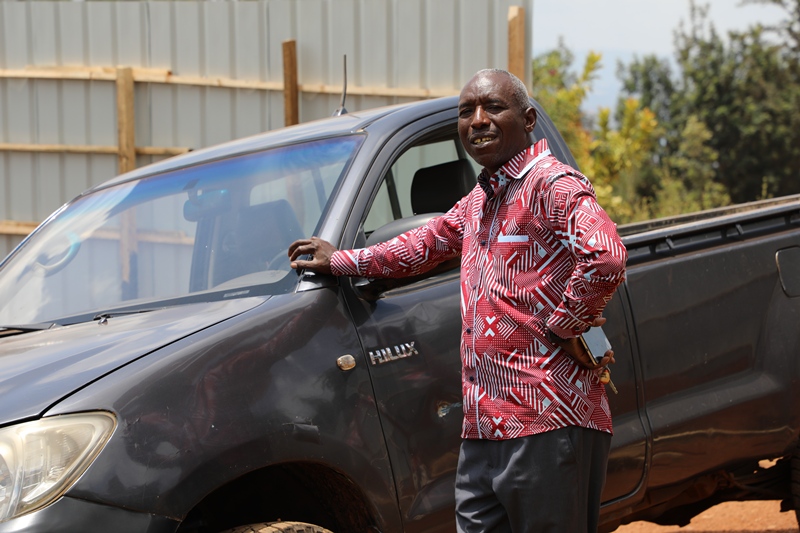 He has always tried to recover the lost names using social media like on his Facebook profile name; he has added the name Mugabo – a shortened form of Mugabowakigeri.
In 1973, at age of 12, Kavubi and his classmates witnessed the killings of the Tutsi in Runda, current Kamonyi district.
His family luckily managed to survive after their belongings were all looted. They led a miserable life.
"We only recovered when my elder sister got married earning my parents a cow from her dowry," Kavubi said.
The struggle continued, but, Kavubi expected that it would end upon his graduation from Primary school and embracing secondary education which was a luxury in that time.
Little did he know that the education system of hatred and divisionism would not allow him to go an extra mile.
He sat primary leaving exams but he was not given admission to secondary school.
From that bitter experience, he wanted to recourse to technical education which was neglected, but he couldn't make it because the father was not able to raise school fees.
"My father was obliged to get employed as a night guard to make sure that I have a shape, education wise. Once he got a little money, I enrolled for three years in a technical school and pursued construction," said Kavubi.
Career Starts with Foreign Companies
Kavubi embraced technical education aggressively because he knew it was the only option he had to persevere. Construction companies were watching and they could not wait for him to graduate.
Upon his completion, a Kigali based Belgian construction company-DVV employed him as cite team leader with Rwf 24, 000 as initial salary in early 1980s.
A couple of years later, Kavubi joined a new Belgian company Societe Generale Entreprise Electro-Mechanique (SGEEM) after the previous company had concluded its contract.
He worked with SGEEM until early 1990s when the ruling power started hunt of the so called accomplices – Ibyitso, a pretext that was created by then president Juvénal Habyarimana to exterminate the Tutsi.
SGEEM bosses boarded to Brussels and never came back.
"We worked for foreigners, because it was not easy to get a government job. So everything came to a standstill when they left," Kavubi narrates.
From this time, hatred against the Tutsi became rampant.
Kavubi and his family of four was thrown out the house they were renting in Gikondo, current Kicukiro district on ground that "he would claim the property if the Tutsi rebels won the war."
"A neighbor gave me a single roomed house on his idle plot of land," he narrates.
With this in mind, Kavubi who was applying for a construction permit registered his plot on a Hutu friend.
Later on in May 1994, during the Genocide against Tutsi, Kavubi witnessed the death of his wife and three out of four children. They were thrown in a pit by Interahamwe who also left him for dead.
"They undressed us all, started hacking us on the head, back, fingers and every time they did this I placed my hands in the direction of the pangas. The blood oozing out convinced killers they had finished me and I was dropped in the pit," he narrates.
About 4pm, Kavubi slowly started to climb out of the pit with intention to hand himself to the killers to finish him off but found they had left.  He continued to struggle to hide until liberators – the Rwanda Patriotic Front liberated Kigali.
Today, Kavubi has remarried and has three children. He continued to pursue a career as a construction entrepreneur.
He is currently running three major projects of Rwf100 million each.
His biggest project however, is located at a prime land of Rebero hill in Kicukiro distric. It is worth Rwf600 million and is expected to be accomplished in 2021.
His three children have graduated from university except the last born who is pursuing medical studies.