Time check; 12 noon. It is a hot Monday and Jean Bosco Mugiraneza endures a scotching sun as he stands on the side of the busiest Kinamba-Nyabugogo road.
For about 30 seconds, a young man passes by. Mugiraneza, holding a long black and white walking stick – or the white cane, as many call it, tries to stop him for a service.
"Hello sir," Mugiraneza makes the first attempt. No response he gets. "Hello sir," he repeats, as the man reluctantly looks at him in disguise. "Can you please help me cross the road?" he asks as the man turns him down and walks away.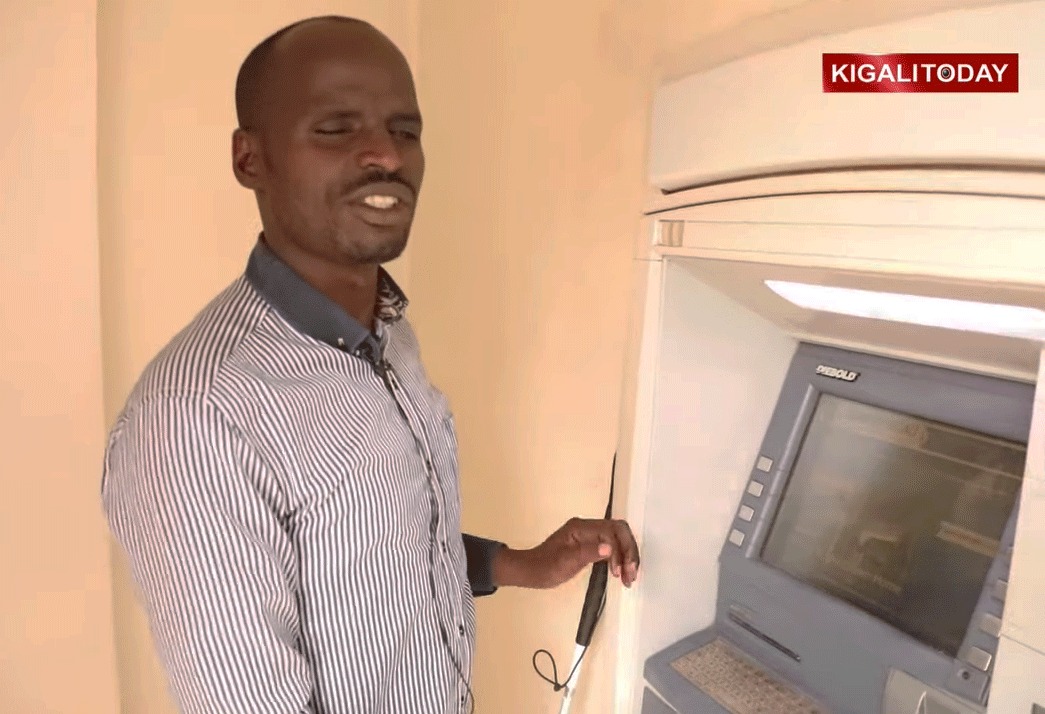 Sometimes people give, others take. But at the same time, some may even not bother to help. Remember, this happens among a fully-fit society.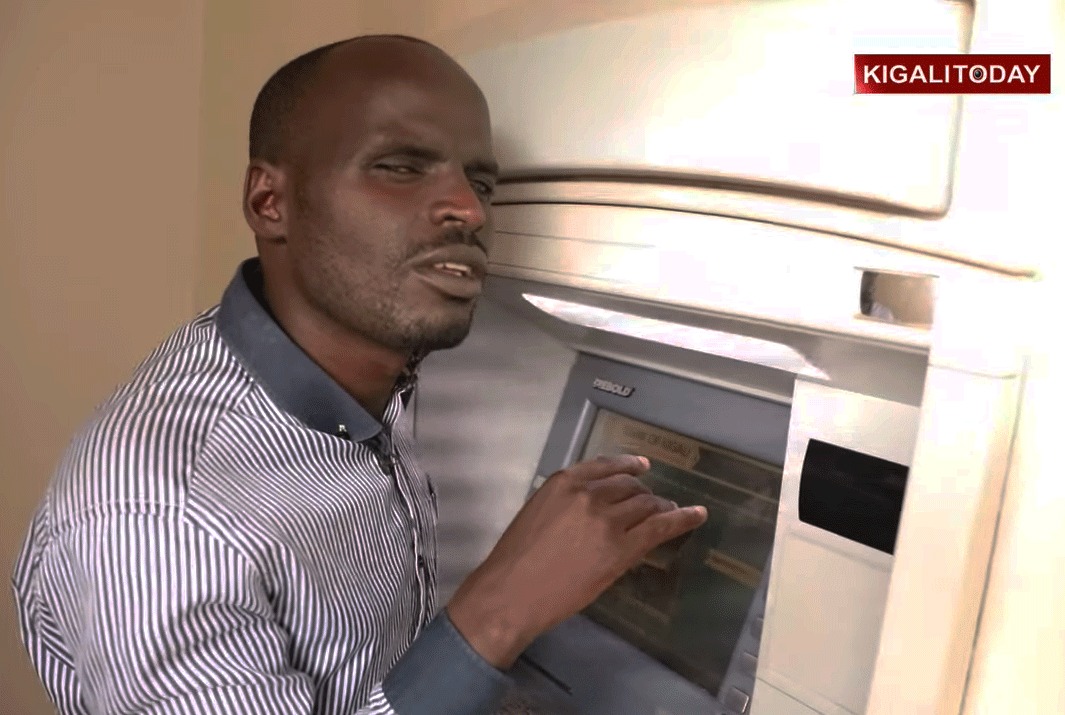 How about the disabled just like Jean Bosco Mugiraneza who is blind? Welcome to the hustle he lives every day in the busiest capital Kigali.
On Monday, June 10, KT Press visited the Rwanda Union of the Blind (RUB) – an umbrella that brings together visually impaired people. The visit was to spend a day with Mugiraneza and witness how he accesses public services around the city.
The father of two can use a computer while at work, access public transport buses, motorcycles and even use electronic banking services such as Automated Teller Machines (ATM).
And of course, he can cross the road with busy traffic. But he does it at a huge cost.
To cross the road, Mugiraneza uses his senses to feel whether there is a passerby who can help. However, this is not always fruitful.
"When I call people for help and ignore me, I use my senses to hear engines of moving vehicles. When I feel they are in a distance, I place this stick in the road to stop them," Mugiraneza said.
Whether there is a pedestrian crossing or not, said Mugiraneza, the drivers will see my white stick and stop to allow me to cross.
Through God-given gift, Mugiraneza knows how to identify the sound of a moving vehicle or stationed one.
However, in several instances, reckless drivers make it hard for him to cross.
"It is always hard to cross the road on a side without a zebra crossing," Mugiraneza tells KT Press as he stands on the roadside – about 3 meters from Rwanda Union of the Blind offices in Kinamba.
There is no designated zebra crossing near these offices.
After crossing the road, Mugiraneza attempts to use motorcycle transport. While other people monitor and stop motorcycles that have no passengers, it is a different story for Mugiraneza and fellow visually impaired people.
"I stand on the roadside and randomly calls motorists. Sometimes I call two three times in vain. When a motorist without a passenger notices me, he stops and comes to me," Mugiraneza told KT Press before calling a motorcycle to demonstrate what happens.
Taxi motor is a widely used means of transport around the capital Kigali. In fact, more than 30,000 motors operate in the capital, according to figures by Rwanda Cooperative Agency (RCA).
However, some operators exhibit ill behaviors such as stealing from passengers or breaching traffic rules.
How about when they transport blind passengers like Mugiraneza? "It is disaster," Mugiraneza tells KT Press.
"Some motorists speed off without giving you the balance. But there are others with a great deal of honesty. They even help you cross the road after reaching your destination," he says.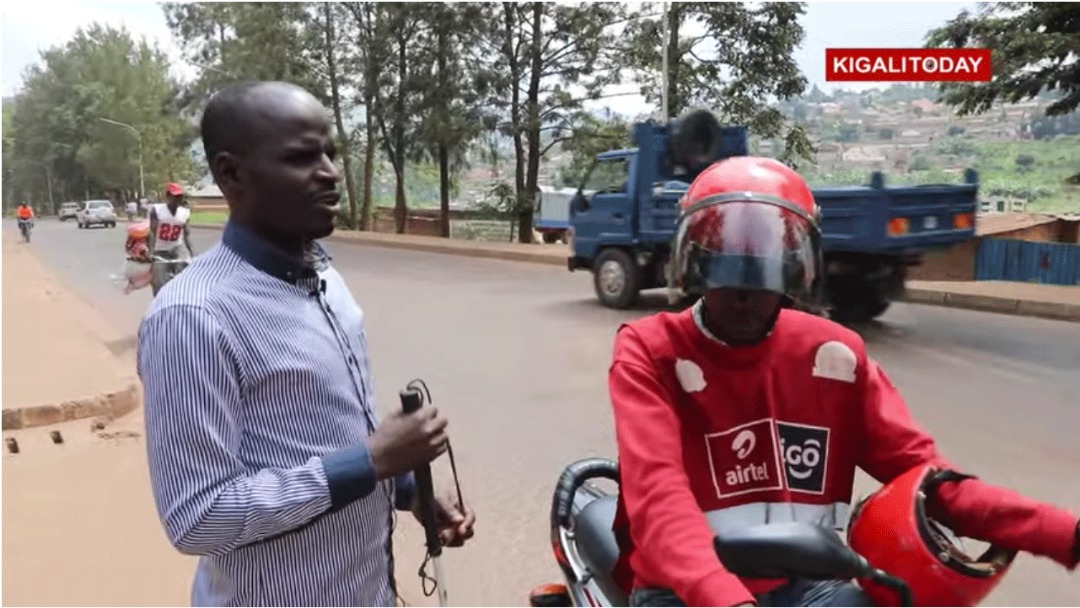 Detecting bank notes
Mugiraneza vividly differentiates bank notes, in a way you never thought. He has mastered the size of each note where, Rwf 500 note is smallest, followed by Rwf 1000 with Rwf5000 being the biggest.
If you were asked to close your eyes and pass the test, God knows how many would win.
This also applies on coins. Mugiraneza knows that Rwf 100 coin's contour is polished contrary to the Rwf50 coin. Of course, he knows to differentiate coins by size.
From crossing the road and paying, the journey proceeded to Nyabugogo main bus park.
At the main entrance of the bus park, Mugiraneza uses his walking cane to snake through vehicles and passengers. Sensing people around, he asks: "Where are the buses heading to Kicukiro?" a young man leads him to the bus.
This time, Mugiraneza wants to board a Royal Express Bus that heads to Kicukiro using his Tap&Go electronic payment card.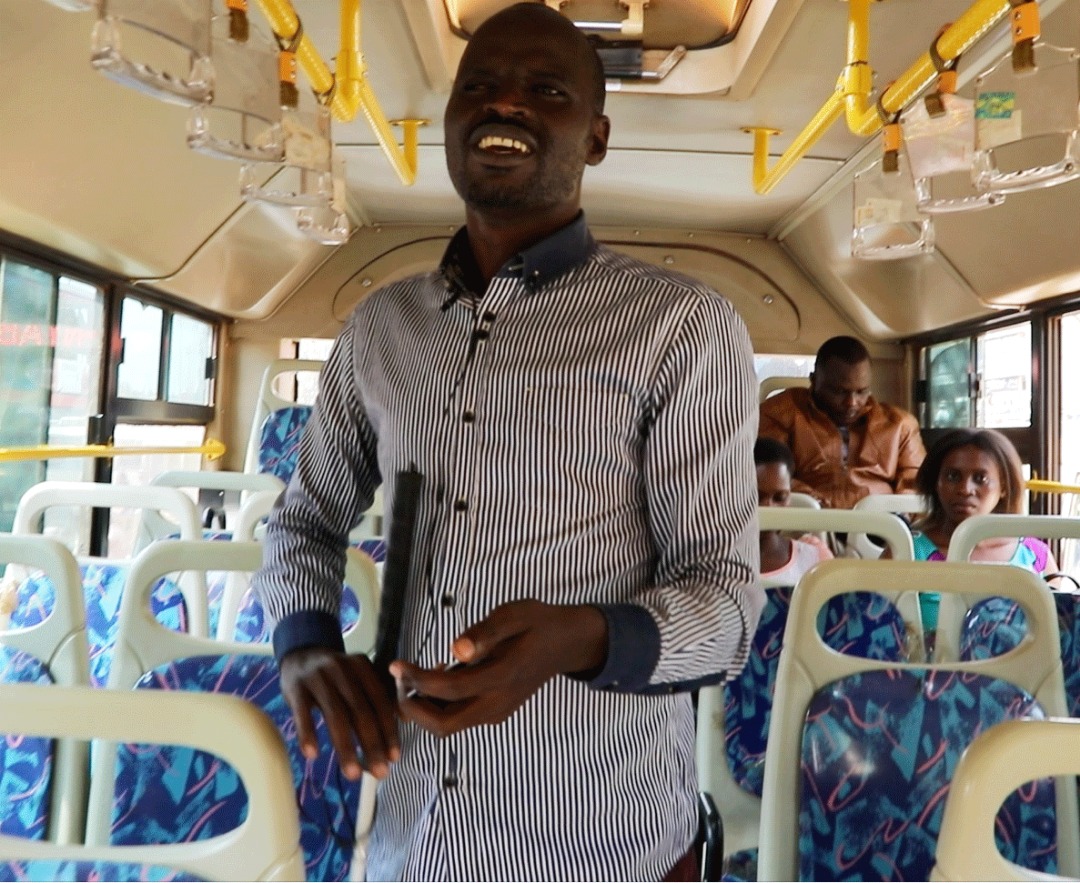 He again uses his walking cane to enter the bus. Inside, he starts searching for an automated reader machine before placing his Tap & Go card which he easily managed. He therefore took his seat.
"I do this every day," he says. "But at times people snub my requests like directing me to the bus of my choice," Mugiraneza, who resides in Nyamata Sector, Bugesera district in Eastern Province said.
Mugiraneza is married with a wife and two girls. They are not visually impaired.
Queuing at the Bank: ATM is the best option
Mugiraneza, like any other income earner, owns a bank account. A project manager at Rwanda Union of the Blind, he banks with Bank of Kigali (BK).
Whenever he plans to go to the bank, Mugiraneza's puzzle is always getting sympathy due to his disability.
"There are always queues at the bank. Sometimes customers won't help you get the service. We even find it a puzzle to know who is next. You keep waiting in vain," Mugiraneza said.
Luckily enough, disability is not inability as the saying goes. Mugiraneza perfectly performs transactions in ATMs – just like any other client.
At Bank of Kigali's Nyabugogo branch, Mugiraneza asked a security guard to direct him to an ATM section.
Inside, he covers himself as he types his password. In few seconds, Mugiraneza withdraws Rwf10, 000. "I have mastered this machine, probably more than those who can see," Mugiraneza jokes.
"I know where all buttons are and what they do," he adds.
Back to his office at the Union, Mugiraneza also demonstrates to KT Press how he communicates with people on a mobile phone as well as using a laptop in his daily assignments.
"Both my computer and phone are installed with a software that provides voice over on every digit i click. This becomes very easy for me to communicate and write," Mugiraneza told KT Press while dialing his spouse's number.
Mugiraneza and other visually impaired people in general have one issue. "We have limited access to services. Government should help us promote policies that safeguard our rights," he told KT Press.
Established in August 1994 – a month after the end of the Genocide against the Tutsi, Rwanda Union of the Blind works to improve living conditions of blind people in the country.
With 54 branches operating in 27 out of the 30 districts of the country, the Union has about 2500 members.
They all go through such hustle every day, but some of them did not have an opportunity to go to school like Mugiraneza – a university graduate.