President Paul Kagame has again shown his sense of fatherhood and a typical Rwandan who is concerned with the spirit of cleanness which is rooted from the ancestors.
This morning, President Kagame interacted with over 200 Eisenhower Fellows gathered in Kigali for their first ever Africa Regional Conference.
The EF Africa Regional Conference brought together leaders in government, business and civil society to discuss economic connectivity in Africa – an important driver of future jobs and well-being.
The conference provides a platform for Eisenhower Fellows from across Africa and other regions to explore innovative ways of leveraging global partnerships within the EF global network.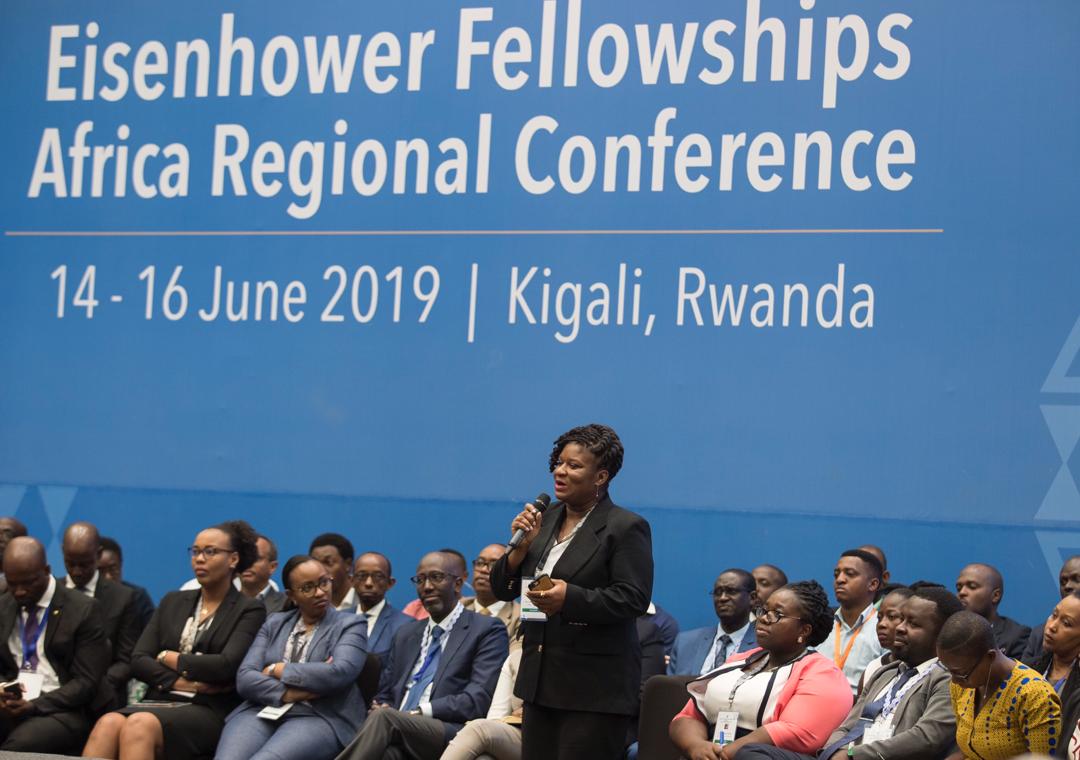 Participants asked the president how he brought every Rwandan and the environment across the country to be clean. In his answer, he said the country simply drew it from tradition.
"Some of these big things come out of small things you can do or fix here and there. There are things we can't take credit for but just happen…we have good climate, beautiful country, nice people…it's not that we have worked hard, but let me talk about some of the things…"
"…About cleaning you see around the country and across the city…that came from a choice that was made 15 years ago. I remember once we were in the cabinet of ministers and I was saying: Look! If we look back in our history even in our rural areas, we see our mothers or our aunties cleaning around the homestead. You find it's a poor home but is a very clean home… And I said what if we elevated it to the level of our village, our city and the country, can't we get the same benefit?"
The president said they looked at framework to enforce this cleaning countrywide. They mobilized citizens to every month's community work (Umuganda) to clean the environment. To this, were also added activities of common interests including construction of schools, roads, clinics and so on.
"Something that could seem symbolic that time for example: I had my own children studying primary school. I would take time with my wife to drive them to school and bring them back home. While driving I would see litter, I would stop the car and tell these security brothers to take them to the dustbin."
"The people around would say: What! The vice president driving his children to school! The president stopping his car to do this or that!"
From this, the president said that some people, when they are given some positions to serve, think there is a number of things they should stop doing.
"Taking my children to school, Well! My children are my children, not my drivers' children. The drivers also have their own to take good care of," the President said.
The President said that people get positions to serve a purpose of the country, not to behave extraordinary or think that they cannot achieve a certain task they used to, in the community.
In previous reporting, stories of Kagame's fatherhood always challenged men to always consider sparing time for their family in general and their children in particular, however much responsibilities they would have.
He once narrated a story of how his first born challenged him to find time for him because he missed him.
The President, ever since, committed to drive home before his children went to bed and return to work if need be, after having taken good care of them.
Back to Umuganda and the cleaning, it is yielding tremendous results.
In 2015, Umuganda value was estimated to $ 19 million, but cleanness returns associated to these activities are priceless. Every other year, the value of Umuganda increases.
President Paul Kagame also spoke about a range of other issues to answer questions from participants who were eager to know the Rwandan spirit as well as its way of doing things.
Some questions were related to homegrown solutions, the Presidential scholarship, African continental Free Trade Area (AfCFTA) and community justice, among others.
On the Presidential scholarship, the President said how, when it started, there were some anti-campaigns about it, with some people thinking that, if students are offered an opportunity to study in good universities abroad, they would get jobs and stay there, instead of coming back to serve their country.
The President said that, while betting his money in this initiative, he had in mind that, whether a student comes back after school or not, they would still contribute to the country's development.
He, however, said that, most of them return after school.
The other side, he said, there has to be what is happening in your country that  motivates  you from coming back.
He said that some people may fear to struggle in their country, while some others say they don't want to be involved in politics back home, yet politics would still deal with them where they are.
Meanwhile, Eisenhower Fellowships is a private, non-profit, non-partisan organization created in 1953 by a group of prominent American citizens to honor President Dwight D. Eisenhower for his contribution to humanity as a soldier, statesman, and world leader.
The organization identifies, empowers and connects innovative leaders through a transformative fellowship experience and lifelong engagement in a global network of dynamic change agents committed to creating a world more peaceful, prosperous and just.
Eisenhower Fellows gathered in Rwanda for their first conference held in Africa.