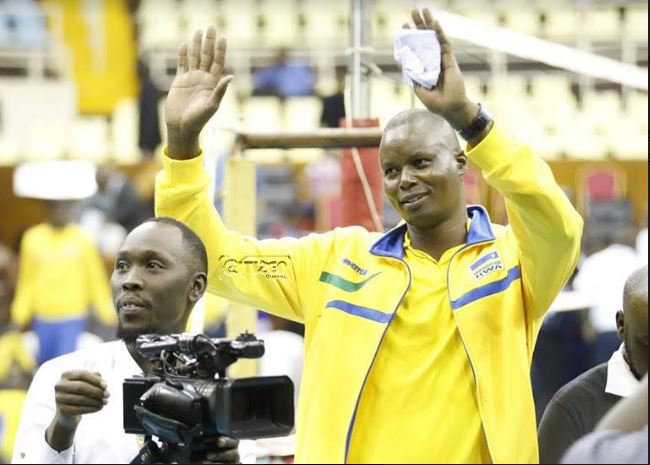 Paul Bitok will end his spell as Rwanda's Volleyball Federation Technical Director on June 30, 2019.
The former Kenyan international's current tenure will expire at the end of this month after being at the helm of Rwandese volleyball for the last decade, helping Rwanda to rise and become one of the best in Africa across all surfaces.
This is the second time he is announcing his retirement after hinting last month that he would not be extending his contract.
The celebrated Kenyan announced on Thursday evening that he won't renew his contract.
In a statement, Bitok said, "Dear Rwanda volleyball federation, Rwanda volleyball family, volleyball fanatics and Ministry of sports. The past 10 years have been the most successful and best in my volleyball career. In the recent weeks, I announced intent to step down at the end my contract on 30th June 2019,"
"However, on request by the Federation, I reconsidered adding one more year to ensure a smooth transition and the success of championships scheduled for 2019/20 period,"
"Unfortunately, after great consideration and in consultation with the federation, my family and close friends, I have decided not to extend by one more year,"
"Nonetheless, I am overly humbled for this consideration by the Federation and the Ministry of Sports and Culture.I will forever cherish being part of Rwanda's volleyball development and success.I will always remain that huge Rwandan Volleyball fan. Thank you and God Bless you all," added Bitok.
He further added that the past decade has been one incredible journey, full of of unforgettable milestones. "It's one I will treasure forever.As I move in to my next phase, your support either as a volleyball fan, as player or coach, as friend or family, is highly appreciated.Once again, thank you for the warm wishes.See you all in the next phase of my pursuit."
The decision comes a few days after the Kenyan failed to qualify Rwandan to the the Africa Games set to be held in Morocco in September in a qualifying which was held in Kenya.
With his absence, Rwanda volleyball federation will now find a suitable coach to manage Rwanda's beach volleyball teams to the World Championships in Germany where the men team has been drawn in Group L alongside Germany, Iran and the United States while the women side is pooled in Group D against the hosts Germany, Brazil and Spain.
The 48 year-old Bitok was appointed as the Rwandese Volleyball Head Coach in 2010 and has steered Rwanda to great achievements. In 2011, he guided Rwanda's Men Senior team to finish at fourth position in the All Africa Games played in Maputo, Mozambique.
His major achievement came this year when he guided both the Men and Women's teams to qualifying for the World volleyball Championships to be staged in Germany; later in the year. Among other achievements, Bitok also (in 2016) guided the Rwandan senior women's indoor team qualification for the 2018 Commonwealth games.
In Musanze last year, during the East Africa Secondary School Games, Bitok was instrumental as he guided G.S Indangaburezi of Rwanda to finish in second place behind girls' volleyball title winners; Kenya's Kwanthanze and their male counterparts, St. Joseph, who won gold.