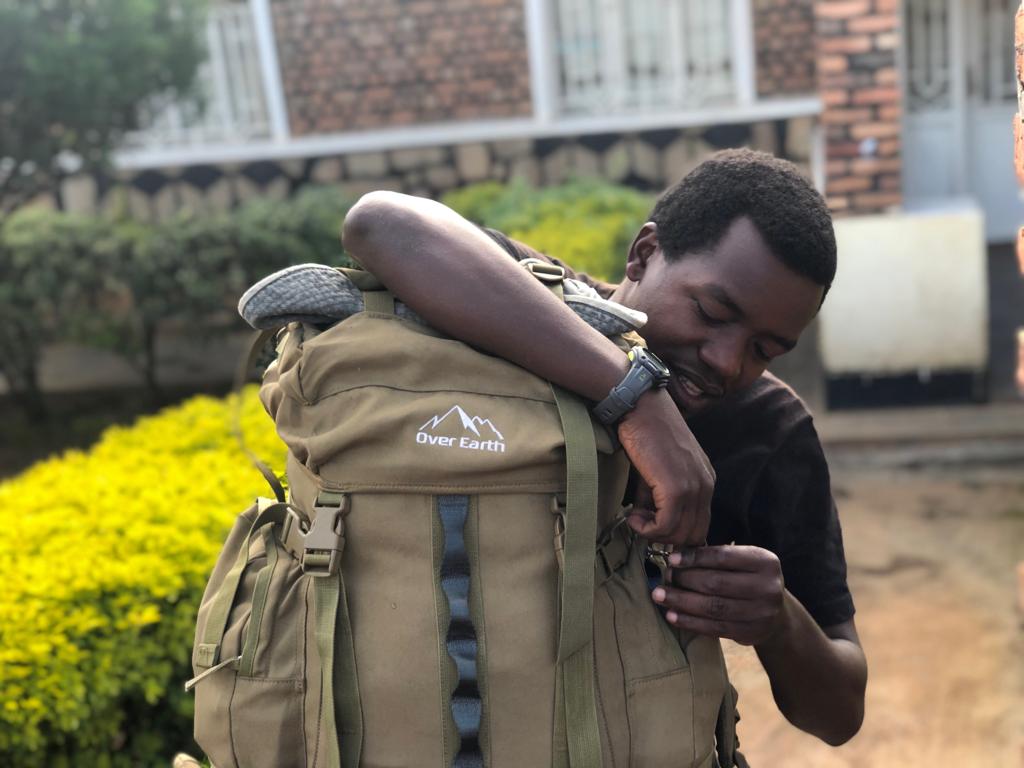 From Jean Henry Dunant and Fédéric Passy to Denis Mukwege and Nadia Murad, the narration about Nobel Peace Prize laureates indicates that the prestigious award, in most, if not all cases, goes to personalities who had a humble beginning, but whose hearts and love for humanity can move mountains.
If we go by that principle, in Rwanda we can already propose our list of potential candidates to the Nobel Foundation.
The last but not least would be a young Rwandan in his early thirties, Hypolite Ntigurirwa 32, the founder of a-4 year old Be the Peace, a local organization which fights intergenerational crashes/crisis through activities that promote peace and reconciliation in Rwanda.
Since the last four years, Ntigurirwa thought about an outstanding activity that he would do to promote peace  and reconciliation in Rwanda.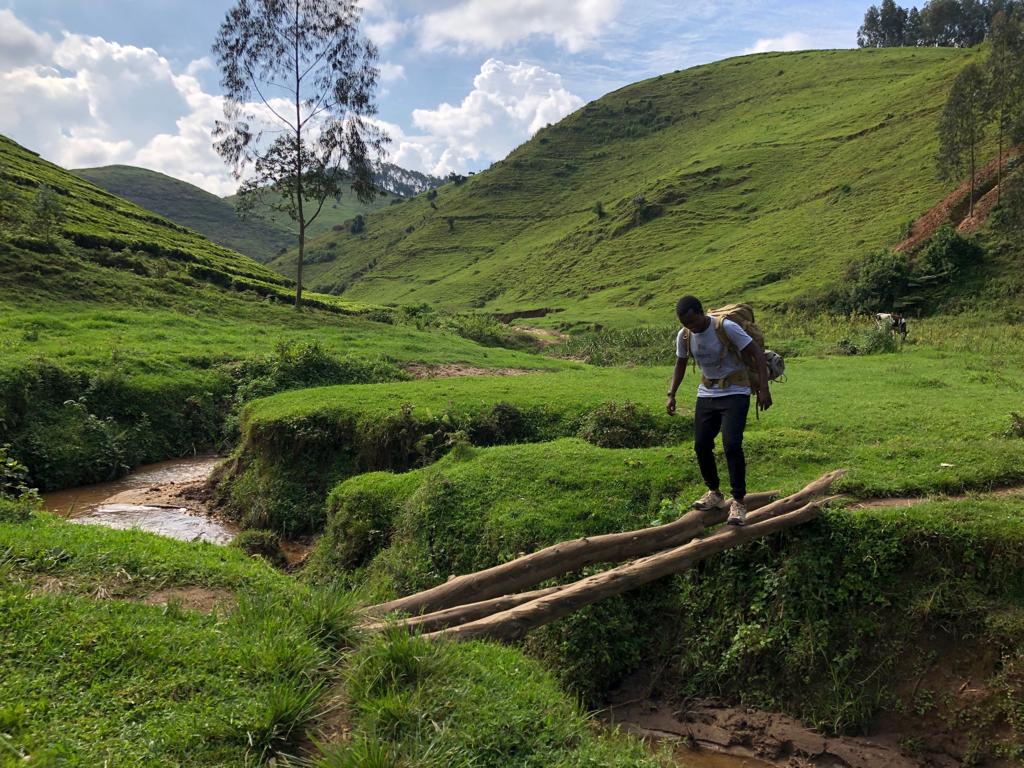 On April 22, 2019, he realized his dream to do a tour of Rwanda on foot in one hundred days.  The days correspond with the period that lasted the 1994 Genocide committed against Tutsi where the country experienced the biggest peace crisis ever.
He launched his walk at Mibirizi parish, Gashonga sector of Rusizi district.
The place, his home holds a lot of history in his life. During the Genocide, his father was killed at Mibirizi.
Before starting, he set his targets and methodologies.
First of all, logistically, he had saved Rwf 1.5 million, especially for meal of him and his volunteer photographer, some clothes, hygienic equipment, a mat and tents for two.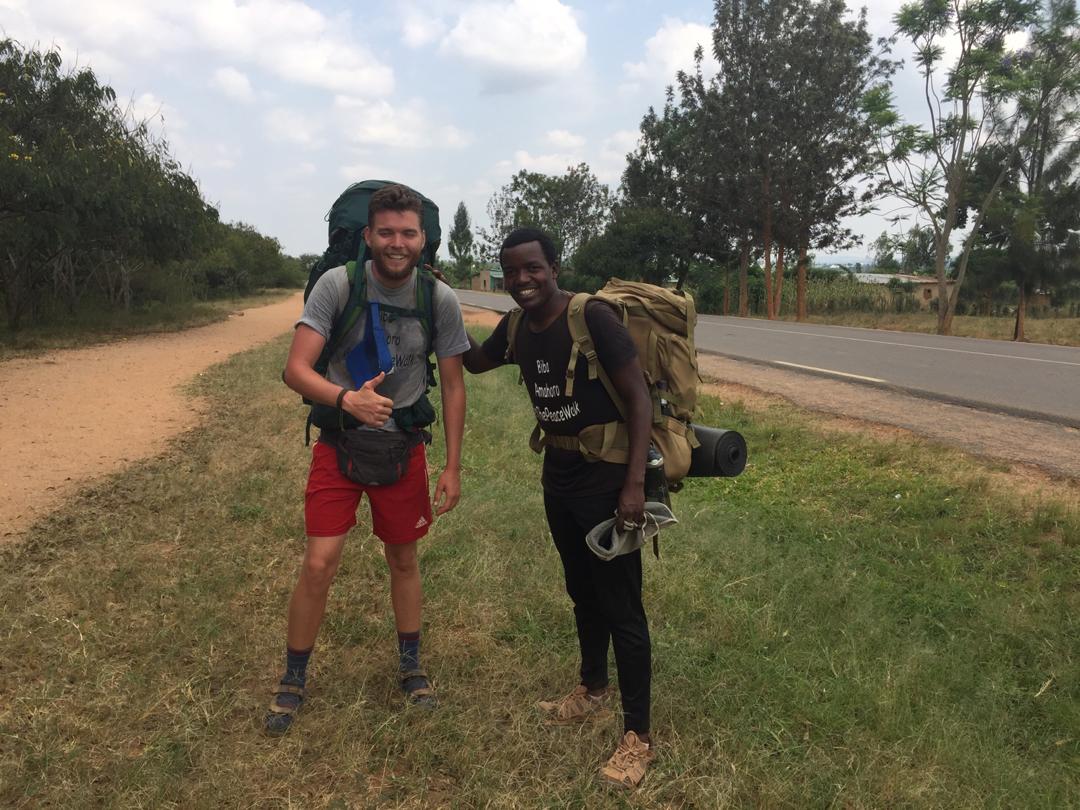 The tents meant that he was not planning to sleep at hotels, rather in open air  where he would camp.
Safe places where he expected to camp include; sector administrative offices, churches and schools, brief, public places.
He had a written recommendation  from the Rwanda Academy of Language and Culture (RALC) to present to whom is concerned.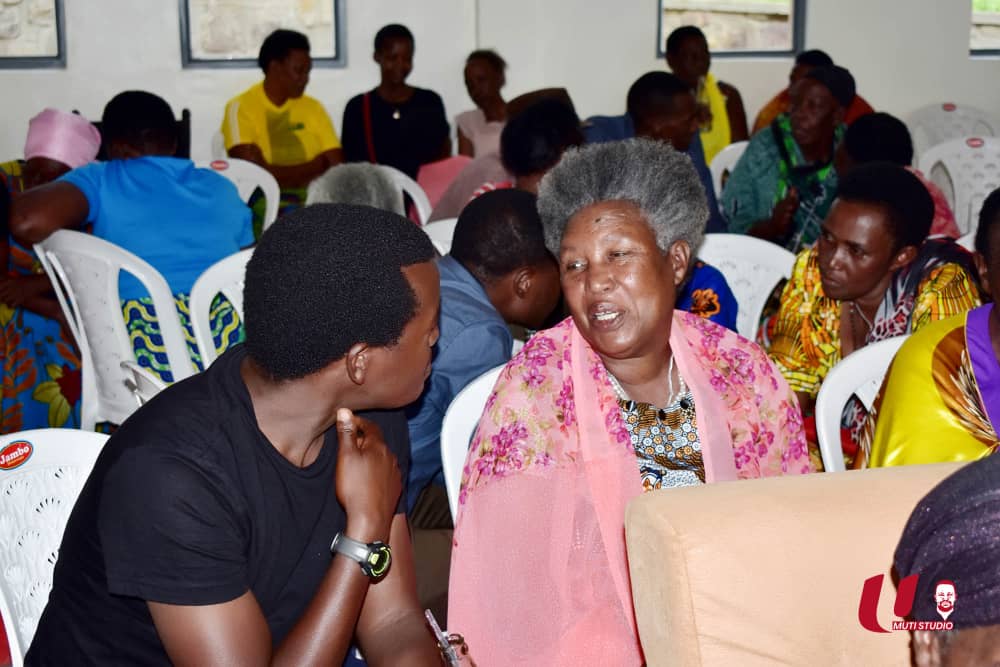 His tour was not just about walking, but interacting with the communities along his way and contributing to their wellbeing with the ultimate goal of promoting peace.
He was not really in hurry.
A non-Hospitable Church, a loving Child at the start
At the start of the first week, Ntigurirwa registered several experiences that he will never forget.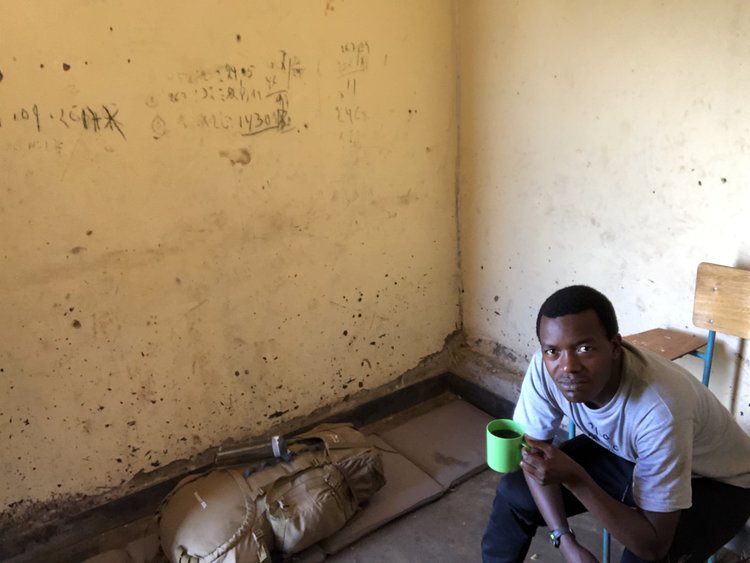 On the very first day, Ntigurirwa left Mibirizi at 10.30 am after planting a fruit tree and paying tribute to the victims of the Genocide against Tutsi who lay to rest at the Mibirizi memorial.
Towards 6 pm, Ntigurirwa had reached Nyarushishi sector, specifically on the hill that hosted a camp of Tutsi who had fled interahamwe in 1994 genocide against Tutsi. Ntigurirwa also survived from this place.
"Twenty five years ago, French soldiers in Operation Turquoise gathered us from this hill, but we used to go around fetching firewood. We would see bodies of genocide victims. In other areas, we could see dogs eating them," Ntigurirwa who was 7 years old recalls.
At this place however, he couldn't plant a tree because it was raining, but a child he met near this hill encouraged him to proceed.
"He told me that his parents instructed him to always be compassionate to every passer –by. That was the first encouragement," Ntigurirwa narrates to KT Press.
After Mibirizi however, Ntigurirwa  found a different experience and wondered if he had to proceed with his journey.
He intended to sleep at Giheke Pentecostal church, but, to his surprise, pastors refused him shelter.
"They told me that they couldn't offer shelter to a stranger whom they did not know for security matters," he said.
This obliged him to continue up to the following shelter and he slept at Giheke sector headquarters.
Shelter was the main challenge during the first week and, apparently, clerics marked his worst memories.
On day four of the trip, Ntigurirwa had decided to sleep at Hanika Catholic Church, a parish located in Nyamasheke district.
"The priest I found at that place was hesitant. He obliged me to wait for his mates who would come late at night when I was really exhausted," Ntigurirwa says.
"I understood that my earlier plan of not sleeping at a hotel would change and decided that I would book a room at a hotel whenever there was no chance to find a place in a church, a school, a sector office or a family."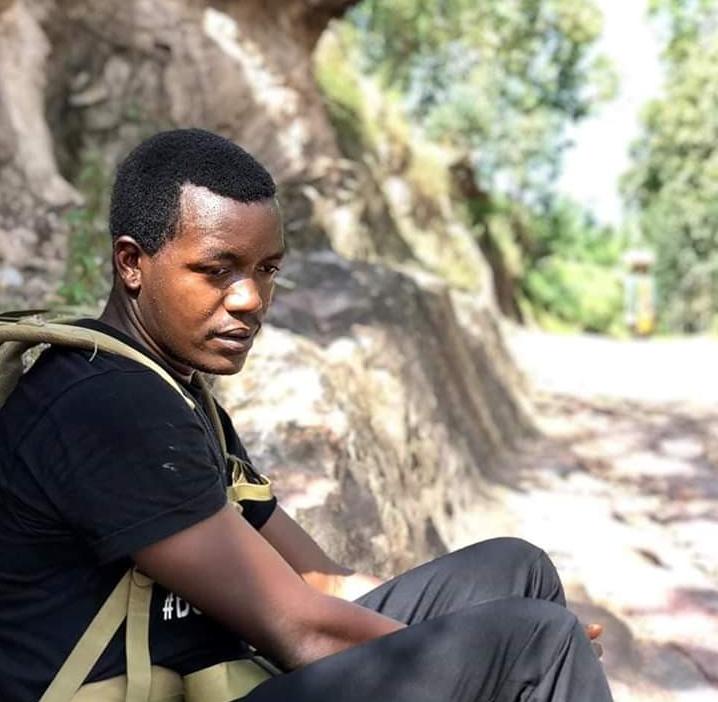 The maximum expense was set to Rwf 5000($ 4) per night "just to make sure that my trip would not look luxurious and loose its meaning."
That's actually what happened when he reached Kivumu Catholic Church in Rutsiro district, still in Western Province.
When he requested a shelter, clerics proposed him a room in their lodges while reminding him that they are commercial and he had no choice but to pay.
The lodges were next to a kraal, such that he would be disturbed by the movement of a cowboy coming to feed the cattle.
"Leave alone this scenario, I realized that in general, budget lodges of the standards I needed are noisy because in most cases they are next to a pub," Ntigurirwa said.
Bishop Nzakamwita's audience and a decree to all Parishes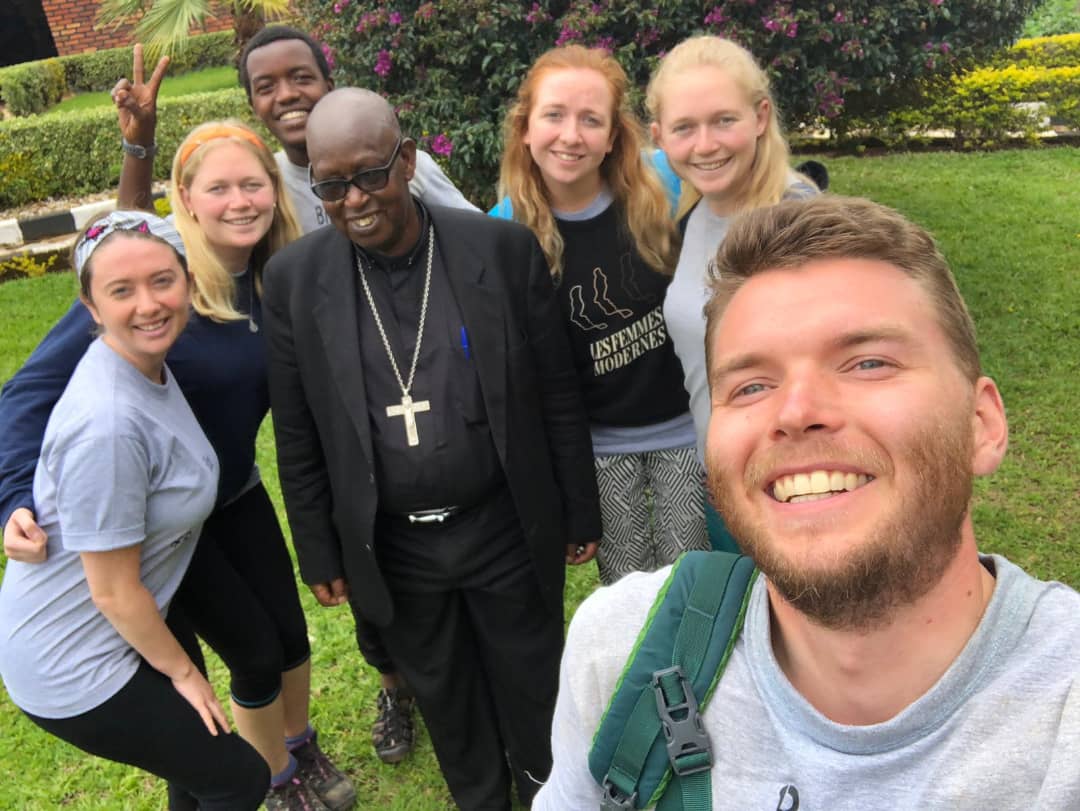 Ntigurirwa's journey was however, not all deception because in the middle, Servelien Nzakamwita, the Catholic Church bishop of Byumba Diocese did the unusual.
"When I met him in Gicumbi district, I explained him about my mission and he was very supportive; he offered shelter to me and my seven companions who had joined me. They included United Kingdom and United States of America nationals," Ntigurirwa said.
"The bishop wrote to all parishes in the Diocese and told them to offer me shelter whenever I knock. In other words, I registered very good memories in the Eastern Province.
Nzakamwita is known for having forgiven people who killed his family members during the Genocide. He built homes for them.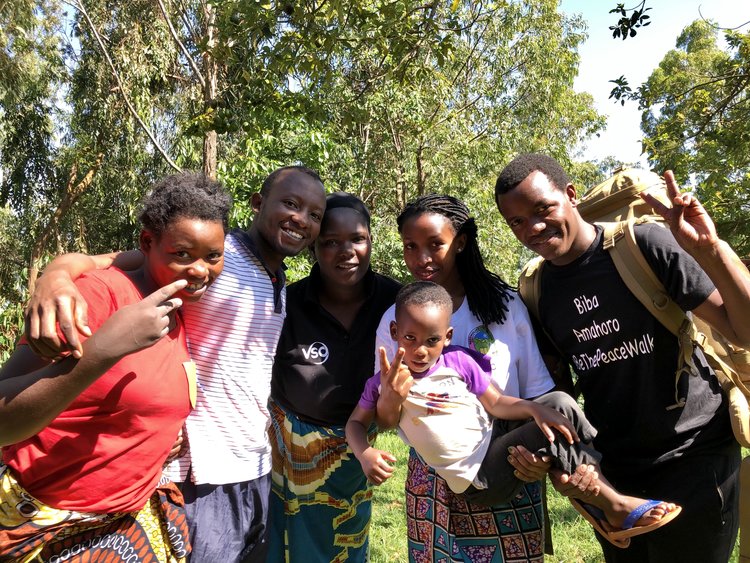 Precious time with the needy/helpless
Through his journey though, Ntigurirwa registered many stories of love from the Rwandan community which showed him that, "on a general perspective, Rwanda's sense of hospitality is commendable, unity and reconciliation is a reality, but at individual level, some hearts still need to be restored."
For this reason, Ntigurirwa would not be hold back by any kind of challenges encountered here and there. He had learnt to persevere and to stick to his mission to spread peace message.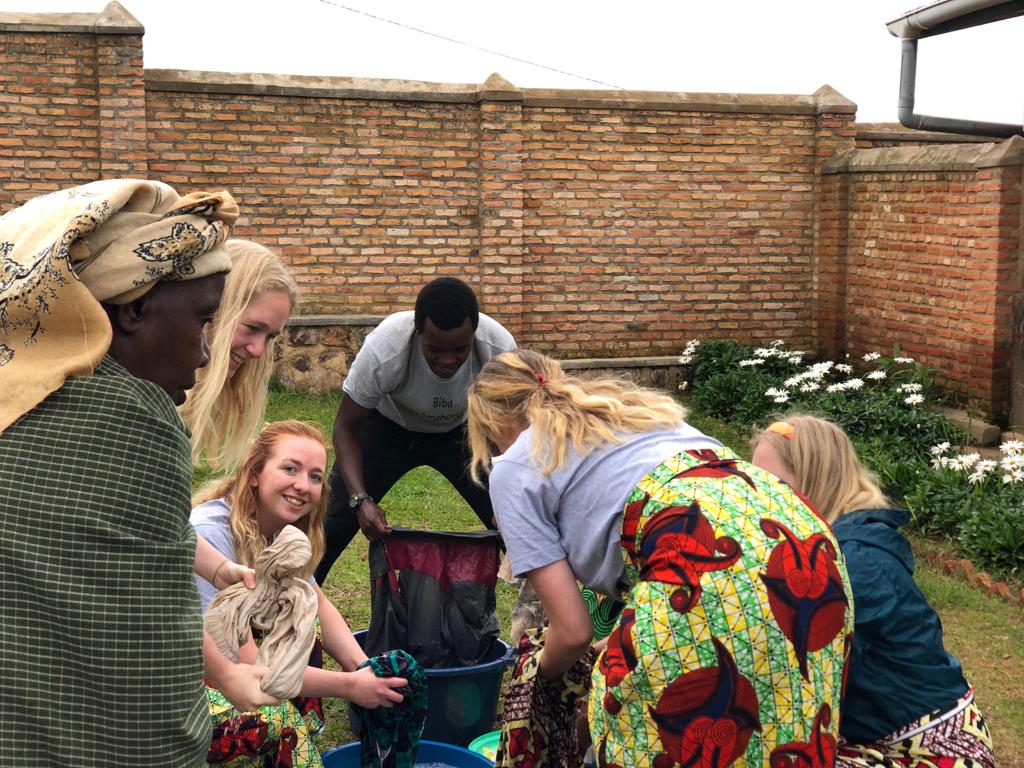 He would do it both verbally and practically.
"Before leaving any shelter, I would attend the village meeting – inteko y'abaturage and spread a message of peace" he said.
"In other cases, I would just plant a tree of peace, or hold hands with the host family to pray for peace among Rwandans."
In some areas like Musanze district – Northern Province, he understood that his host needed more action than words.
Some nuns in this area founded Charity Heart and Soul, a home that hosts children who were saved from the street where they were dumped by their merciless mothers.
"I spent a week with the children, cleaning their compound, cutting shrubs that had invaded it while also chatting with them to let them understand the value of peace. I know how to communicate to such a vulnerable community," Ntigurirwa said.
"These children needed clothes. Through social media, I requested well-wishers to do something and ten people brought clothes within the one week that I spent there."
In Gicumbi, he also washed clothes for the elderly while in Kayonza, he contributed two sacks of cement to build for a genocide survivor.
In all such activities, he drew a lesson that, "what it takes to be at peace, is not to be healthy, wealthy but to be satisfied with what you have."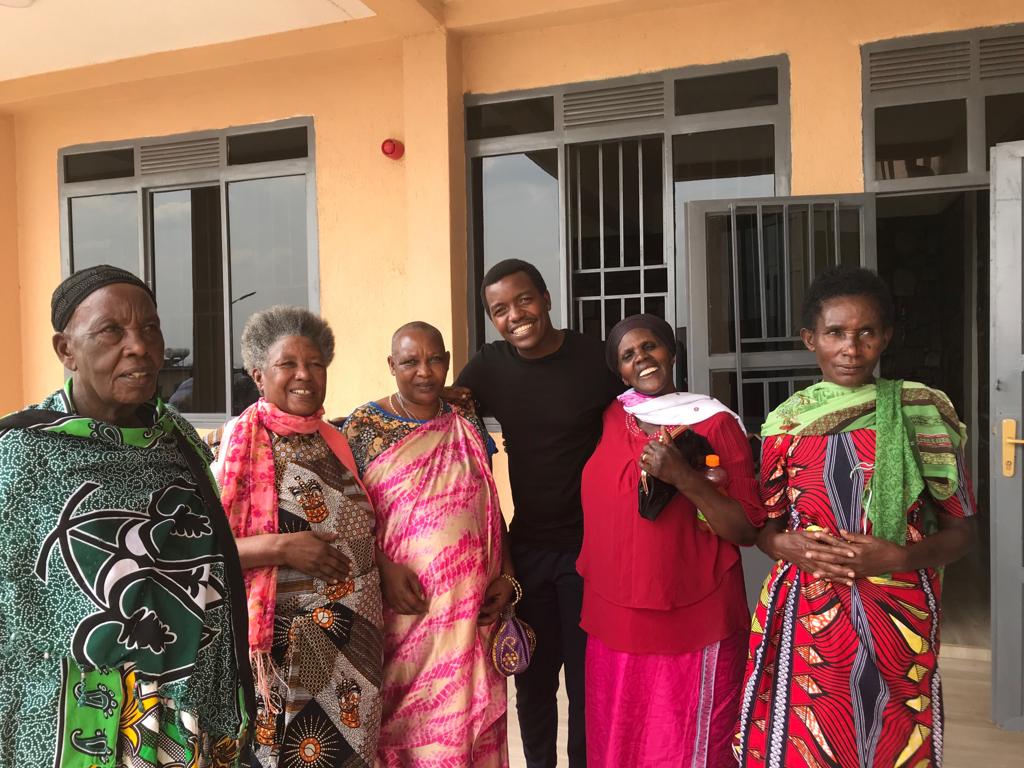 He saw this with the elderly Genocide survivors who were sheltered in homes that were built by Unity Club in Bugesera district – Eastern Province .
"The happiness that I found in the life of these elderly widows is unique," he said.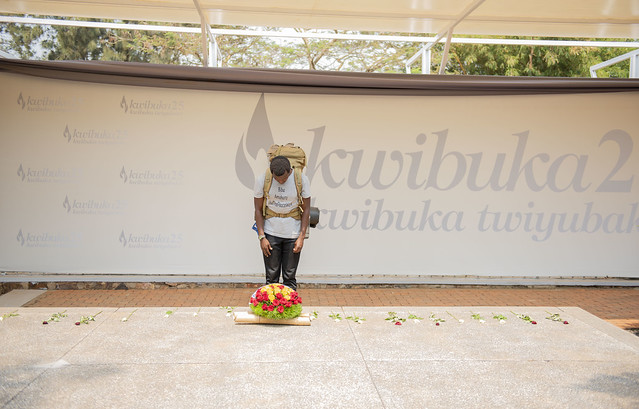 In every corner of the country, from Rubirizi to Kibeho in Nyaruguru district and from Murambi in Nyamagabe to Kigali Memorial centre, Ntigurirwa paid tribute to Genocide victims.
In Kigali, he wrapped up his trip on July 25, 2019 at 12.30.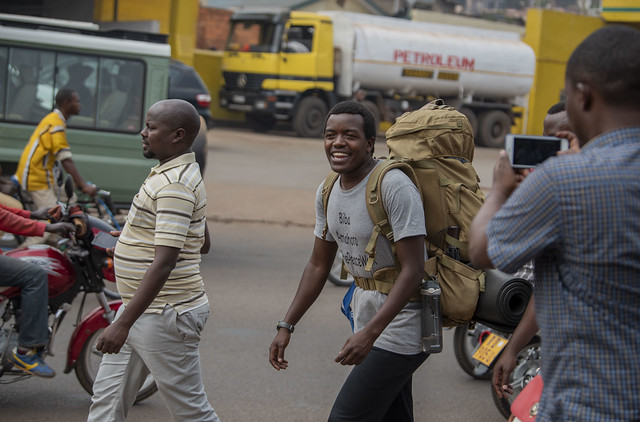 Expect a book and a documentary from his journey.