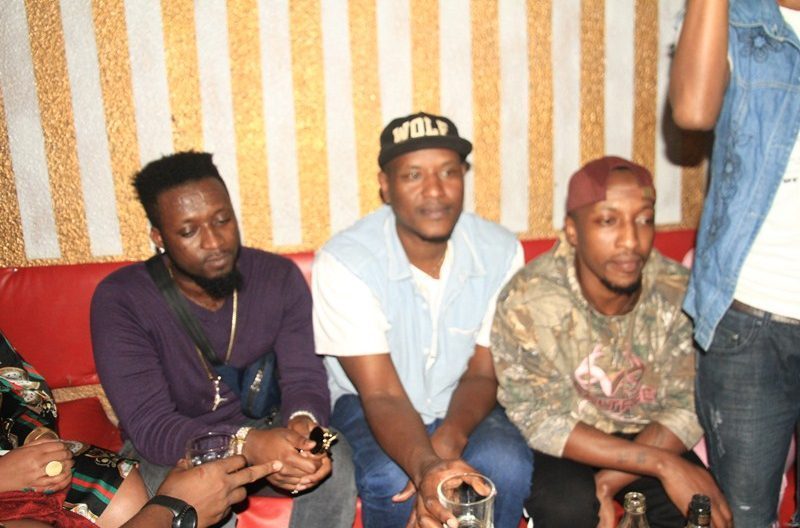 Singers Nizzo Ahmed and Safi Niyibikora finally buries the hatched and party together at Safi Madiba's show after nearly 3 years without seeing each other eye to eye.
This came after Nizzo from new Urban Boyz surprised ex-Urban Boyz lead singer Safi Madiba while performing at Sun City bar and cheered him as onlookers who knew the beef first thought it's a prank.
The pair shared a table together while sipping on a bottle of Jameson and everything seemed quite well between the two former bandmates.
Speaking on the incident, the Hero singer admitted that he was surprised but again happy to see Nizzo by his side again.
"I was surprised to see him on my show for real after a long time but we never lost love between us like people think, it's just a usual misunderstanding that happened between us," says Safi Madiba.
After breaking up with Safi Madiba, Urban Boyz rapper Humble Gizzo real name Manzi James told KT Radio that, the two used to have cat fights often even back stage over minor issues.
The gesture amazed Urban Boyz diehard fans across the country and KT Press journalist caught up with some.
"I love to see Urban Boyz singers grow old as friends not because they are singing together but because of the memories they shared many years before fame," Gisele Mutoni said.
"We would love to see them again on the same stage like other boy bands like B2K, New Edition and many more who broke up and reunited for the love of their fans," said Kamali Aivan.
"People get misunderstandings in life and decide to move on with their lives but it doesn't mean hatred to the extent of not seeing eye to eye, thanks to Nizzo who had guts to attend Safi's show without invitation," says Jessica Hirwa.
Urban Boyz go way back in 2006 and the trio released hits like Umwanzuro, Sindi Indyarya, Umfatiye Runini and Take it off featuring Jackie Chandiru.
Currently Urban Boyz (Nizzo and Huble) is busy working on the new album as ex lead singer Safi enjoys local airwaves with hits like Kontwari.