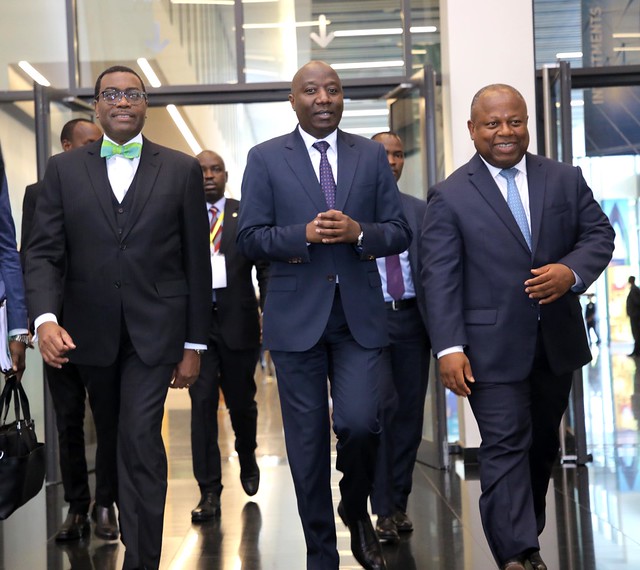 Rwanda's Prime Minister Dr Edouard Ngirente has urged African countries to invest in technology that positively impacts the lives of people and transform them socio-economically.
The Prime Minister made the remarks this Wednesday while officially opening the 4th annual General Shareholders' meeting of the Africa50, the pan-African infrastructure investment platform, which kicked off on Tuesday at Kigali Convention Centre (KCC).
Addressing the meeting, which is organized in collaboration with the Ministry of Finance and Economic Planning and Rwanda Development Board (RDB), the Premier, on behalf of President Paul Kagame, challenged the continent to create, shape and own her agenda when it comes to innovation and technology if the continent must progress.
"This journey will require us to invest across multiple dimensions from connectivity in rural and urban areas to digital literacy to increase adoption, and to prepare our young people to be successful in a digital world," Dr Ngirente said.
The Premier noted that African countries need to work hard to increase opportunities in technology, citing Rwanda as an example among countries which have made strategic decisions to invest in technology and infrastructure, including putting most key services online.
"In Rwanda, we started with laying the foundation by investing in infrastructure that led to 95% country fiber network coverage. With the infrastructure in place, we looked to digitize our services, connecting government to citizens through online services to improve service delivery,"
"Today we have over 90 services online on our platform called Irembo. We are now looking at universal digital literacy of our young people by 2024 as well as capitalizing on innovation and technology to develop our economy and reduce poverty," the premier said.
He noted that investments like these always require a lot of resources, urging collaboration and partnerships between governments, private sector and other partners.
He pointed out that Africa50, which was unveiled in 2014, has been a great example – stepping in to partner with the Government of Rwanda in developing Kigali Innovation City, a flagship project to accelerate innovation ecosystem.
Dr Ngirente commended the Africa Development Bank (AfDB) for supporting Rwanda in different areas including ICT, education and innovation. He observed that the investment made by countries and partners should be people centered if they must have an impact.
"We have a responsibility to ensure that the investments we make are lifting all our citizens out of poverty and not just a few,"
"Even as we invest in technology, let us support inclusive solutions that improve the lives of our people such as solutions that improve agriculture productivity, improve access to healthcare and quality education," he noted.
He said that these particular sectors have an impact on citizens and receive significant public funding, pointing out that African governments need to also challenge themselves to be agile and open to new technologies and innovations in their day-to-day operations if they are to create sustainable impact.
The shareholders' general meeting in Kigali, which was preceded by an Investment Forum, discussed investment opportunities and key areas of investment to boost innovation and infrastructure development on the continent.
Among the key speakers is the Africa50 Chairman of Directors and AfDB president Adesina Akinwumi, the Africa50 CEO Alain Ebobisse, the Minister of Finance and Economic Planning Dr Uzziel Ndagijimana, the Minister of ICT and Innovation Paula Ingabire Musoni and the RDB CEO Clare Akamanzi, among others.
Dr Akinwumi said that AfDB believes in President Kagame's leadership and will continue to support the country's vision by providing robust support to efforts to accelerate the development of Rwanda.
In the short time Rwanda has been a shareholder of Africa50, we have already built an effective partnership. We are pleased that Rwanda chose Africa50 as its partner for the groundbreaking Kigali Innovation City project,"
"The Kigali Innovation City will be a hub for world-class innovation. Right in the heart of Africa, it will help turn our young people into leading entrepreneurs and innovators who will be able to compete in the knowledge and innovation-driven global economy," he said.
With shareholder capital of $871 million, Dr Akinwumi said Africa50 has launched a number of infrastructure projects across the continent including in Cameroon, where the investment platform has provided equity investment of $45.7 million in the Nachtigal hydropower project which will generate 420MW of power.
Akinwumi said Africa50 has invested $30 million in equity in six solar PV power plants in Egypt and currently three of them have been connected to the grid.
The Africa50 CEO said the facility has already invested, or is considering investments, in the majority of  their 27 shareholder countries including Rwanda.
"In addition to Kigali Innovation City project, we are considering a number of investments. In Madagascar we are considering investing in a major hydroelectric project. Our chairman just returned from an official visit to Madagascar where he met with President Rajoelina for discussions that included this project,"
"In DRC we are assessing several projects, including the flagship two Congo bridge transport project, which the Chairman and I recently discussed with President Tshisekedi," he said.
Mr Ebobisse said Africa50 has identified projects to undertake in Guinea and Kenya among other countries but said that given the large infrastructure gap, Africa50 must grow capital beyond the current $871 million.
"We are doing this by increasing the number of shareholder countries at the rate of at least two a year. We will also leverage our existing funds to raise significant capital from institutional investors within and outside Africa50. Our near-term target is at least one billion dollars," he pointed out.
Rwanda joined the Africa50 platform last year at the 3rd General Shareholders meeting, in Nairobi, Kenya after which the investment platform and the government agreed to work together to set up the Kigali Innovation City, whose establishment is still ongoing and expected to hit $2 billion in a number of projects.
AfDB is one of the shareholders in the Africa50 platform which was established in 2014 to narrow gaps in infrastructure financing on the continent estimated to be up to $170 billion a year if Africa must achieve her development targets.
AfDB estimates that infrastructure funding needs in Africa are $130-170 billion a year, with a gap of $68-108 billion.
Government and public funding is not enough to bridge this gap. Africa50 is expected to unlock up to $50 billion in project value through its equity investments and value-added capabilities.