A walk around several Rwandan orphanages today, one notices two things; silence or sounds of Children in classrooms.
Yet, some months ago, you could hear crying children as young as 2-year-olds. This is the story that has characterised Rwanda for the past 25 years.
The 1994 genocide against the Tutsi, which claimed over one million lives, not only left the country with nothing, but a burden of massive orphans abandoned all over.
The tragedy created an idea within different charity organisations, well wishers and individual Rwandans, to establish massive orphanages across the country, to shelter these homeless Children.
Some grew up in orphanages and became mothers and fathers, sisters and brothers. They left orphanages to start their own life – thanks to priceless hearts of their hosts.
But those who were still young remained.
In 2010, government endorsed a policy to close down these orphanages – helping orphans and other abandoned Children to be fostered by families.
As of 2015, the National Commission for Children (NCC) indicated that 1800 Children had been returned to families, while 1500 were still in orphanages.
According to NCC, there were 35 orphanages in the country when campaign to have all children from orphanages back in families. Out of this, 29 orphanages have closed down while 6 others remain active with 551 Children sheltered there.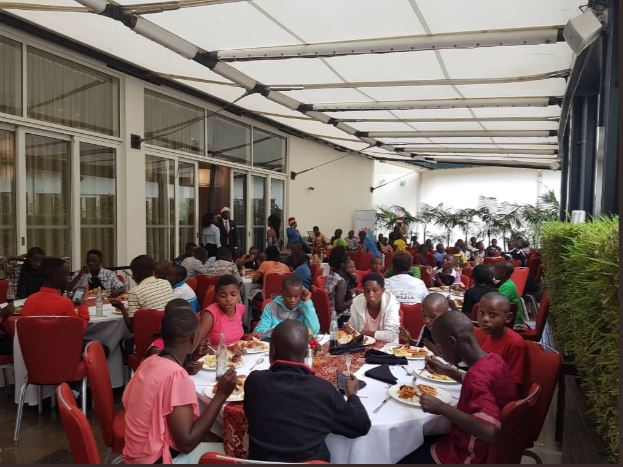 Those that have closed down include the famous Gisimba Orphanage in the capital Kigali, Mpore Pefa from Kicukiro district, Orphelinat Noël de Nyundo in Rubavu district – Western Rwanda, Association Orphelinat Mère du Verbe in Gasabo district; Village de la Paix, PAMASOR-Sinapisi and Cite de la Miséricorde Gahanga in Kicukiro district.
Others are Cite de la Miséricorde, Home of Hope, Fashumwana center, Village d'Orphelins Ineza, Orphelinat St Joseph Muhura; Orphelinat Adventiste de Gakoni, Cite de la misericorde de Rusayo, Centre Humura; Home of Mercy Ngarama, New Hope Homes (Musanze);L'Esperance Children's village(Karongi), Home Amizero-Kinazi, Future for Kids(Musanze), Nibakure Children Village (Bugesera), Ibambe Abajambo(Bugesera); Rafiki Foundation(Bugesera), Victory Family and Home of Champions(VFHC) Kamonyi; Home Don Bosco Nyanza, JAM Muhanga, Urukundo Foundation Ngoma and Home of Mercy.
The orphanages still sheltering Children are; SOS CV Kayonza, SOS CV Kigali, SOS CV Byumba; SOS CV Gikongoro,Future for Kids and Centre St. Antoine.
Thousands of Children fostered
Appearing before lawmakers on Monday, July 29, the Executive Secretary of the National Commission for Children (NCC), Dr. Claudine Uwera Kanyamanza, said that more than three thousand Children have been reinstated in homes.
"3251 orphans formerly living in different orphanages have been returned to families."
The Commission launched a programme dubbed: "Tubarerere Mu Muryango Pro-
gramme /let's raise Children in Family (TMMU) to help orphans and other abandoned Children get families.
Dr. Kanyamanza told lawmakers that for the programme to succeed, the National Commission for Children has been training the officers in charge of civil registration and notaries of all sectors, while its staff, District
Gender Officers of different Provinces were also trained on how to legalize the placements through guardianship and adoption as provided by the law governing persons.
We Have learnt a lot from Orphanages – HHC
In reintegrating children into families, NCC has for partner Hope and Homes for Children(HHC), a non profit making organisation operating in Rwanda for several years now.
Celestin Mutuyimana, a project coordinator at HHC told KT Press, that they discovered several realities which, if they were known from parents, "no one would allow a child to stay in an orphanage."
For example, he said, in some orphanages, during the closure exercise, they realized that only children aged eight years old and below, can eat while the rest go hungry for days.
Other children face abuse of all kinds,"but no one can know it, except the orphanage officials."
Such are some of a few cases that Mutuyimana mentioned, which, all-together "constitute a parenting crisis."
This parenting challenge does not spare even the so called 'good orphanages" where children have all comfort one would wish their children can have.
"Someone tells you that they provide fruits for the child, give him a microwave to have worm food whenever they need it…well, this is good, but does not fit the reality of our society. 18 years latter when such a child goes out of orphanage, he will not find his way out," said Mutuyimana adding that, a child needs that kind of parenting which exposes him to realities of life.
From this, Mutuyimana said that the TMMU program is being a success, because, "all children that were hosted can never dream to return into orphanages, no new orphanages are being born and the community is being aware that, a education out of a family is no education."
The National Commission for Children says that in order to continue keeping former orphanages efficient and running, the commission collaborated with the owners to establish Early Childhood Development Centers (ECDs), schools and other recreational activities.