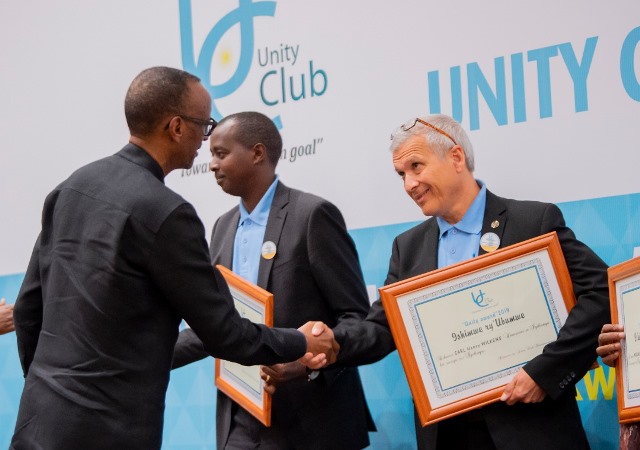 President Paul Kagame has this evening awarded two Rwandans and an American citizen with the medal dedicated to abarinzi b'Igihango (protectors of friendship pact). The awardees include Daphrose Mukarutamu, Serge Gasore and American Carl Wilkens.
The award were given during the closing of the 12th Forum of Unity Club – Intwararumuri in Kigali.
Unity Club whose chairperson First Lady Jeannette Kagame is a forum where current and former Rwandan leaders and their spouses are able to network and collaborate to address community issues.
Back to the award of Abarinzi b'igihango, it goes to persons who displayed outstanding acts of courage and humanity by protecting or rescuing thousands of Rwandans during the 1994 Genocide against the Tutsi, as well as promoting unity and reconciliation among Rwandans in its aftermath.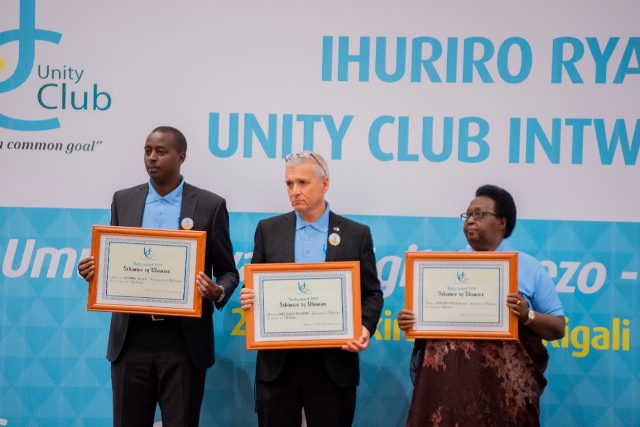 When mass killings erupted during the 1994 Genocide against Tutsi – the victims could never dream there was a section of people who had big hearts and respect for humanity. But a few existed, including Carl Wilkens – the only American who stayed in Rwanda during the Genocide.
In April this year, KT Press caught up with Wilkens who endured the worst 100 days of the 1994 Genocide against the Tutsi in Rwanda, to tell us his story.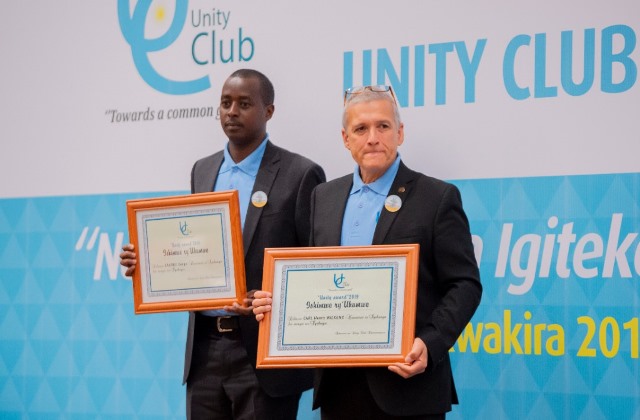 In 1990, Carl Wilkens arrived in Rwanda on a mission as the country director of Adventist Development and Relief Agency (ADRA). He moved to Rwanda with his wife and three children.
Life was good, until in 1994 genocide broke out – prompting Wilkens to make one of the toughest decisions – to "never leave" Rwanda – irrespective of massive massacre that was ongoing across the country.
Among those to commemorate with, is a man and woman who made Wilkens to take such a bold decision to stay in Rwanda when other nationals were being rescued by their respective countries – leaving Rwanda in an abyss.
"The two people were a Rwandan housemaid and a watchman whom we had lived together for 4 years. I thought if I left, they would be killed. This is why I decided to stay with them," Wilkens told KT Press.
Details of his boldness during the Genocide, how he accepted to allow his family to leave Rwanda but stayed in Rwanda despite the savage killings, how he latter on reunited with his esteemed family and how he returned to Rwanda is narrated in a detailed story here; Carl Wilkens: The Only American Who Stayed In Rwanda During The Genocide.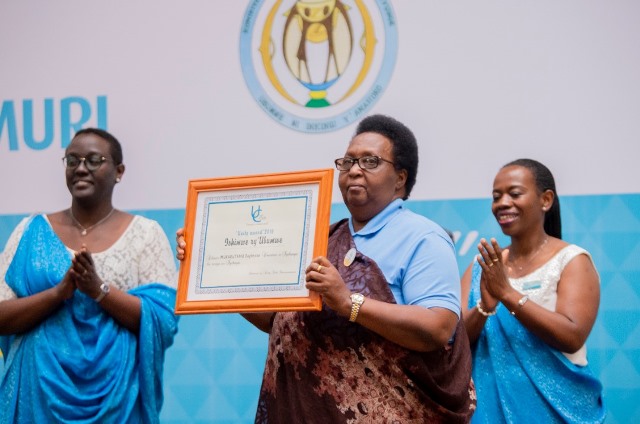 To be awarded is also Daphrose Mukarutamu, a genocide widow, the founder of Duhozanye, an association from Save in Gisagara district whose objective is to restore hope to widows and orphans. The association closely follows up and defends the rights of rural communities. It promotes economic development, provides shelter to members and helps them grapple loneliness and trauma.
The organization has brought solace to many genocide widows and orphans.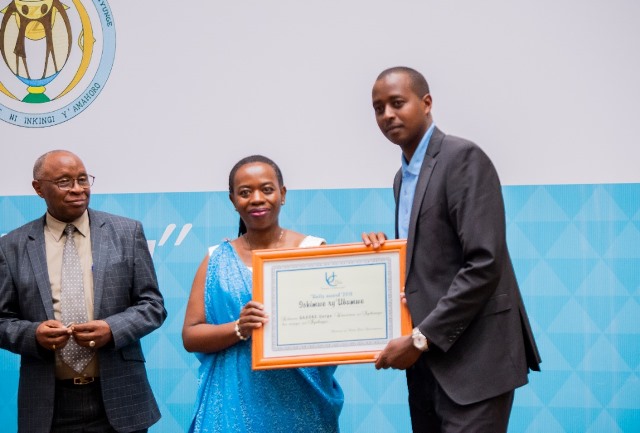 Serge is a native Rwandan and a survivor of the 1994 genocide against the Tutsi. After completing master degrees in both Information Technology and Global Service at Abilene Christian University, Serge founded Rwanda Children in order to provide aid to vulnerable children in his home village of Ntarama. He was honored as the 2018 Young Alumnus of the Year by his alma mater, Abilene Christian University.
During the awarding ceremony, President Kagame said that Unity Club, with its good structure, has provided many good things, and the most important of all, "allowing us to meet again and live the same life we lived for several years."
"We reflect about the life we experienced 20, 30 years ago; hard life which taught us a lot though."
The more life is hard however, said the president, the more it strengthens you. It led us to Ndi Umunyarwanda values.
To President Kagame, Ndi Umunyarwanda or that belief that you are a Rwandan like your neighbor helps Rwandans to build themselves and to carry on.