Rwanda's First Lady Mrs. Jeannette Kagame says it is time the society worked towards changing cultural practices that limit girl's potential and keep them constantly below boys, if the continent is to achieve holistic empowerment of women and girls.
The First Lady made the call on the International Day of the Girl Child, at the same time calling upon the youth to stand up and count and take their place on the table to make a meaningful change.
Mrs Kagame on Friday took part in two sessions at the just concluded YouthConnektAfrica Summit 2019, including one which was aimed at finding solutions to the growing cases of teenage pregnancies which affect the future of young girls.
The First Lady, who through her philanthropy organisation Imbuto Foundation, champions different initiatives to promote the education and protection of the girl child, called on world leaders to take action on the issues affecting the youth, particularly girls, for them to realise their potential.
"We must intensify our resolve to change cultural practices that limit girls and women to specific roles, in a thinly veiled attempt, at keeping them steps below their male counterparts," Mrs Kagame said.
Mrs Kagame participated in a session dubbed "Pathways to Development: Through Civic engagement and  Volunteerism" during which young people were encouraged to stop focussing only at paying jobs, but also consider volunteering in areas of need while innovating solutions to existing challenges in their respective societies.
She emphasised that if the youth can focus on these pathways, they will lead to sustainable development and drive economic growth on the African continent.
"Dear youth, the existence of relevant structures for your betterment, are but the initial steps needed to see your lives and situations improve.  The ultimate choice to accept, and participate remain yours," she said, adding that the youth are the continent's most valued asset.
"You make up 1.8 billion of the world's population, and within you lies enough energy – if properly channelled – to ignite the continent's power grid of ideas and options,"
"Representing a whopping 60 per cent under the age of 25 of Africa's total population, you make this the most youthful continent on the globe," Mrs Kagame said.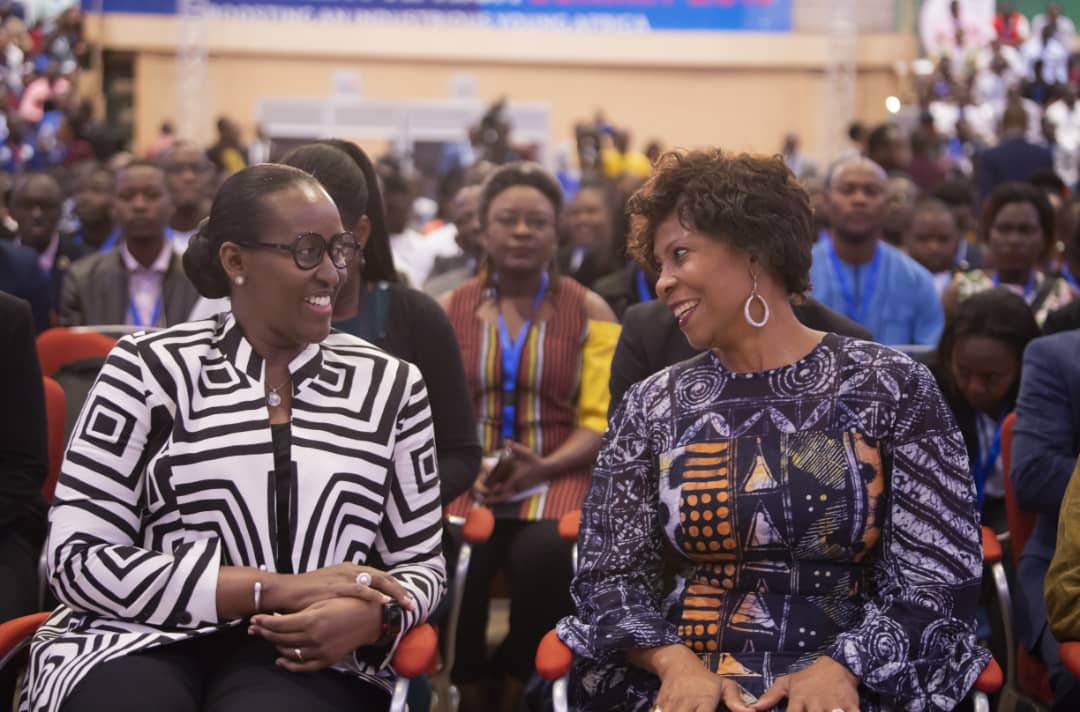 She noted that the youth are poised to be a determinant factor in the transformation of the African continent and the pathway to sustainable peace and prosperity.
"Your presence must count for something; your energy must define and shape the destiny of our continent. In the world we live in today, these numbers matter,"
"When translated, they tell the stories of the opportunities available for you, but they also tell of the enormous responsibility that is upon your shoulders," she said.
During the session which discussed volunteerism and its benefits, Mrs Kagame said volunteerism is a noble act which speaks directly to one's altruistic nature to contribute to causes that especially result in the development of those around them.
"Volunteerism is certainly not new to our continent. Our traditional practices are rooted in the importance of the community, and the resulting duty we owe to one another, to alleviate the inequalities of this world,"
"Remember also that there is power in all acts of volunteerism, no matter how big or small they may seem," she said, challenging them to imagine for a second, what societies would look like, if we did not cultivate the African spirit of 'ubuntu',
She emphasised that volunteerism has shaped health systems, education, agriculture, science and technology and many other sectors, while enhancing the capacity, skills and knowledge of youth.
She commended different organisations which promote the culture of volunteerism.
Among those she mentioned the United Nations Volunteers programme, VSO Rwanda and African Union, among others, which offer youth with opportunities to volunteer, opening up bigger opportunities for them and giving them the much needed experience.
"We could never overemphasize the fact that the active engagement of youth in all spheres of life is essential for our collective development and growth,"
"Youth are a large percentage of the labour force, and policies that do not integrate them, are compromising overall development," the First Lady said.
She acknowledged global leaders and decision makers who are progressively revisiting and reinforcing strategies to effectively harness the dynamic potential of the youth, as key partners of development.
"In the case of Rwanda, our government built national policies rooted in our cultural values of volunteerism, to ensure more effective mobilization – and channelling of community efforts – for measurable impact, in a more conducive environment,"
"Looking at our demographic groups, where 70% of the population is below 35 years, we made the choice to invest in our youth from the onset," she said, pointing out the youth have been involved in national unity, giving them a place at the table and putting them at the centre of  the country's transformation journey.
Through strong political will, inclusive and youth-friendly policies and programmes that Rwandan youth are, not only motivated to focus on the aspects that unify them, but have been given avenues to contribute to their country's growth.
She urged the youth to take time and do some deep soul searching, to truly know their purpose and to surround themselves with people who will push them beyond the comfort zone if they are to exercise their role as powerful agents of change within their communities.
Mrs Kagame urged the youth to capitalise on all current available technologies to learn from one another, so that they can effectively implement best practices of civic engagement from across the continent.
During this session, youth from across Africa, leaders in Government, civil society and development partners discussed the importance of civic engagement and volunteerism in community and national development.
Several speakers including Isabelle Kamariza, the founder of the Solid Africa, a local NGO which provides meals to vulnerable patients in referral hospitals spoke about starting off as volunteers and eventually solving very challenging issues in society.
Solid Africa was launched in 2011 with a mission to help vulnerable patients in public hospitals. Through five programs, the organization provides food, hygienic products and other services with a goal to accelerate patient recovery process, to preserve patient's dignity and promote equity.
Kamaliza challenged the youth to solve challenges that face the society rather than looking up to the government for whatever they want.
The session was wowed by Brown Niyonsaba, a deaf volunteer with VSO Rwanda, whose mission is to support deaf single mothers who do not have any knowledge on sexual reproductive health and are mostly illiterate.
Ivorian Football legend Didier Drogba also attended the session during which he highlighted his charity and humanitarian initiatives through his foundation.
Over 4, 500 youth from across Africa attended the session.