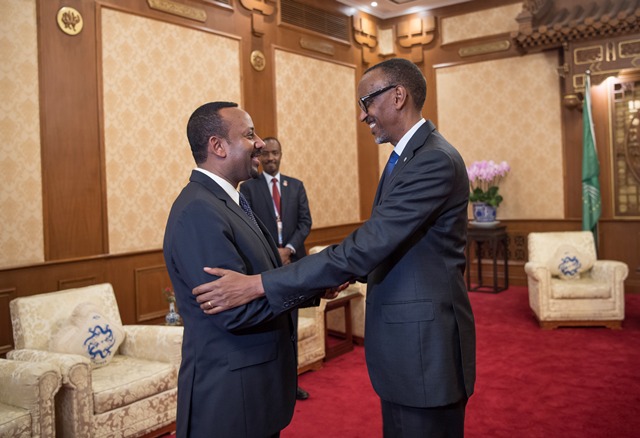 President Paul Kagame has congratulated his Ethiopian counterpart Prime Minister Abiy Ahmed Ali for being announced the 2019 Nobel Peace Prize Laureate.
"Congratulations to my brother and friend Prime Minister Abiy Ahmed Ali, 2019 Nobel Peace Prize Laureate. Well deserved! Your remarkable commitment to Ethiopian unity, as well as regional peace and cooperation, are an inspiration to many in Africa," Kagame tweeted on Friday.
Today, the awards committee in Norway announced Prime Minister Abiy Ahmed Ali the winner of this year's Nobel Peace Prize – one of the five Nobel Prizes established by the will of Swedish industrialist, inventor, and armaments manufacturer Alfred Nobel, along with the prizes in Chemistry, Physics, Physiology or Medicine, and Literature.
Prime Minister Abiy was recognised for starting peace talks with neighbouring Eritrea and establishing a peace agreement to end the long stalemate between the two countries.
"I am humbled by the decision of the Norwegian Nobel Committee. My deepest gratitude to all committed and working for peace. This award is for Ethiopia and the African continent. We shall prosper in peace!" Prime Minister Abiy tweeted.
Announcing the winner, Berit Reiss-Andersen, chair of the Nobel Peace Prize Committee said that "When Abiy Ahmed reached out his hand, President Isaias Afwerki grasped it and helped to formalise the peace process between the two countries,"
"In Ethiopia, even if much work remains, Abiy Ahmed has initiated important reforms that give many citizens hope for a better life and a brighter future," she said.
"He spent his first 100 days as prime minister lifting the country's state of emergency, granting amnesty to thousands of political prisoners, discontinuing media censorship, legalising outlawed opposition groups, dismissing military and civil leaders who were suspected of corruption and significantly increasing the influence of women in Ethiopian political and community life," Berit Reiss-Andersen said of Prime Minister Abiy's remarkable achievements – nearly eighteen months since he assumed office.
Acknowledging the prize, the office of the Ethiopian prime minister of Ethiopia said: "We are proud as a nation" for winning the prestigious award
"This victory and recognition is a collective win for all Ethiopians, and a call to strengthen our resolve in making Ethiopia – the new horizon of hope – a prosperous nation for all," a statement read.
Since 1901, 99 Nobel Peace Prizes have been handed out to individuals and 24 organisations. While the other prizes are announced in Stockholm – the capital of Sweden, the peace prize is awarded in the Norwegian capital, Oslo. At least 12 Nobel laureates were named. Since 1951, 24 Nobel Peace Prizes have been given to Africans.
Dr Denis Mukwege from the Democratic Republic of Congo (DRC) was last year's recipient of the prize. The 2018 Nobel prize was awarded to Dr Mukwege for his exceptional commitment to healing victims of sexual violence during conflicts in his home country.
The laureates will receive their prizes during ceremonies on December 10 – the anniversary of Nobel's death in 1896 – in Stockholm and Oslo.
The Nobel Peace Prize comes with $918,000 cash award, a gold medal and a diploma.