She had almost been 'condemned' to live with the illness which has become part of her life until a journalist of Kigali Today, a sister website to KT Press found her and decided to shout about it.
Ruth Bakundukize 39, a lady from Buvano village, Busoro cell, Nyamyumba sector of Rubavu district was born after nine months like you and me, but when she was preparing to start primary education aged 7 years old, unusual pimple started developing all over her body.
Within a couple of months, the problem became incontrollable that she could not walk.
Thirty two years later, Bakundukize's illness only worsened. Her arms grew unusually to such an extent that she couldn't afford to put up her hand. Her massive body became too heavy for her to move and the problem extended to the hand which, metaphorically, disappeared.
For all these years, she tried all medical services she could afford in her area in vain. She thereafter gave up when family and neighbors were almost 'tired' of her.
She happened to learn that she was suffering from Neurofibromatosis.
It consists of a genetic disorder of the nervous system. It mainly affects how nerve cells form and grow. It causes tumors to grow on nerves.
One can get neurofibromatosis from parents, or it can happen because of a mutation (change) in one's genes, yet it is a rare disease which can affect one person out of 3000 people in its type one, or just one person out of 35,000 people for the severe one – type 2.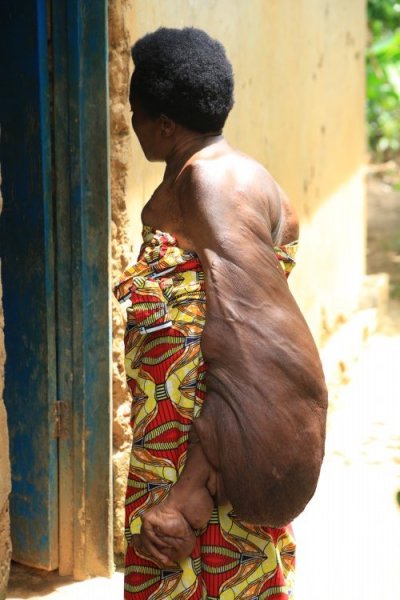 Last week, a journalist of Kigali Today learnt about this case and visited her at Rubavu hospital where the medical director was sending alert about the patient whom he feared, "would not survive the illness, unless special intervention is done.'
His story yield results. At press time, Bakundukize was undergoing surgery at Murunda hospital in Rutsiro district, Western Province.
Our reporter indicates that, medical specialists from Germany committed to handle her case until she recovers her normal body.
The doctors said that the illness will be treatable, unless it has caused cancer.