The former President of the African Development Bank (AfDB) and Chairman of the Global Fund board, Dr Donald Kaberuka has described the argument of Africa drowning into debt, particularly Chinese debt, as nonsensical.
Dr Kaberuka, one of Africa's top economists, dismissed the argument that Africa is sinking in debt and that Chinese are about to take over the continent. He said it does not make sense because the continent has the smallest share of global debt and accesses little of it.
"It is a very small share of debt globally. Since the global financial crisis, literally, corporate debt and sovereign debt have gone off. The increase in Africa has been quite modest, but we can discuss about public financial management,"
"How is their debt [countries] used? That is a different conversation, but the idea that Africa is going to drown in debt is nonsensical. It is not supported by numbers. What is the problem, which I admit, is that our effort in mobilising domestic revenue has declined," the former Rwandan finance minister said.
Dr Kaberuka made the observation on the opening day of Kusi Ideas Festival, themed "The next 60 years in Africa" organised by Nation Media Group (NMG) at Intare Conference Arena in Rusosoro.
"For example here in East Africa, since we are here, there are some countries which were doing up to 21 per cent of GDP in revenue collection. 21 percent, but that has declined to about 16 percent. That is about 5 percentage point every year," he said, pointing out that is a lot of money and it is often replaced by external borrowing.
Kaberuka said that if African countries can improve on mobilising resources domestically and managing well what they borrow, the argument that Africa is sinking in debt would not be coming up.
"If we can improve on our own domestic revenue mobilisation, if we can improve on our public debt management and if we can improve on our debt management capabilities, the continent is able to take a bit more debt, especially at this time when the markets are looking for yield," Dr Kaberuka said.
He was speaking on a panel dubbed "Turning Africa's Population Explosion into an Economic Boom: The Opportunities and Perils" which featured among others Dr. Kamau Gachigi, the Chief Executive Officer, Gearbox from Kenya and Fredros Okumu, the Director of Science, Ifakara Health Institute, Tanzania.
The panel also had Dr. Carlos Lopes, the Former Executive Secretary the United Nations Economic Commission for Africa (UNECA), also honorary Professor at Nelson Mandela School of Public Governance, Faculty of Commerce, University of Cape Town and Sylvia Mulinge, the Chief Customer Officer, Safaricom.
The panel discussed a range of issues including what the continent needs to do to address food shortage and creating jobs for young people. As Universities and colleges continue to churn out millions of young people, there few jobs in the economy to absorb them.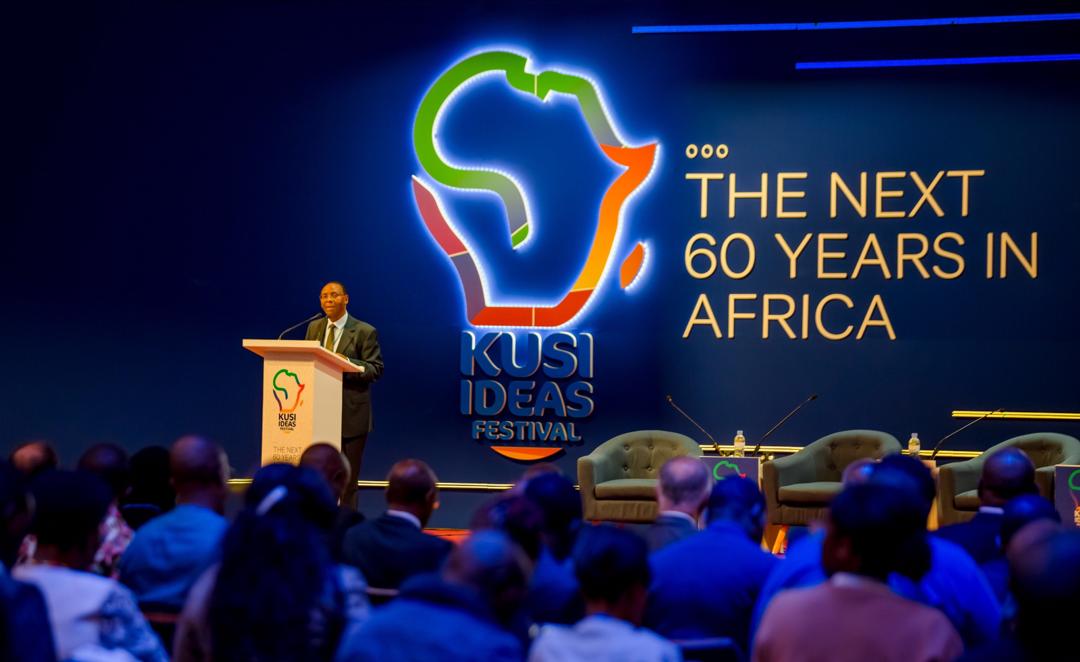 Speaking about the Kenyan experience, Mulinge said the Kenyan education sector produces about 800, 000 to 1 million graduates annually yet only 80, 000 jobs are created annually in the formal sector.
"The question is, where are all these young people going? Where are we creating the capacity to be able to absorb these young people? If you look at the statistics of Kenya, agriculture is the biggest employer. We could easily engage them but we also find that most of our youth are very digital, mobile phone enabled,"
Mulinge said that even that if they were to be engaged to join farming, it would be through a different kind of infrastructure or platform, which is why companies like Safaricom have started initiatives to create digital jobs and partnerships with the likes of Cloud Factory who are creating about 4, 000 opportunities annually.
A panel dubbed "Who'll Grow The Food, Who'll Get To Eat? Feeding Africa: Growing the Food, Paying for it, and the Innovations that Will Ensure Everyone Gets to Eat" featuring Dr. Diane Karusisi, the CEO, Bank of Kigali, Catherine Kyobutungi, the Executive Director, Africa Population & Health Research Centre discussed the challenge the continent faces in regard to food security.
Dr Agnes Kalibata, the President of the Alliance for a Green Revolution in Africa said that Africa is not shot of food but what lacks is the political will and using the right means to address the problem, citing Rwanda as an example.
"We all know that hunger is the result of political inaction. It took Rwanda only three years to reduce the percentage of people that were food insecure from 55 per cent to 21 per cent. I haven't been around for a while but I am sure a solution for the 21 per cent has been found,"
"There is a lot we can learn from Rwanda. How has Rwanda been able to do it in such a short time?" Dr. Kalibata said adding that it is not about lack of resources but how they are allocated to address the food needs of the people, citing the use of technology to improve agriculture as one of the solutions.
President Paul Kagame and Félix Tshisekedi President of the Democratic Republic of the Congo (DRC) participated in a panel dubbed "The Next 60 Years in Africa: Looking for wins" alongside Moussa Faki Mahamat, the Chairperson of the African Union Commission, Raila Odinga, the High Representative for Infrastructure Development in Africa, African Union and Dr. Vera Songwe Executive Secretary, UNECA.
The first edition of Kusi Ideas Festival was organised in line with marking 60 years since NMG was established.
In his message read out by the a representative, His Royal Highness the Aga Khan, the founder of Nation Media Group, said that the forum will be key in setting the agenda for the continent for the next 60 years, adding that the world has a lot to learn from Africa.