As the world gears up for the most celebrated days of the year Christmas and New Year's, in Rwanda the hype is real and for the artists it's time when they turn clubs, studios and concerts venues their beds to make the season lit.
No musician wants to end the year without a new hit song or miss out on the festive season playlist.
KT Press gives you a glimpse of some of the hitting fresh tunes ousted in this regard and with no doubt, they will make your parte after parte plans full of good memories.
Uuh Mama; It's a brand new jam from Rwanda's finest R&B star Meddy featuring Kenya's Willy Paul. The audio was dropped on 16 Nov and as we speak, it has 172,621 views and in only 22hrs its premiered video has 92,144 views.
Meddy has other hits enjoying massive airplays already like Adi Top and Down Town. The singer also signed a fat contract with a Seychelles based tour company called Mazimillions due to his popularity.
Karibu Nyumbani; This song was ousted on Dec 1st by a popular deejay called Zizou Alpacino and right now, it's one of most played tunes in clubs and hangouts not only in Kigali but also in the country side.
The song boasts 24,564 views and it's requested on radios and clubs frequently.
The reason why it spread like a wild fire, it's because it features popular music stars with a huge fan bases like Riderman, Uncle Austin, Bruce Melody and Amalon.
Can't Get Enough by The Ben feat Otile Brown; The song has already fetched 212,410 views and it trending on social media platforms like Instagram, whatsapp and snap chat as a tune of the month.
The Ben already has club burgers like Fine Girl and Binkorera with Sheebah Karungi from Uganda rocking several popular hangouts regionally.
True Love by Safi&Marina: This one comes from The Mane record label which produces for artists Marina and Safi Madiba, its video was released a few weeks after its audio but it's also taking the nation by storm. It currently has 78,472 views.
Nari High by The Mane artists Queen Cha, Safi, Marina, Calvin and Jay Polly.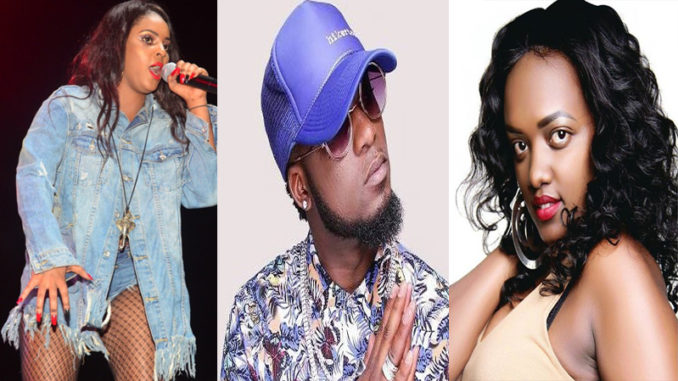 The song came to be popular among party goers due to its lyrics which talk about the negative effects of alcohol. The song was released in October when Rwanda National Police had just launched #GerayoAmahoro loosely translated as 'reach safely', the campaign which was the talk of the city aided its popularity and it currently has 296,198 views.