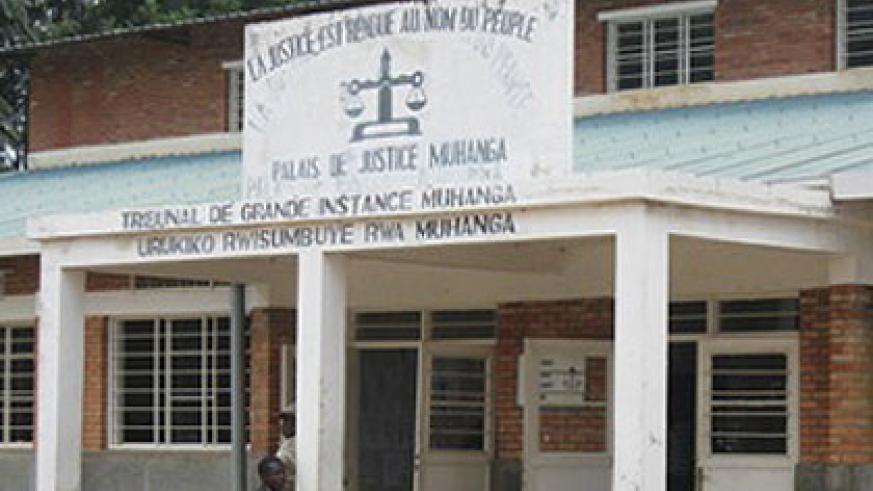 Rwanda Investigation Bureau (RIB) has arrested two judges and one court registrar over allegations of corruption in a move to crackdown on the vice in the justice sector.
The arrest followed complaints from people who had cases pending before the courts of law who claimed that judges solicited for bribes to fast track the cases or make favourable rulings.
"The two judges are; Mushimiyiryo Pacifique, a Judge at Muhanga Intermediate Court and Mugabutwaza Vincent, Judge at Rusizi Intermediate Court,"
"The court registrar is Banashenge Victoire, working at Muhanga Intermediate Court. All suspects are held at Kimihurura, Kicukiro and Kimironko RIB stations as their case files are being compiled for prosecution," RIB announced on Friday.
The arrest was announced few hours after President Paul Kagame called on the heads of institutions in the Judiciary to address concerns of corruption that have been highlighted in the sector.
President Kagame said that corruption in the Justice sector has been mentioned several times among institutions where corruption still exists.
"We must fight it. We should not let it be a culture because once it becomes a norm in the Justice sector, it is normalised in the entire country," he said.
He pointed out that corruption aligned with the country's development ambitions or what it aspires for, adding that those implicated should be dealt with decisively and convincingly.
The development came a day after the High Council of the Judiciary chaired by the outgoing Chief Justice Prof. Sam Rugege fired several judges and court workers suspected to be involved in corruption including those who were arrested.
Others fired include Abraham Shumbusho who was a Judge in Nyamagabe Intermediate Court, Clémentine Mukahirwa who was a registrar in the court of appeal and Pacifique Kiyonga Rukenura who was a law researcher.
According Rwanda Bribery Index, 2019, which was released by Transparency International Rwanda Chapter this week, the Justice Sector is among the sectors where corruption is prevalent.
Last month while officiating at the ceremony to launch the 2019/20 judicial year, President Kagame said that the Judiciary was found to be the only sector where corruption is on the rise while it is declining in other sectors.