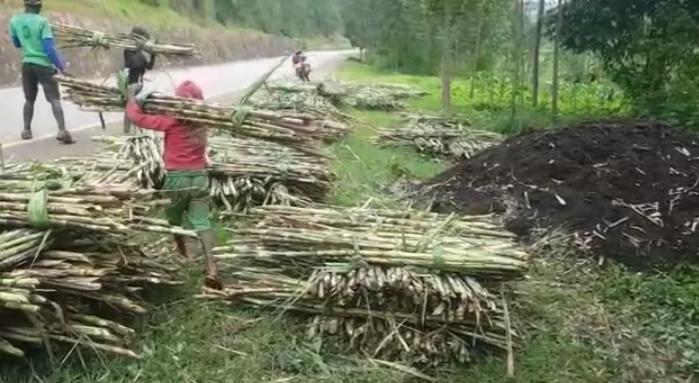 On Friday, December 6, Rwanda Investigation Bureau (RIB) said they arrested Jean de Dieu Bizimana and another suspect identified as Jea Pierre, on suspicion of using Children in sugarcane plantations in Rulindo District, Northern Rwanda.
The suspects remain in custody pending investigation.
At the time of their arrest, a report by "Accelerating Actions Against Child Labour in Africa" – a project affiliated to International Labour Organisation (ILO) was being unveiled to journalists at the just concluded 14th African Regional Meeting of the ILO in Abidjan – Cote D'Ivoire.
The report contains damning numbers of Child Labour in Sub-Saharan Africa that have remained rampant compared to the rest of the regions and the world at large.
"Sub Saharan Africa is the only region of the world where child labour prevalence has not reduced," Minoru Ogasawara – Chief Technical Advisor at the Project read from the report.
According to Ogasawara, between 2012-2016, Sub Saharan Africa had 22.4 per cent of Children between 5-17 years engaged in child labour.
In Africa, says the report, one child out of five is in child labour.
From this report, Agriculture, Industry and services were highlighted as the key sectors that employ underage children – ruining their right to education, harming their phyisical and mental development as well as depriving them of their childhood.
The report says that in Africa, children involved in child labour in agriculture  account for 85.1 per cent – way abover the global level of 70.9 per cent.
Arab states follow with 60.3 per cent while child labour in agriculture stands at 51.5 per cent in Americas.
Worldwide, 218 million children between 5 and 17 years are in employment.
Among them, 152 million are victims of child labour and almost half of them, 73 million, work in hazardous child labour.
In absolute terms, ILO says, almost half of child labour (72.1 million) is to be found in Africa; 62.1 million in the Asia and the Pacific; 10.7 million in the Americas; 1.2 million in the Arab States and 5.5 million in Europe and Central Asia.
Under the Sustainable Development Goals (SDGs)'s famous 8.7 target, all UN member states agreed to end all forms of Child labour within 5 years from now (2025).
Fanfan Rwanyindo, Rwanda's minister of public service and labor was also in Ivory Coast for the 14th African Regional Meeting of the ILO.
The International Labour Organisation (ILO) believes that "this can be achieved" despite being "an ambitious" target – especially in Sub-saharan Africa where Child labour numbers remain stagnant.
Need to work together
For Sub Saharan Africa to achieve this ambitious target, one key is needed to unlock the door; the need for governments and stakeholders to join hands, according to Minoru Ogasawara.
"If you don't work together, you will achieve nothing," Ogasawara advised during an interaction with members of the media.
Rwanda's tough measures
Rwanda has been putting in place tough measures to deal with parents and other culprits subjecting children into forced labour.
For instance, in September 2016, about 3000 parents in Ngororero district, Western Rwanda, risked paying heavy fines after failing to maintain their children in school.
This was after a survey conducted by members of the Parliament in the district which found that out of 7395 children who were enrolled in June that same year, 2992 had dropped.
The legislators unearthed an alarming issue where parents reluctantly forced their Children out of school and instead subjected them to child labour.
This attracted a serious concern, with Justice Minister Johnston Busingye reminding parents of the law that provides punishments for careless parents who do not educate or take care of their children.
The revised Law Nº32/2016 of 28/08/2016 governing persons and family in its article 203 on 'obligation to cater for and educate children' indicate that by marriage, spouses are obliged to cater for and educate their children based on Rwandan cultural values.
The law stipulates that if one of the spouses does not comply with this obligation, the other spouse or any interested person may file a lawsuit against him/her.
In addition, district councils in every district reserve the right to provide for specific punishment to every parent who fails to send back children to school.
In Ngororero, following the alarming survey by the members of Parliament, a directive from the district council announced a fine of Rwf 50,000 for a school dropout, while anyone involved in child labour is fined with Rwf 100,000 or $108.
All this, officials said, is part of government's target to end all forms of child labour.
Abidjan Declaration
Meanwhile, at the closure of the 14th African Regional Meeting of the ILO, the Abidjan declaration dubbed: "Advancing Social Justice: Shaping the
future of work in Africa" was announced.
The recommendations of the declaration commended the progress made in improving working conditions in Africa.
The just concluded 14th African Regional Meeting of the ILO in Abidjan – Cote D'Ivoire
However, its 5th recomendation highlighted that; "serious concerns remain with rising inequalities, unemployment, underemployment, informality, young people that are not in education, employment or training, child and forced labour, human trafficking, governance gaps, gender gaps, working poverty, low social protection coverage, and unsustainable rural-urban migration."
This year's meeting in Abidjan, came at a time of ILO's Centenary year 2019, which also marked the 60th year of ILO's presence in the African continent.