The writer of this story from our sister Kinyarwanda website first hesitated to go visit this house because she was told that, any simple attempt to look at it, mention it in any way whatsoever could cost one's life.
When she dared, everyone was talking to her with so much reserve, fearing for their life and in result, none wanted to mention the direct owner as of today.
The modern house at the roofing stage is located in Gasenga I village, Nyamata-town cell of Nyamata sector, Bugesera district.
It is on the main road that links Kigali to the Eastern region, the main access to neighboring Burundi.
"The first owner of this house that we knew started construction a couple of years ago and he died mysteriously in a moto accident and his heirs sold it," claims Ladislas Twagirayezu a neighbor of the house.
"The new buyer also died and so did all the people who attempted to finish it."
Jean Pierre Twizere, another neighbor said he also failed to understand what's wrong with the house.
"The first owner died, the second one died, and so on. I think it is possessed by demons. Beware! You should not approach it either for you may risk your life. I am not comfortable talking about it personally," he said.
"We fear to approach this house. We know who lives inside; demons," claims Imaculée Mukamwezi from this village.
This event, however, sparked community debate and everyone looks at it from their belief's perspective.
"That's a myth. The first owner was a friend of mine; he died from a moto accident though his death itself raised controversies," said Jean Damasène Muganwa, 74 from the area.
Reverend Pastor Kanoni Gahigi Etienne from the Anglican Church of the area believes: "things happen to us the way we believe, no question about that. I have heard about that house but I did not pay much attention to the case. I think I will seek to get informed about it further."
Alphonse Ruhondo, the village leader seems to know more about the house, but he deliberately chooses to keep some information for himself.
"I heard about speculations about the house, but let me tell you, the owner purchased it but failed to go up to finishing phase," Ruhondo said declining to shed more light about the rightful owner of the house whose rooms have now been invaded by shrubs.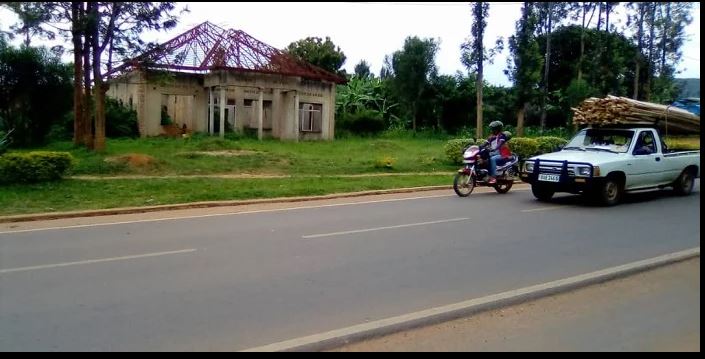 "We also need to note that, after the construction of the road, demarcation put the building inside the road boundaries. For this reason, any informed person understands that if they buy the house they won't get authorization to finish it. None can take that risk."
Meanwhile, the writer of the Kinyarwanda story-here translated- is fine.