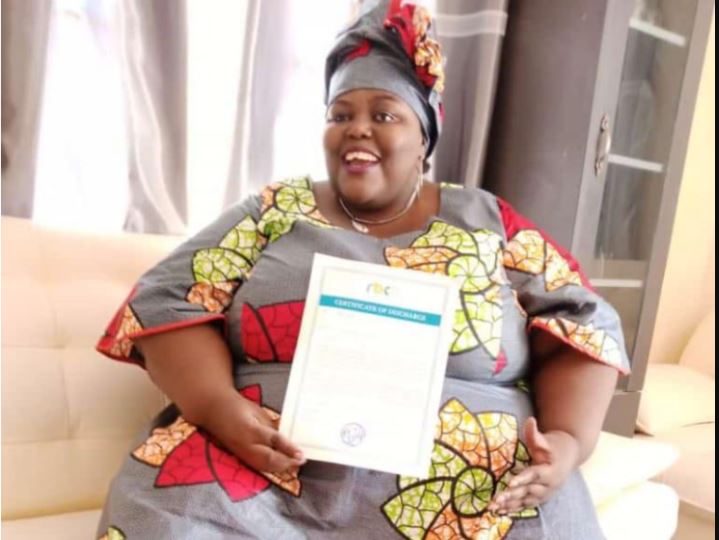 On April 19, 2020, the Ministry of Health, report of one Miss Vivine Uwizeye picked up from her home early morning after showing severe symptoms of COVID-19 went viral.
She tested positive together with her two children and a house maid.
It was alleged that she was running an illegal brothel and bar in Gatenga, a suburb of Kigali city and at the time of picking her up, Police cordoned the entire neighborhood for contact tracing.
The news of her recovery a couple of days later was a sigh of relief.
Exactly 10 months after her COVID-19 pandemic experience, she has returned in the media limelight after police nabbed several suspects including her allegedly from a bar which is a forbidden practice since March last year.
News has it that she was having an alcohol drinking spree in Agateko cell, Jali sector, Nyarugenge district- in a home belonging to one Bonfils Bazatsinda. This, according to police breaks COVID-19 prevention measures.
Police reports indicate that the lady was on the evening of February 12, 2021 nabbed coming from the drinking spree in company of men and women, who had allegedly turned the home into a makeshift bar.
In his testimony, Bazatsinda confirmed that they were eight adults in his home, whom he was serving beer until 8.30 pm in the evening which also violates the curfew hours.
Bazatsinda said that he was trying to make some money to buy food, but also acknowledged that it was an illegal manner and apologized.
The suspect said that Miss Uwizeye is his friend and she had come to check on him when they indulged in drinking a few beers before she proceeded to her home in Gatenga sector in Kicukiro district, Kigali city.
Miss Uwizeye, however agreed that she was out for her official duties, and with police clearance.
Rwanda Police has repeatedly said that many citizens have continued defying COVID-19 prevention measures using discreet moves, such as turning restaurants, home and offices into bars or drinking joints.
However, the Police Spokesman John Bosco Kabera, said during a recent TV interview that Police is ready to step up measures to curb such practices and called on citizens to provide as much information as possible to crackdown such rackets.