President Paul Kagame and First Lady Jeanette Kagame have taken the first dose of Covid-19 vaccine, one week after the government launched a national campaign to vaccinate people against the global pandemic that has cost hundred of thousands of lives globally.
The event took place at King Faisal hospital located in capital Kigali city after a 40 minute visit this afternoon.On 5 March 2021 Rwanda launched the Covid-19 vaccination campaign following vaccine delivery from the Covid-19 Vaccines Global Access (Coavax) initiative.
The Coavax vaccines came in two batches on March 3 including; 240,000 AstraZeneca doses that were delivered in the morning and 102,960 Pfizer doses that were received in the evening the same day.
Later on, India also donated another 50,000 doses.
According to the distribution reports from the Ministry of Health, most of the district hospitals received 5,000 and above doses.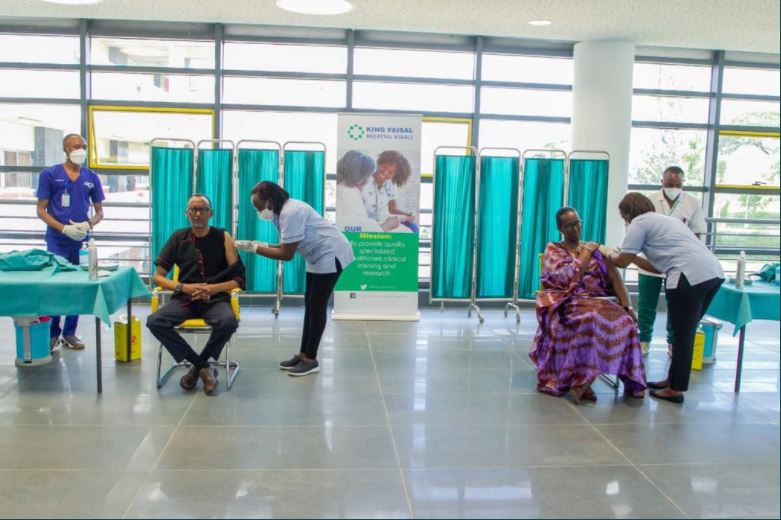 When Rwanda received COVID-19 vaccine, President Kagame said it is was good news.
"It's been long wait, some better prepared and more ready.. not to mention sm 'more equal than others' BUT certainly all of us in urgent NEED. Now good NEWS to see #COVID19 Vaccines arrive in Africa starting with Ghana…this morning in Rwanda & more. Thanks #COVAX," President Kagame wrote on his twiiter handle this afternoon.
Since early this year, several developed countries started vaccinating their citizens, but African countries have been compelled to wait due to widespread so called vaccine nationalism.
Rwanda is set to vaccinate 7 million citizens by 2022.
The pandemic is still affecting businesses negatively and in Rwanda, businesses operate with several precautions to avoid more spread. Some are even still closed.
As far as numbers are concerned, so far Rwanda has registered 19,846 COVID-19 cases cumulatively including; 18 118 recoveries and 1457 cases.
Deaths increased to 271 cases as of March 10.
Since the last week, 228,954  people have been vaccinated.