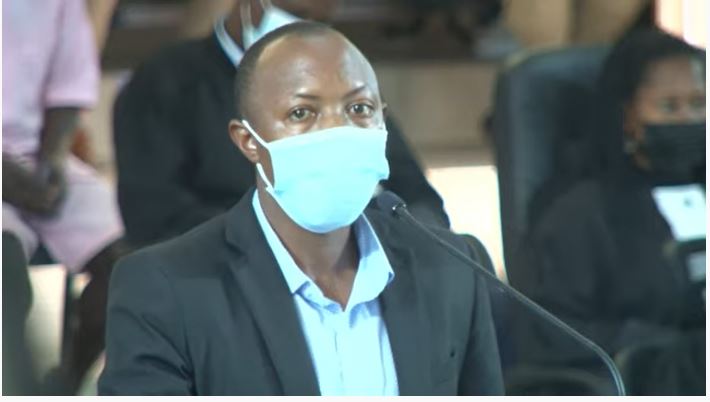 The High Court Chamber for international and Cross-Border Crimes on May 21 heard the victims who were largely and directly affected by CNRD-FLN attacks three years ago in Southern and Western Province respectively.
One of them was former Executive Secretary of Nyabimata who had filed a compensation case against Nsabimana Callixte, one of the 21 co-accused on April 2019 before merger of the trial.
The testimony was based on what happened to him on the evening of 19th of June 2018.
"I was resting that evening when I received a phone call from Aloys, a neighbor who told me that there are soldiers who need me but are beating up citizens. I doubted and told him that our soldiers cannot beat citizen," he said.
As he was about to open the door, he heard bullets.
"I saw people dressed in grass camouflage with guns pointing towards my home. Tried to use the back door to escape but I failed. I was told to open or else they do it," Nsengiyumva narrated.
All guns were pointed at him and fired in the head by those in the back of the house.
"I didn't realise it until I tried to drag myself under the bed into the house. I slept face-up and ears were not functioning well due to noises outside and soon after I started feeling pain, of which I thought, was the end," Nsengiyumva said.
Later on, he felt someone pulling his legs, and the person told him that the attackers had gone away.
"I thought he was tricking me. But he told me that people are in the compound trying to put off fire set on the vehicle and the house," he said.
The rescuers included women, who according to the victim used water to put out fire.
One of the boys who lived with Nsengiyumva sought first aid from other citizens defying orders given by Nsengiyumva, not to inform or let anyone in the house.
At the Nyabimata health center Nsengiyumva found that the facility was also under attack as attackers wanted medicine but in vain as medics managed to escape with keys.
He was later transferred to the Munini hospital and University Teaching Hospital in Butare (CHUB) but when conditions of his health worsened he was referred to King Faisal Hospital in Kigali on 20 June, 2018 where he spent days under treatment till 18th March 2019.
Compensation case
Nsengiyumva seeks a total of Rwf75.6million compensation which includes his burned RAV 4 SUV (model 2000) worth Rwf25 million.
He also sought personal damages of Rwf23.5 and hospital bills worth Rwf1.5 million and accommodation while at King Faisal Hospital.
He also requested Rwf4 millions of lost property including two phone, iPad, and home utensils.
Nsengiyumva said his car was used for transport and doing his job as a local government official.
After his transfer to Kigali, he could not get another car to use both for his family and work needs. For this, he sought compensation of Rwf21.6 million.
Nsengiyumva was one of the 86 victims in MRCD-FLN terror attacks conducted on Rwandan soil in 2018-2019.
On May 21, they were given an opportunity to tell the court their story and to explain their compensation case.
Transporters who also saw their vehicles torched by FLN attackers were heard.
Bertin Nkundizera , the Managing Director Alpha Express Ltd, a bus services company said that on 15th February 2018 his company vehicle was commuting passengers from Kigali to Rusizi when it was burned in Nyungwe forest National Park by FLN forces.
Nkundizera said that the loss of the vehicle has affected their business thus seeking a total of Rwf351.2 million worth of compensation. This includes the cost of a new coaster worth Rwf52 million.
The compensation also includes business damages of Rwf288 million for 16 years of the vehicle lifespan.
Omega Bus Company whose vehicles also ply Kigali-Rusizi road saw two of their buses torched by FLN on the same date(Decermber 15,2019) in Nyungwe.
Thacien Hakizimana, company's Operations Manager sought Rwf737.1 million.
"Our vehicles were burned beyond recognition and because of the incident one of our drivers got traumatized to an extent he resigned from work. On top of that, some passengers still fear taking our buses," Hakizimana said.
The compensation includes cost of the two buses, daily earning which could have been made in the next years (Rwf612million), plus an estimated loses of Rwf20million due to lost client confidence and court fees.
During the court hearing, compensation cases were filed through lawyers, and judges heard that victims had initially filled cases against Nsabimana Callixte but with arrest of more FLN suspects, they asked court to have all 21 suspects in the cases held collectively responsible.
The court will next month continue to listen to more testimonies and compensation cases from other victims before giving the prosecution and suspects a chance to respond to the cases individually or collectively.