The Ambassador of People's Republic of China to Rwanda Rao Hongwei has shared achievements of a successful journey of 50 years since the establishment of diplomatic relations between China and Rwanda.
November 1971-November 2021, already 50 years have passed after the relations were established.
During a reception in celebration of the 50th anniversary, the ambassador was straight to figures that translate strong bonds.
Amb. Hongwei first indicated that diplomatic relations between Rwanda and China started on November 12, 1971 and ever since, both countries "were closely linked to each other."
The Ambassador said that bilateral relations drastically developed since the time China entered the era of reforms and opening up, and since the liberation of Rwanda.
"As a Rwandan proverb puts it, the fate of the two fingers is to live together(intobyi y'amaraso irayitera)," said Ambassador Hongwei adding that in the last 50 years, ties between both countries grew even stronger and closer.
The Ambassador indicated that both countries entertain mutual respect.
"We respect each other and treat each other as equals," he said. "Our leaders H.E President Xi Jinping and H.E President Paul Kagame met frequently and exchanges at various level continued in recent years."
The ambassador shared important numbers of trade cooperation where China is largest trade partner and largest project contractor of Rwanda with $ 321 million of trade volume in 2020 despite the impact of COVID-19.
He also mentioned China's fund to Rwanda's infrastructure facilities which, he said, "gave strong impetus to Rwanda's economic and social development."
In health sector, the ambassador said, his country sent to Rwanda 21 medical teams to Rwanda, including 258 medical doctors since 1982.
Their services benefited 700,000 Rwandan people.
The bilateral relations touched different corners where in education, 5000 Rwandans have graduated at the Conficius Institute at University of Rwanda while, in culture/sports specifically, 2000 Rwandans registered at Kung-Fu Hushu Federation.
Every year, the ambassador said, hundreds of Rwandans get scholarship to China at the time more Chinese people also show interest to come to Rwanda for business, trade and tourism.
"We support each other in international affairs and speak in one voice on many issues such as development and Human rights," said the ambassador adding that his country "is grateful for Rwanda's firm support on issues involving China's core interests and major concerns."
While the Communist Party of China is marking a centenary of existence, the ambassador said he was thankful of the excellent relationship of the party with Rwanda Patriotic Front(RPF) Inkotanyi with which they share ideas on governance.
He said both the "people centered" of CPC and "citizen centered" concepts of RPF are related.
Ambassador Hongwei further said, that the friendship between Rwanda and China "is not an accidental choice but the result of like-mindedness."
On this, he was straight to values both countries share including that all countries are equal.
"We both cherish national sovereignty and independence and resolutely oppose any interference in our internal affairs by any country or external forces," he said adding that both countries also chose suitable governance system.
Communities of Rwanda and China also have similar characteristics and values including being strong, unyielding, optimistic, hardworking and kind-hearted.
Ambassador Hongwei said the relations are at their best especially since the visit of President of Xi Jinping to Rwanda in July 2018 when 15 bilateral cooperation agreements were signed.
He said the visit was followed by concrete actions and those include bilateral trade and e-trade which followed at a speedy pace.
As a matter of practical example, the ambassador mentioned trade of Rwanda's coffee beans in China now increasing by $4 for every kilogram sold in China via e-commerce.
This is on top of a new milestone where Rwanda became the first country to sale to China dried Chili.
In the next five years, he said, over 50,000 metric tons of chili will be exported to China among other high quality agricultural produce of Rwanda.
The ambassador reaffirmed his country's resolve to strengthen ties even more in combating COVID-19 pandemic.
China provided 500,000 doses of COVID-19 vaccine to Rwanda, latest lot being 300,000 doses on November 7, 2021.
The ambassador could not forget the partnership in ICT whereby Chinese giant Huwaei established two academies in Rwanda to promote ICT among the academic community.
Meanwhile, the Ambassador reminded platforms and windows where both countries meet to deepen partnership including the Belt and Road Initiative, the Forum on China-Africa Cooperation, and the Global Initiative Cooperation.
As China marches towards the second centenary and Rwanda in the implementation of Vision 2050, Ambassador Hongwei expressed his confidence, that both countries will further strengthen their collaboration and synergy between national development goals.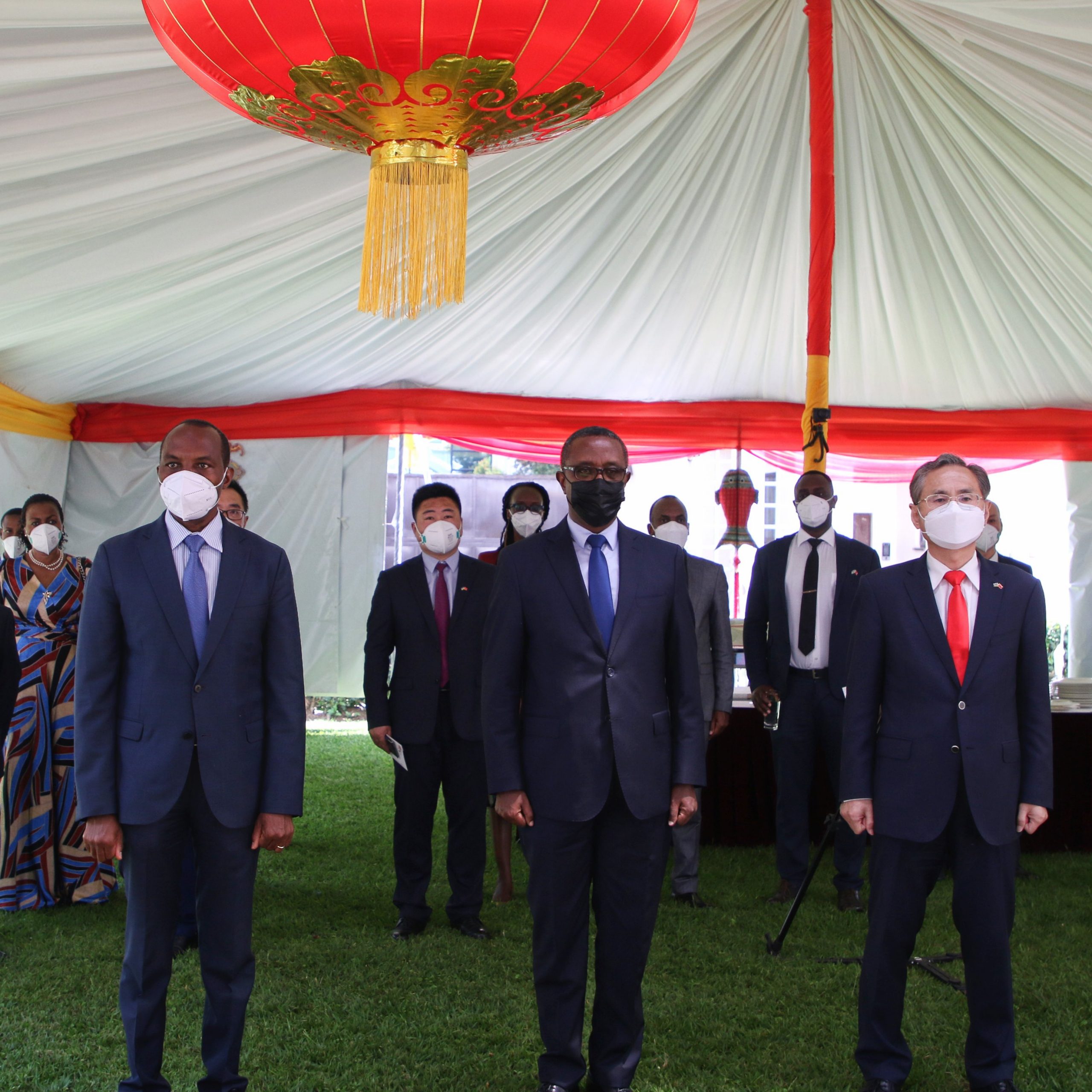 He said the countries "will deepen practical cooperation for the benefits of two people and compose a new chapter of friendship that goes beyond thousands of hills and rivers."
Rwanda's Minister of Foreign Affairs and International Cooperation Vincent Biruta who was the guest of honor at the reception event, was very thankful for China-Rwanda cooperation of mutual respect and of a friend in need a friend indeed.
He said that due to high level political interactions and exchanges between Rwanda and China "our bonds of relationship have flourished at all levels towards the fulfillment of the economic and trade commitments of the Forum of China-Africa Cooperation(FOCAC)."
Biruta appreciated the donation of 500,000 doses of the vaccine Sinopharm.
"This celebration is a unique occasion to take stock of milestones recorded in the last 50 years," Biruta said.
At this event, Biruta shared even more partnership agreements to be signed between both countries including one on the export of Stevia from Rwanda to China, and the double taxation avoidance.