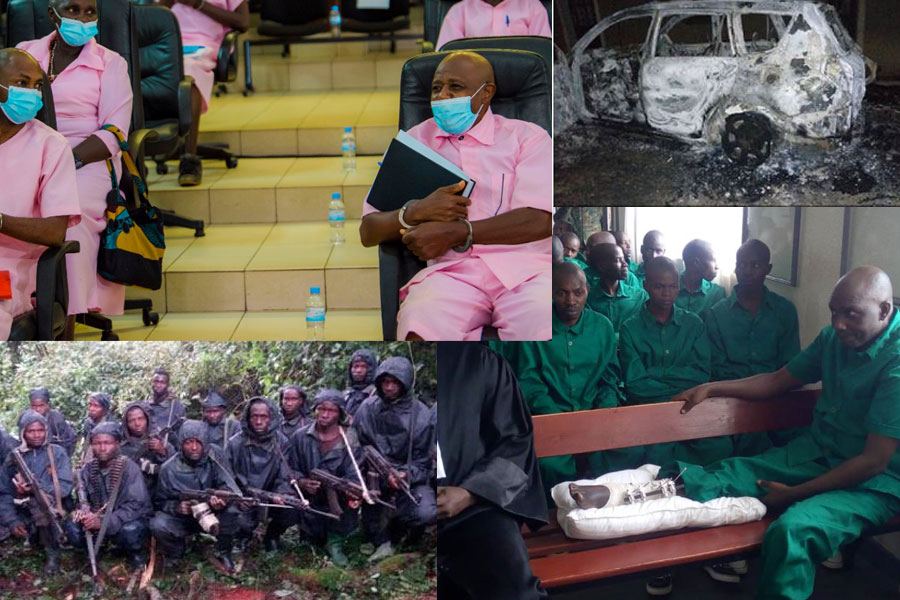 Rwanda's success story that was written for the last 27 years – since the way of the 1994 Genocide against Tutsi  got yet more  applause and resistance from near and far in 2021.
The most recent case was this week when 13 Muslims suspected to have connections with the Allied Democratic Forces (ADF), a Ugandan rebel group based in Eastern Democratic Republic of Congo (DRC) appeared in court for bail ruling.
The group said they were motivated and planned a Holy War (Jihad) by bombing Rwanda's capital Kigali in revenge following a deployment of 1,000Rwandan troops in the war against their fellow Muslim insurgents in Cabo Delgado region in Mozambique.
Collaborating with ADF links in Kenya, the group also revealed how it went ahead to recruit four children and 20 teenagers who were sent to DRC under the pretext of studying for free in Islamic school (Madras) in Sudan but were later recruited as young jihadists.
Some suspects denied knowledge of this motive but video evidence and testimonies of their neighbors indicate that the parents to these children kept in touch and updated on the progress of their assimilation, indoctrination, and training into full ADF Islamic fighters.
Journalists Cassien Ntamuhanga and Phocas Ndayizera
Just like the ADF above, former journalists- Cassien Ntamuhanga (of the defunct Amazing Grace radio, and Phocas Ndayizera (fomer freelance contributor to BBC Gahuzamiryango) were in May Sentenced In 'Dynamite Terror' Trial- accused of plotting to manufacture dynamite bombs which would be detonated in different parts of the country, in a case that involved 12 others, with Ntamuhanga as the main financier of the plot.
In a verdict that was issued via a video link, the Judge said that all the 13 defendants were acquitted on the charge of conspiracy to overthrow the government but found guilty on the charge of conspiracy to commit terrorism and, illegally using and handling explosives.
Ntamuhanga was sentenced to 25 years in prison in absentia since he escaped jail in 2018 where he was serving another 25 years, while Ndayizera and five co- accused were sentenced to 10 years in prison.
The Judge said they could have received lengthy sentences ranging between 20 to 25 years but they received lenient sentences because their activities were nipped in the bud before they could happen.
In other cases, while Rwanda was commemorating the 1994 Genocide against for the 27th time, an armed gang  launched some attacks on residents but were arrested.'
The group of 12 people (including one woman) were said to belong to an armed gang that was terrorizing residents in Rusizi district, in the south western part of the country.
They were charged with possession of firearms and smuggling of weapons into the country, armed robbery, setting up an illegal armed group and suspected murder.
Some of the suspects had been expelled from the military for misconduct and had completed their sentences in prison for other crimes they had been convicted of, Rwanda Investigation Bureau (RIB) said then.
Major Mudathiru, RNC Co-Accused Terror
The case of 32 suspects linked to the Rwanda National Congress (RNC) group which started in 2019 was closed this year, with the lead suspect, Major Habibu Mudathiru getting 25-year jail sentence.
The case involved, among others, soldiers who dropped their responsibility to safeguard the country's sovereignty and turned into the ones to fight it.
The case also resonates the regional security issues between Rwanda and neighboring countries especially Burundi and Uganda, where some suspects were lured to man operations against the current government.
Most of the suspects pointing fingers to their leader retired Major Mudathiru as living evidence that they were forced to join illegal armed forces.
"I joined in December 2017, and on 28 March 2018 I tried to escape but failed and was arrested in all three attempts. This can be proved by Mudathiru because I was punished at his parade, and I tried again to escape in August but was arrested after lots of gun fire and suffering broken finger and bones," said one Patrick Nsanzimana, a suspect who went in Burundi in 2003 as a part time medical practitioner.
FLN- MRCD Fails FDLR Pursuit
This chapter of terror attacks can be most remembered with a case that was manned by the National Liberation Front- Rwandan Movement for Democratic Change (FLN-MRCD) who were sponsored by Paul Rusesabagina, a former hotel manager turned film hero, and politician.
The FLN-MRCD group attacked with arson, kidnap and murder perpetrated against unarmed innocent civilians on Rwandan territory between 2018 and 2019, but this was ended when the man behind the scene (Rusesabagina) was arrested and charged in the same docket as those who enforced his agenda.
In one of the videos that largely circulated on social media this year, Rusesabagina is heard in a talk show announcing his motive to mobilize dissent Rwandans to take power.
This he denied but one of the main actors- Callixte Nsabimana, alias Sankara, a former FLN spokesperson will be remembered for spilling Rusesabagina's dirty linen, a move which was stamped by many suspects and witnesses in the two year long-case.
Though Rusesabagina and company are sentenced to jail, Rwanda still has a long way to go to fight other external forces, which have this year been seen taking on social media as their new battlefield.