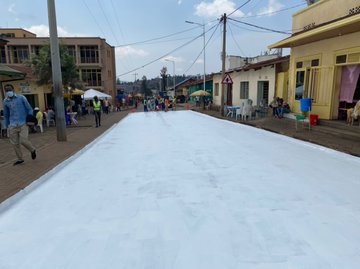 The City of Kigali is dedicating a new road network to pedestrians to allow residents more opportunity to relax and have light moment in the otherwise congested central business district.
Three more roads including KN 115 St, KN 113 St & KN 126 St in Biryogo, village Gitega sector of Nyarugenge district are now being designed to become a place for only pedestrians, also known as car free zone.
"It is a place already the residents use to try and find more space for clients of their favourite green tea, famously known to its French name-The Vert," reads a statement from City of Kigali.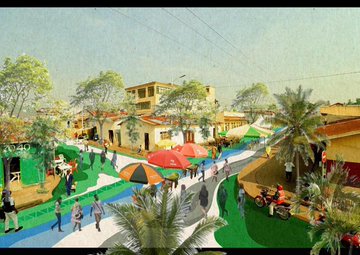 "We are giving them what they already have been wishing to have."
As part of this project, the City of Kigali contracted graduates of Nyundo School of Arts who started doing artistic painting on the roads dedicated to Car Free zone.
They were joined by Vice mayor of City of Kigali in charge of Urbanisation Merald Mpabwanamaguru who launched the project on Saturday.
The first car free zone of Kigali is located on Road KN4 Avenue, between Kigali city headquarter's building , commercial buildings like Makuza Peace Plaza Bank of Kigali, Ecobank Rwanda, Cogebanque, and Kenya Commercial Bank.
In 2021, the Car Free zone was expanded and rebranded to improve congestion and infrastructure, and for environmental and quality of life benefits.