The Kigali Conference and Exhibition Village commonly known as Camp Kigali will be a place to be this afternoon for the youth and other people seeking to learn the path to a fear-free mind.
At this venue, 3PM on April 30, Apostle Yoshua Masasu will host a youth conference on how to secure one's future with a fear free mind.
The conference will largely refer to the book 'Delivered from All My Fears' by the host.
"We understood that if we don't tell the youth how they can get rid of this anticipatory anxiety, depression which has become a kind of pandemic among the youth who are the hope of the future, we would be getting it wrong," he told the media in a briefing about the conference this week.
"This is actually the start of a campaign, a rally that would target our university campuses in the country and why not the region, because, if our youth is paralysed, we can't have hope of the future."
Masasu  who is the legal representative of Evangelical Restoration Church(ERC) says that the book is somehow the result of his life, the lessons he learnt in life which he wishes to share to whom is concerned to inspire them.
"As a refugee child personally, I grew up with the fear of the future such as: shall I go to school, shall I secure a scholarship…shall I ever repatriate to my country…?"
Masasu further shared a testimony on how he overcame the vice of lying after accepting Jesus as Lord and Saviour.
"I found a challenge between my new nature of holiness, and the old man with a burden of sins. In three days of prayer, God told me that I was dealing with leaves while he wanted to enroot the whole tree. God opened my eyes and I knew that the lie is only a result, a consequence of fear," Masasu recalls.
God told him to request to be delivered from fear so that he could speak the truth because "a fearful person cannot speak the truth, while a fear free person cannot lie because they can face an otherwise scary person or situation."
Therefore, God delivered him from the fear to an extent that he was able to face his rigid boss the following day.
On this however, Masasu was straight to differentiate being fear-free and lacking respect to whom deserves it.
"Victory on many sins in the world is victory on fear," he said.
The book tells 40 year of Christianity journey, but it took the last seven years to put it together.
Masasu believes that fear for the future is a pandemic within people from all walks of life, young and adults, but it is much a concern when it comes to the youth who expect several years to live ahead.
Masasu believes that the fear of God gives boldness and removes all fears of any other thing.
The conference
Back to the conference itself, it is set to be an opportunity to review the book, 'Delivered from All My Fears' which was not wholesomely done before. The book will also be on sale.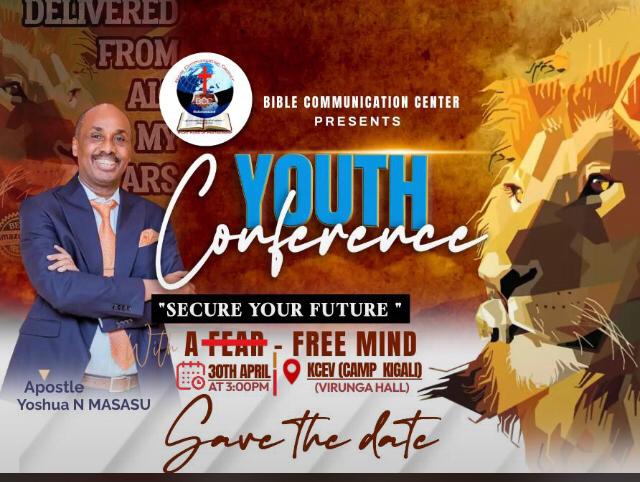 It shall include a prophetic act of writing all the fears that people encounter and throw them before the cross. Then an occasion of prayer to head to deliverance will be offered.
A sketch will also help participants to learn how to overcome fear, and so will a panel of discussion.
The gathering will include praise and worship with Arsène Tuyi, Christian Irembere and James and Daniella.
Meanwhile, fear being boundless, the conference is not destined to Christians, rather, everyone is concerned.