Legacy Clinics Rwanda has has joined Nyarugunga community in Kicukiro district to pay tribute to the victims of the 1994 Genocide against Tutsi while also encouraging Genocide survivors to carry on despite a bitter past full of wounds.
Officials and staff of the hospital and the community which largely included Genocide survivors held a Kwibuka event in Kibaya cell, Nyarugunga sector.
Legacy Clinics Board Chairman, Ambassador Dr. Habyarimana, who is also the former Executive Secretary of the National Commission for Unity and Reconciliation (now part of the Ministry of National Unity & Civic Engagement) showed how Rwandans have chosen to win over genocide through restoring unity.
Habyarimana noted that without Rwanda Patriotic Front (RPF) Inkotanyi Rwandans wouldn't be here and neither would the killers be alive because their hatred would push them to turn against each other.
He showed that instead of killing perpetrators in revenge, Rwanda chose to live in harmony and focus on reconciliation and community rebuilding efforts.
"We have won the war because RPF saved us. But, hadn't we played our role in rebuilding the society through reconciliation and change of mindset we would have lost. Today we are no longer in pain but in celebration of life after surviving moments of death or hell," Habyarimana.
Nasimu Muraza, a genocide survivor testified on how she survived the Genocide.
When the genocide started in Kigali, her husband Rutsindintwarane, a businessman who used to ply the Burundi and Dubai routes was killed very early on April 7, 1994 which caused her much pain.
"I wish he had stayed there (abroad) he would have survived," Muraza said.
Muraza believes that the genocide was planned and refutes the allegation that the Genocide was sparked by president Habyarimana's plane crash.
With the help of counseling services, Muraza was able to overcome her trauma. Her "handsome son whom she loves so much has enabled her to see meaning in life.
The representative of Ibuka, the umbrella association for Genocide survivor organizations in Rwanda  in Nyarugunga sector, Martin Mutabazi thanked Legacy for being a supportive partner.
He called for the fight against genocide ideology especially among the youth.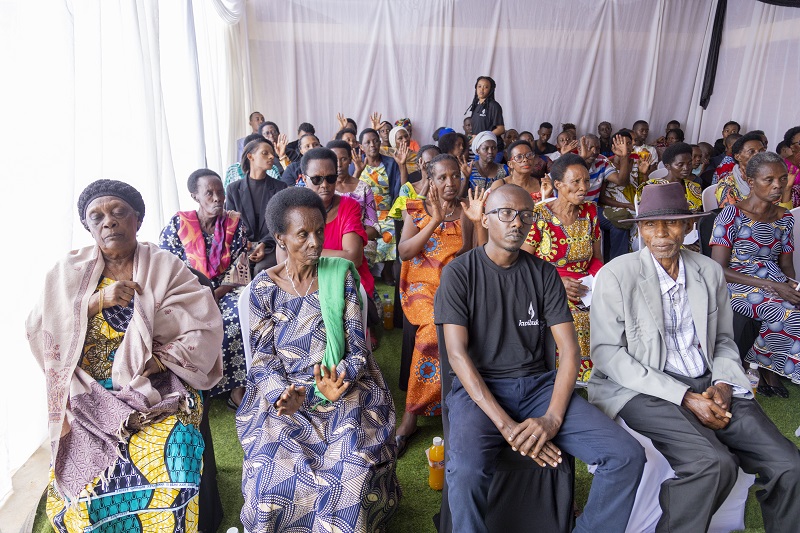 "You must act as the Inkontanyi acted to prevent genocide. If your elder brothers used the gun to fight, you also can use the phone today as your weapon against Genocide denial,"Mutabazi said.
Legacy Clinics supported the Genocide survivors with an envelop of  Rwf 1million.
The envelop was handed to the beneficiaries by the Chairman of Lecagacy Clinics Jean Malic Kalima and the Chairman of Board of Governors, Ambassador Dr. Jean Baptiste Habyarimana.
Legacy Clinics & Diagnostics is a specialty private medical facility, located in Nyarugunga sector, that is currently operating as an OutPatient Clinic (OPC) and with near future plans to upgrade into a fully-fledged hospital.
Legacy Clinics' unique model is embedded in the ability to offer a range of medical services under one roof by an array of experienced medical specialists in medicine.
Kalima comforted the survivors and said: "We are here to support you through the journey that you have chosen to take towards rebuilding yourselves."