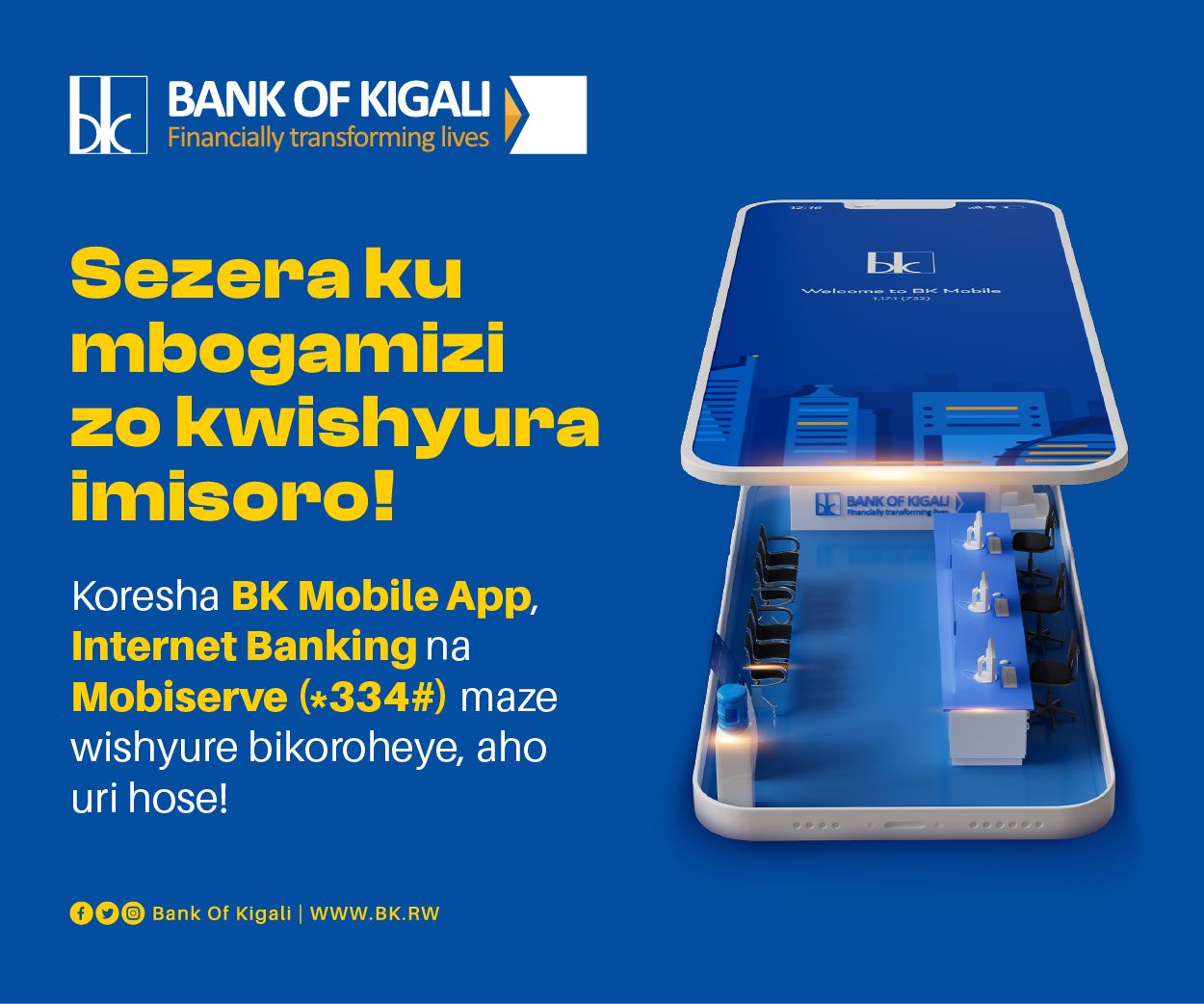 In a bid to further ease payment of taxes, the Bank of Kigali (BK) has now unveiled USSD (Unstructured Supplementary Service Data) code-based services on all its digital payment channels to offer a streamlined and hustle-free way to settle taxes.
As of now, all taxpayers will no longer have to worry about queuing up and spending hours at bank branches to declare or pay taxes but just dial *334# and follow the prompts.
Clients preferring to use digital solutions for convenience and ease of doing business will now use the code which is available on BK's digital channels namely the BK Mobile App, Internet Banking, and Mobiserve.
"By leveraging the power of technology, Bank of Kigali has simplified the tax payment process, allowing our customers to save time and effort," the bank said in a press statement.
This means that whether one is using the BK Mobile App on their smartphones, Internet Banking on their computers, or the convenient USSD-based service Mobiserve (*334#) on basic mobile phones, taxpayers can now complete their payments with just a few taps or clicks.
BK said that by embracing Bank of Kigali's digital channels for tax payments, individuals and businesses can avoid the anxiety and rush typically associated with meeting tax deadlines.
This digital solution will give one a seamless experience and convenient process that fits their schedule and helps them stay on top of their financial obligations.
What are the Benefits?
The benefits of using Bank of Kigali's digital channels for tax payments are diverse.
Convenience: This solution is a way of saying goodbye to long queues at the banks. With our digital channels, customers can settle their tax obligations from anywhere, at any time, without the need for physical visits.
Time-Saving: BK digital platforms offer a seamless experience, allowing taxpayers to complete their payments swiftly and efficiently. Simply, no more waiting in line or dealing with paperwork.
Security: Bank of Kigali prioritizes the safety of its customers' transactions. The bank has implemented robust security measures, including encryption protocols and multi-factor authentication, to ensure the utmost protection of their financial information.
Accessibility: BK digital channels cater for a wide range of customers. From smartphone users to those with basic/feature mobile phones, the bank provides options that suit various preferences and technological capabilities.