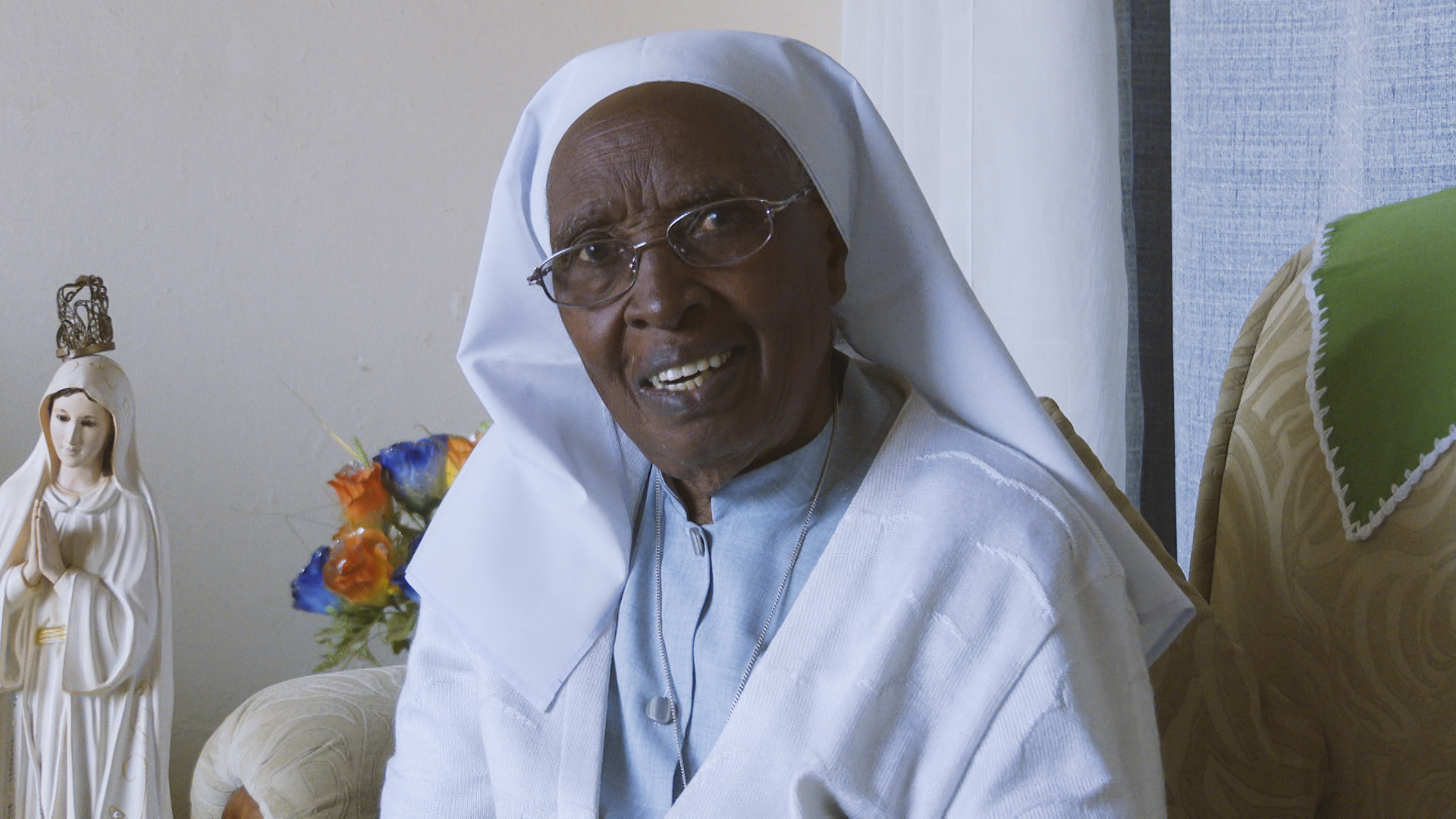 Sister Marie Jean Baptiste Mukanaho a member of Benebikira congregation of Rwanda and founding headmistress of a famous school-GS Notre Dame du Verbe Kibeho is a personality one would wish to meet and hear from.
The nonagenarian got the name Jean Baptiste in 1955 when she entered the Noviciat as per the then practice of the catholic church.
In her time, the consecration meant that one leaves their family and adopts a new name of a Saint who matters in their lives.
It was quite like Abraham who, according to the Bible, was told by God to leave his family and his belongings and follow God.
But after Vatican II Council in the 1960s, the church decided that for every baptised person, there was no need to adopt a different name when they aspire to be a nun.
Several years in the convent however, Sr. Jean Baptiste is still answering the same question: Why do you have a male name? Her answer is simply: "I chose a name of a saint, yet saints in heaven have no sex."
At the very start of our conversation in Kigali convent of Benebikira, July 17, we understood that we had business with a senior citizen of wisdom and great love of God and his people.
Sr. Jean Baptiste started with the story of entry into the Benebikira.
In fact, she said, I was born from a Christian family where consecration was encouraged. They encouraged me to pray and keep good relationship with God.
However, there was a much closer trigger which happened in the family at her tender age.
"When I was four years old, my family used to pray for my elder brother who was studying in the seminary, pleading God to help him arrive to the priesthood. To this was added my two aunts who used to visit us from the Benebikira congregation. I aspired to become like them," she said.
At seven, she was even much more attracted by a classmate who used to sing Latino songs and she loved that. The only way for her to sing like that, was, "to stay at church and this meant simply being a nun."
At 13 years old, that was in 1948, Sr. Jean Baptiste was admitted among the aspirants in the Benebikira congregation in the current Huye District.
After one year of aspiring, Sr. Jean Baptiste was enrolled at the first ever teacher training school located in Save, current Gisagara district where it was obvious that graduates proceed towards the consecration.
"Three nuns used to discourage me, simply because I was such a character which dares to challenge people in their conversation. They would say that my character cannot allow me to proceed," she said.
"In their understanding, when a nun speaks, everyone should blindly agree with them, but for me, I would sometimes defy them openly-narashyanukaga, kandi nta mubikira ushyanuka," she said.
At the end of Secondary school, Sr. Jean Baptiste was selected among five aspirants to go help some Auxiliaries of the Apostolate who were coming from Europe to serve at Bishop Bigirumwami of Nyundo.
The auxiliaries of Apostolate are lay single women who mainly serve in support service at the bishop's office/house.
They were coming to start Muramba teacher training School in Nyundo Diocese and needed people who would teach at the school, and introduce them to Kinyarwanda to familiarise with the local community.
"Some of these guests loved me, and proposed me to stay with them. They told me that they would take me to Europe, something I didn't really want. I wanted to be from the Benebikira from Rwanda," she said.
Back to Save after one year, Sr. Jean Baptiste enjoyed consecration life, learnt to pray without ceasing, while also adjusting to the new life that calls for great respect to her superiors.
The journey to becoming a nun marked her life. She remembers that through the process, on top of the teachings, the bible, the prayer, the history of the church, one would be teased a bit to get used to the new life where calm, obedience and love of the neighbour supersede the numerous values of the convent.
Sr. Jean Baptiste Holds Tight On God. Can A Girl Manage today?
Despite challenges of the moment, including the media, eagerness to earn wealth and all other things that pull people into their egos, Sr. Jean Baptiste confirms that there are still girls who enter the convent with heart to be consecrated.
A recent case was of a girl who, after receiving a Bachelor's Degree was employed at a bank.
After a few years, she joined the congregation of Saint Joseph despite people discouraging her.
After being ordained, her know-how was exhibited, and her colleagues "started to dislike her until they dismissed her. She has currently found a new community in Spain," Jean Baptiste recalls.
Another recent case includes a young boy and a young girl who were good friends at University. Upon graduation, they understood that there was no other gift they could offer to God rather than living a consecrated life.
"The boy joined the Major Seminary of Rwanda, and he has now become a priest. The girl went was admitted at the congregation of Carmelites sisters," Sister Jean Baptiste said adding that the thirsty to serve God will never extinct in humanity.
"Girls out there are thirsty for money; others have lust of all kinds…but a girl to whom God placed his trust can never give up."
She agrees that some people fail halfway and give up, but "when one person fails here, two more join there."
A Man Tried to Come and Date Me but he learnt A Lesson
Despite Sr. Jean Baptiste entering the convent at the very start of adolescence, it did not deter men from running after her, thinking that she could change her mind.
"Baraje pe! Baraje pe!" she said while mentioning a case from university in Belgium of which she has good memory.
"At university a man came and started telling me rubbish! And I told him: You have just belittled me. How dare you? Who told you that I am that weak and vulnerable to all winds out there?" Sr. Jean Baptiste recalls.
She knows that young nuns still face such challenges and so do priests, but when they are strong in their vocation, they hold tight.
"A few of them give up, but this would tell you that they were not into it. Temptations only took the weak ones," she said.
Pioneer in Catholic Education and House Arrest
Sr. Jean Baptise who hold a Bachelor's Degree in Psycho-Pedagogie from Belgium which she obtained early 1966 served her congregation and the country in different capacities and those are among others; teaching at Ecole Normale Primaire Byimana in Ruhango district in 1966-1968.
From there, she was sent to Kibeho in Nyaruguru District, to be the founding Director of Groupe Scolaire Mère du Verbe, the same school where Virgin Mary appeared to three girls early 1980s, according to the Catholic Church.
From Kibeho in early 1970s, when the church brought together all the records of Jean Baptiste, they understood that she also had potentials to kick start the private tertiary education of the catholic church early 1970.
Their first bet was the Ecole Superieure Menagère Technique.
Unfortunately, the ruling power of that time undermined these efforts.
"In 1971-1973 I started a higher learning institution in Save, but it aborted during the insurgencies of students and power of the time. At first, Hutu students chased their fellow Tutsi and the school remained with quiet a small number of students," she said.
"As if this was not enough, the same students turned against their Hutu classmates with Tutsi mothers and also chased them. I told them: young ladies! I am afraid I won't manage you," she said.
"They accused me of divisionism in front of the ruling power, then I was obliged to hand over to a successor who also failed."
At this particular time, the case was extrapolated, and at the start of the second Republic under President Juvénal Habyarimana, Sr Jean Baptiste was placed under house arrest.
"For a whole year, I was not allowed to go out, not until a Minister of Education who knew me came and gave me an offer; he told me I want to employ you. I said, YES, but I beg you, take me to a Primary School in a remote village," Sr. Jean Bapiste recalls.
The Minister rather had a bigger offer. He took the nun to the Pedagogic Office to serve in the department of Education Inspection for five years.
After this service, she was claimed by the Secretariat of the Catholic Education where she felt more at home.
Sr. Jean Bapiste on Christianity today
Sr. Jean Baptiste who moves by a wheelchair since several decades now due to illness that affected her bones since 1982, says she "does not meet Christians very often to know what's trending."
Nevertheless, she learns a lot from Radio Maria and understands that the catholic home cells are up and running, pilgrims are now flocking to Kibeho, the holy land.
"But I also hear Christians with double standards, those who quit the catholic church for other congregations, I hear the increasing cases of witchcrafts, land wrangles followed by murder, sexual violence and fornication, and all these include Christians," he said.
"Let's do as Monsignor Barthazar of Kabgayi says in his moto: Orate in Veritate-Pray in the truth."
Among times Sr. Jean Baptiste will never forget is the pilgrimage to Lourdes, preparation of the trip of Pope John Paul II in 1990 and a visit to the Holy See.
Among others, her house arrest in 1973 which prevented her from proceeding with her dream to educate the youth, genocide against Tutsi which killed her aunt Sr. Peter Claver and Mama Paula…are some of the worst events in her life.
How she rescued several disparate children during the Genocide could be a stand alone story.
In her free time, Sr. Jean Baptiste write books.
"When I meditate, I write. So much manuscripts in my shelves, all the retreats are written but my book is essentially on the founder of Benebikira, Monsignor Hilt," she said.