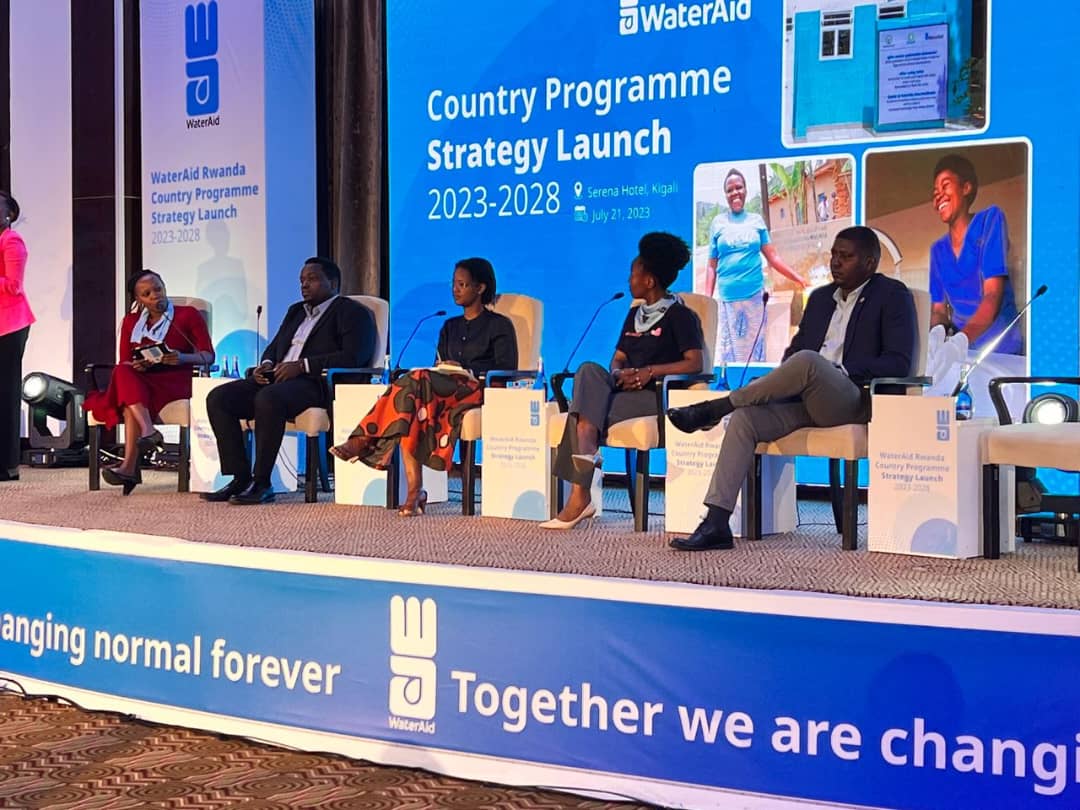 On July 24, WaterAid Rwanda launched its new national strategy that will see the organisation reach more than 5.4 million Rwanda with water, sanitation and hygiene services by 2028, as part of its mission to reach as many people as possible.
The new country strategy was unveiled in a colourful ceremony at Kigali Serena Hotel, attended by senior government officials, representatives of WaterAid from the region and globe, stakeholders in the WASH sector, staff and other invited guests.
The new scaled five-year strategy will see WaterAid Rwanda ramp up its efforts to ensure universal access to safe water, sanitation, and hygiene services in a more sustainable and transformative way, adding to the more than 13.2 million Rwandans who have already been served since 2010 when the organisation began its operations in Rwanda.
Over the new five years, the organisation, which is part of the WaterAid Global family, has committed to mobilize at least 17 million pounds, equivalent to Rwf26.6bn, which will go towards extending WASH services to more households, schools, and health care facilities across Rwanda.
Under the new ambitious strategy, WaterAid Rwanda targets to reach 425,061 people with clean water, another 496,887 people with sanitation services while some 4,537,986 people are expected to be reached with hygiene services.
The five-year initiative, which coincides with WaterAid's 10-year global strategy, running from 2022 to 2032), which aims at ensuring universal access to WASH services across the globe, was described as an important step towards accelerating sustainable access to water, sanitation, and hygiene in the Sustainable Development Goals (SDGs).
At the launch, Vestine Mukeshimana, Acting Director General of WaterAid Rwanda, said that the goal at the global level is to bring water, sanitation and hygiene services to all, including Rwandans in rural and urban areas.
"We all share the same vision and goals with WaterAid Global, a vision for the world to have sustainable program of distributing safe water, sanitation, and hygiene to all," she said.
Mukeshimana said that through collaborative efforts between the Government, partners, and the people, Rwanda can achieve universal access and the new strategy comes to contribute to what has already been achieved over the past few decades.
"Through collaborative action that unites the government, partners, and communities, WaterAid Rwanda seeks to catalyze positive change, empowering all Rwandans to lead healthy and dignified lives with sustained access to inclusive and gender-responsive WASH services," Mukeshimana said.
"As we embark on this momentous journey, I wholeheartedly welcome each one of you to join us in this launch of our second strategy in Rwanda. Your presence here today signifies your dedication to making a profound impact in the lives of the Rwandan people through sustainable water, sanitation, and hygiene initiatives," she added.
The Minister of State in the Ministry of Infrastructure, Patricie Uwase who was the guest of honour, commended WaterAid's work over the thirteen years, in partnership with the government in providing safe, clean and sanitary water to the people, adding that the new strategy will see more efforts direct towards achieving even more.
"WaterAid has been working with us for many years to provide clean water, sanitation and hygiene to the people, especially the residents of Bugesera District. We have added pipes, built modern toilets and taught the beneficiaries how to use them and having toilets at their homes," she said.
"They are our main partners, and even in this five-year journey, we expect that we will continue to expand our activities, based on their new strategy."
"When you look back and see how we've done together on SDG 6, it is going to be very easy to measure the impact that WaterAid can have whether want to measure what we've done in Bugesera district alone or across the country. So the challenge lies with us to continue to be pragmatic,"
Uwase said that there is a need to focus on tangible results on the ground and really shift the course of life lifestyle for the people they invest in," she said
The head of WaterAid in East Africa, Olutayo Bankole-Bolawole, also spoke about the organisation's goal of accelerating the development of water, sanitation and hygiene infrastructure for all in line with the Sustainable Development Goals.
She said: "To achieve these ambitious goals, our programs have four key elements: equity, service capacity and participation, collaboration, training and innovation."
WaterAid's four objectives include achieving sustainable services, and regional security, water, sanitation and hygiene in improving public health, tackling climate change and finding support for water, sanitation and hygiene programs (WASH).
Olutayo added that WaterAid prioritizes equality and equity as the foundation for achieving sustainable development in sanitation and hygiene.
"At WaterAid we firmly believe that gender equality and women's empowerment are critical foundations for achieving sustainable progress in the water, sanitation and hygiene [WASH] system. It was found that the number of women and girls who make a long journey to fetch water is greater than men and boys,"
Research shows that more than half a billion people share toilets worldwide, compromising women's and girls' personal hygiene.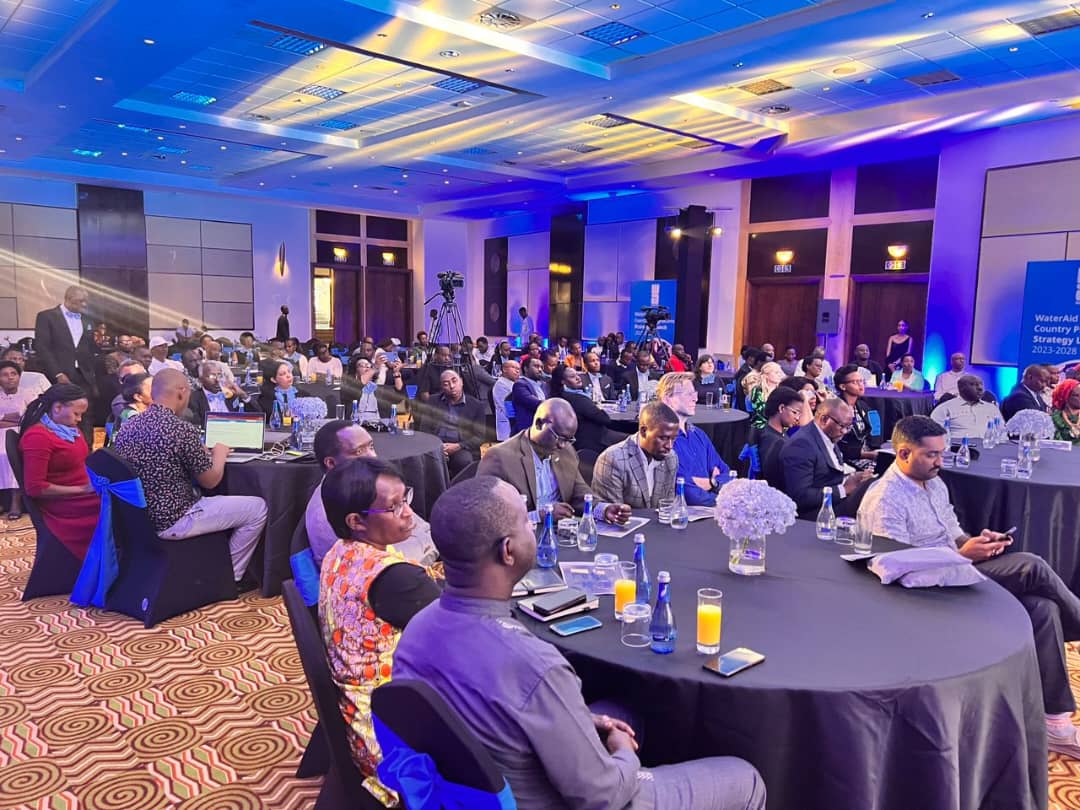 Over the next five years, WaterAid plans to spend a budget of £17 Million on its initiatives, including establishing WASH infrastructure in 20 healthcare facilities across the country.
In the past 13 years working in different parts of the country, the head of WaterAid says that the achievements that were made national wide in access to clean water, sanitation and hygiene speak volume. For example, in Bugesera district these activities were beyond average, but today, they have reached more than 70%.