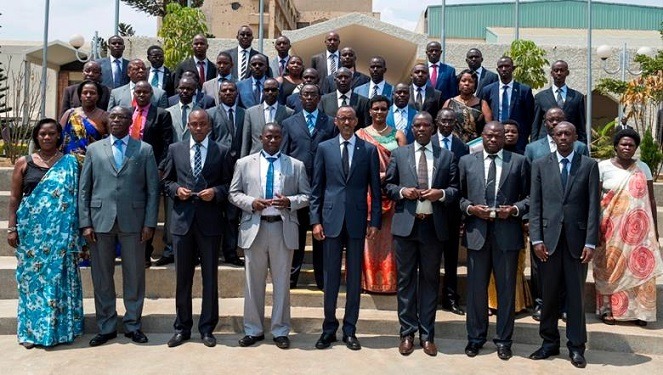 Local leaders on Thursday vowed before President Paul Kagame that they will do whatever it takes to improve agricultural growth to 6% from 4% last year.
Agriculture, employing over 80% of Rwanda's population, is the backbone industry contributing 35% to the country's GDP.
Speaking before President Kagame during the official signing of this year's performance contracts commonly known as Imihigo, the Prime Minister, Anstase Murekezi, unveiled ambitious plans to improve the sector.
To attain the targets, Murekezi said that, "We will speed up land use consolidation programme, improve irrigation, distribute fertilsers and continue to improve livestock farming."
Meanwhile, there was improvement in last year's perfromance, which attracted President Kagame's appreciation. "I want to thank all of you for the improvement seen in these performance contracts," he said.
He, However, warned the leaders not to be complacent; "We have to do more," Kagame said."
The Prime Minister also told a fully packed parliament that to improve social-economic welfare of the population, 110,000 classrooms will be constructed to provide free access to education, while 70 megawatts of electricity will be added to the national grid, which will provide 58,034 of Rwandans with electricity.
"We will also provide clean water to 54,797 Rwandans and help 3,620 more use biogas," Murekezi said.
The Prime Minister, who is the head of government business, told the President that 30,000 cows will be distributed to poor families, while Rwandans will be subscribed to health insurance scheme, commonly known as Mutuelle de Sante by 100%.
Murekezi said that this year's performance surpassed the previous years.
Average performance of districts in performance contracts increased from 69% in 2013/14 to 74% in 2014/15.
This increase is attributed to the President's tough measures against non-performing government officials.
"We have witnessed a tremendous improvement of districts…thanks to your stance towards poor performers," Murekezi told President Kagame.
Several district mayors have been fired while others jailed, following last year's poor performance and mismanagement of domestic public funds.
Kagame said that there is always a reason for both good performance and failure, and requested that poor performers be helped to improve.
He mentioned Rutsiro, Rusizi and Karongi in Western Rwanda and Musanze the North to be given special attention.
President Kagame awarded Huye district in the South as best performer with 83%, followed by Ngoma in the East with 81%, while Gakenke (North) with 70.2% and Karongi (West) district with 70.8%, were the least performers respectively.