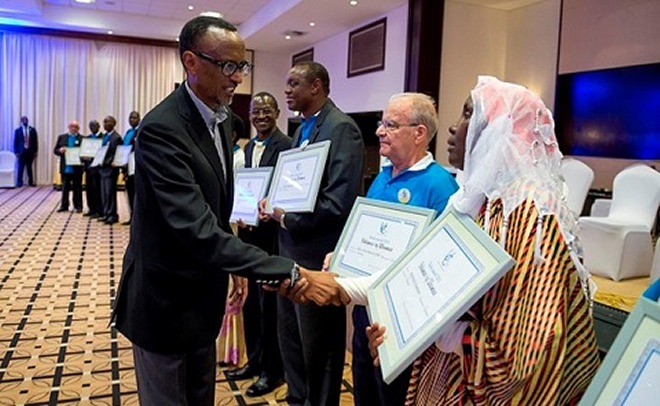 In April 1994, Rwanda fell into a horrific genocide against Tutsi, where extremist leaders of the former regime launched a campaign that would ensure the extermination of Tutsi in the country.
Apparently, one Damas Gisimba was running an orphanage- 'Gisimba Memorial Centre'. As killings spread across the country, Gisimba was busy rescuing children and adults into his orphanage.
By doing this, Gisimba was taking a big risk; death. But he believed the fear for death was less important than witnessing innocent people, especially children, get killed.
"I naturally love children …I could not watch with my own eyes as people got killed people. I decided to do all I could," Gisimba told KT Press.
As the 100-day genocide went on, information circulated that he was hiding people and Gisimba started getting death threats from the killers, but this did not deter him any inch. He rescued more than 300 children into his orphanage.
When attackers threatened to burn down his orphanage, he looked for other means. "I contacted an American friend who helped me relocate them to St. Michel cathedral church. That's how we survived," Gisimba told KT Press.
Very few people during those trying moments took such risks. Most of them have been recognized and awarded for their heroic acts. They are nationally recognized as 'protectors of friendship pact'.
Speaking at the 'Unity Award 2015' gala organized by Unity Club on Friday evening, President Paul Kagame said that, "When you see these Rwandans we recognize here, I personally feel I couldn't have done what they did…especially doing it after they had faced the worst."
Seventeen exceptional individuals were recognised for their exemplary characters, demonstrating solidarity, respect for justice and humanity during and after the genocide.
Each one's story was shared. From such testimonies, Kagame told leaders, "We hear a lot, we learn a lot but honestly we get more confused…we live the responsibility for what happened to us…but we should ask ourselves why of all other people we chose to insinuate hatred among us."
The President said such acts should inspire a spirit of unity.
"To protect your interest means to protect the common interest. This is where unity becomes the key to rebuilding our nation," he said.
According to the Minister of Sports and Culture, Julliene Uwacu, said that so far there are 6000 Protectors of Friendship identified across the country. More will be identified.
Meanwhile, President Kagame encouraged Rwandans to care for each other and not be driven by personal interests.
People like Gisimba are vivid examples to go by. "People may call us heroes, but your sacrifice is greater than any of ours," Kagame spoke of the heroes.
Brief bios of the awarded 'Protectors of the friendship pact'
Gatoyire Damien: During the Genocide, in Gasange Sector, Gatsibo District, Gatoyire prevented killings in the areathrough an anti-genocide campaign.
Silas Ntamfurayishyari: He served in Habyarimana's Ex-FAR army and was stationed in Gako, Bugesera district. He was placed at roadblocks to stop Tutsi and hand them to killers, but he would later secretly let them go. During the genocide, he accompanied 17 people to cross into Burundi.
Aaron Habumugisha:. He mobilised residents in his village not to kill and managed to stop attacks from outside and nobody was killed there.
Father Obald Rugirangonga: He initiated a programme that brings together victims and perpetrators in Rusizi District. Through this programme, 153 families have been reunited. He also tours different prisons to encourage inmates to repent and ask for forgiveness.
Boniface Mudenge: A Genocide survivor, he founded Inyenyeri- an association that promotes unity and reconciliation in Rubavu District.
Aloys Uwemeyimana: During the Genocide, he helped 119 people flee to DRC and paid ransoms for them to survive.
Father Servilien Nzakamwita: All his relatives were killed during the Genocide. He has spent most of his time doing charity work. Recently he built houses for Rwandans who repatriated from Uganda and Tanzania in Gicumbi District. He is the first Catholic monsignor who initiated visits of prisoners.
Frederic Mpankiriho: Mpankiriho passed away. He tried to give ransom to killers to save people who had fled to his home in Nyanza District. He was killed when he refused to forsake them.
Callixte Kabera: Kabera was an Ex-FAR soldier. He was always victimised for sympathising with Tutsi.
Father Eros Borille: He is an Italian Catholic priest. He used his Saint Antoine orphanage in Nyanza during to save people.
It is estimated that 800 people survived because of him. As the situation worsened, his fellow priests told him to fly back home, but refused. He fell ill, but refused to be hospitalised and continued staying with his people.
Father Stanislas Urbanik: He is a Catholic priest from Poland. He started his evangelisation in 1992 during the multiparty period. He continuously preached about love and harmony. His teachings bore fruits when the people he had taught helped him save 600 people who had come to seek refuge at Ruhango parish. He was detained and then released. During the Genocide, he was given a gun to kill, but rather used it to protect victims. He was killed for that.
Father Jerome Masinzo: Is the leader of Butare Diocese since 1988. During the Genocide, he led Ngoma Parish and helped in reconciliation activities and rehabilitation for 1,800 widows of the genocide.
Father Dion Marius: Is credited for saving 15 people who had fled to him in Kacyiru, Gasabo district. He resisted several attacks of Interahamwe. UNAMIR soldiers forced him and other foreigners to leave, but he and another Swiss man refused to abandon the people he was hiding. He currently works at King Faisal Hospital.
Ramadhan Munyakazi: During the Genocide, Munyakazi helped Tutsi to cross Nyabarongo River, but was unfortunately killed when he returned after his young brother betrayed him.
Josephine Murebwayire: Currently living in Gasabo district, she gathered women and girls and sensitised them through workshops. She also provided counselling and reconciliation talks. She currently works as a mediator between perpetrators and victims of the genocide and a champion of Ndi Umunyarwanda programme.
Damas Gisimba Mutezintare: He is the founder and owner of Gisimba Memorial Centre. During the Genocide, he rescued and hid over 300 children and adults from Interahamwe militias. After the Genocide, Gisimba sheltered orphans and paid their school fees.
Grace Uwamahoro: At the age of 13 during the Genocide, Uwamahoro saved a baby from breast feeding on her dead mother. The mother pleaded with the passersby to take the baby but nobody took the baby. Uwamahoro took the baby and fled to the Democratic Republic of Congo (DRC). She resisted the pressure from her relatives to leave the child behind. She raised the baby and named her Vanessa Uwase. The girl is now finalizing senior six at Maranyundo Girls School in Bugesera district.