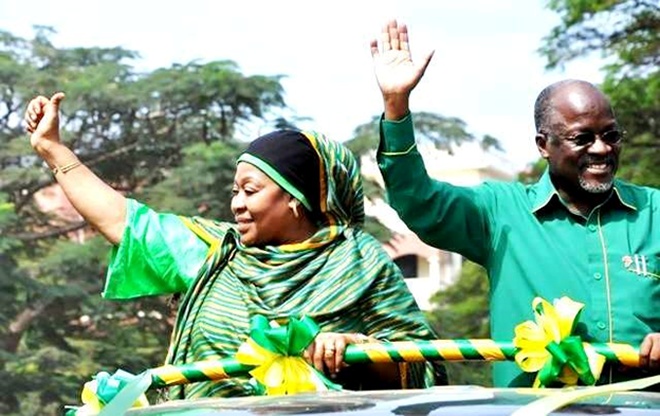 President Paul Kagame flew to Tanzania's capital Dar-Es-Saram early morning to attend the swearing in ceremony of President-elect John Pombe Joseph Magufuli.
President-elect Magufuli from Tanzania's CCM party, was on October 29 announced the winner of a tightly-competed race he obtained 58.46% votes.
His immediate challenger Edward Ngoyai Lowasa from CHADEMA party which had formed a coalition with three other opposition parties in the East African nation, got 39.47%.
President Kagame is expected to be joined by his East African Community counterparts, Yoweri Museveni of Uganda, Uhuru Kenyatta of Kenya, as well as other African presidents.
Rwanda, a member of East African Community, expects to foster its relations with Tanzania, which mainly centers on trade and infrastructure partnerships.
The port of Dar-es-Salaam is crucial for Rwanda's trade routes, accounting for roughly 70% of all Rwandan international maritime trade.
The port handles 60% of Rwanda's exports and imports, making it a key port in terms of handling Rwandan cargo, according to Ministry of Trade.
Indeed, Rwanda regards Tanzania's central corridor, which combines road and railway network, as an essential trade and transport route linking it with neighbouring Burundi, Uganda and the eastern part of Democratic Republic of Congo.
In March this year, President Kagame travelled to Tanzania for the Central Corridor Presidents' summit, where several projects were committed to facilitated trade within member countries.
Some of the projects and policies agreed on include; reducing transit time spent from Dar-es-Salam to Kigali from 10 to between 3-6 days and harmonizing Rwanda- Tanzania road tolls to $152 from $500 save traders on both sides from high costs.
Meanwhile, Kagame's presence at the Magufuli swearing-in ceremony is a significant signal to a renewed relationship, currently regarded as cordial, despite a sour fallout since 2013 between the two countries. 
Going through Relations between Rwanda and Tanzania could be described as cordial and a signal to an end of the sour fallout since 2013.