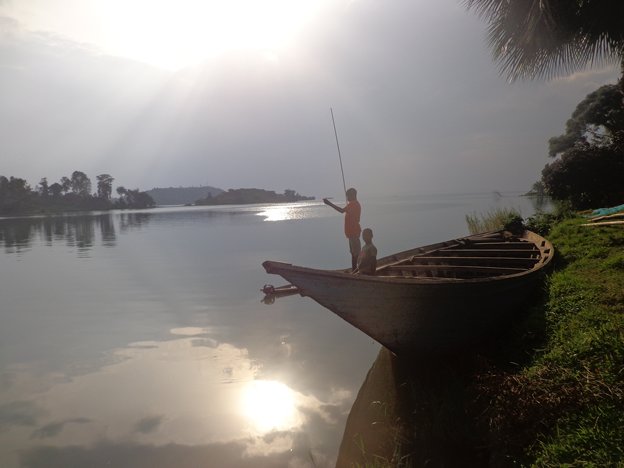 Jerôme Musomandera was born and raised in a fishing community on the shores of Lake Kivu, Bwishyura Sector in Karongi district.
His dream was to become an accountant about forty years ago, but his dreams were shuttered after his parents failed to pay school fees beyond secondary school.
He couldn't figure out any other occupation apart from fishing, which was the main occupation for many people around the lake. Yet, "The fish catch was always small," says Musomandera.
Until 1990s, fishing was done traditionally, but Musomandera learnt that there were new methods of rearing fish.
"Fish farming was bizarre to us; it was the first time we learnt about fishing ponds. We still ventured in the business," he said.
During that period, 10 tilapia, Rwanda's favourite fish, could hardly make a kilogram, and was sold at Rwf20. The main food available was and still is grass, which cannot help fish to grow bigger.
In 2002, the government began engaging Rwandan fishermen to try new techniques and also focus on catching sardine, locally known as isambaza which is the main fish species in the lake.
A sardine weighs barely 50 grams, but is widely consumed and exported to DRC where it is a staple food.
The transformation came with motorised boats where Musomandera and his crew could catch at least 200kgs of sardine per night.
"In 2003, I became the first fisherman to buy a bike, TF 125 and I was called a star in my neighborhood. Since then, we started enjoying fishing even more," said Musomandera.
Rwandan lakes naturally unproductive?
Wilson Rutaganira, the program coordinator of aquaculture and fishing program at Rwanda Agriculture Board (RAB), says Rwanda has oligotrophic lakes, naturally unproductive.
For fish to grow naturally, they need natural food from phytoplankton- the grass debris and zooplankton-animal debris close to the lake's surface. "Rwandan Lakes do not have such food, reason why their water is clean," says Rutaganira.
For example in Lake Kivu, the debris are deep in the water, fish would suffocate if they swam deep into the water.
Jonathan Kayego, production manager of Projet Pêche, a fishing company from Karongi district told KT Press, "we have just caught 500kgs of sardine and no single kilogram of tilapia."
He said the Methane gas popping out from the lake does not allow tilapia to grow. Only sardine can survive in the deep water where they feed from natural food.
With 26,752 tons of fish harvested per year, fish contribution to the country's GDP is 0.5%.
Lake Kivu, about 2,700 square kilometers, produces 80% of this harvest and mostly sardine and a few tilapia. On average, a single tilapia fish in Lake Kivu measures not more than 500gm.
This creates a gap in fish supply on the market. Rutaganira says Rwanda imports approximately 20,000 tons of fresh and smoked fish from Uganda and Tanzania to fill the gap. Some other frozen fish is imported from as far as China.
A Rwandan consumes 2.5 kilograms of fish per year, according to the Rwanda Institute of Statistics, compared to 4 kg and 6 kg in Burundi and Uganda respectively.
Egypt which depends on foreign countries' water, every citizen consumes on average 10 kg per annum. Rwanda, like most African countries, need more fish intake for protein. The World Health Organization recommends 14.9 kg per capita annually.
To bridge this gap, Rwanda is just abandoning the fish ponds system, because they require use of wetlands that are on high demand for agriculture.
Traditional fishing on lakes is also dying out.
The country is embracing a new technology of floating cages, whereby fish are enclosed in cages on different lakes.
It is now widely applied on Lake Kivu and is being taken to other lakes such as Muhazi in the Eastern Province.
Floating cages allow farmers to create a condition of feeding fish from industrial floating feeds. This intends to make Rwandan lakes livable for tilapia.
"We want to maximize our lakes' capacity to produce a million ton of fish annually, five years from now," Rutaganira told KT Press.
Getting started
Under the new methods of fish rearing, a farmer needs to have a hatchery, a food processing plant and a fish farming concession where to place the cages.
Musomandera has got it all. At his Kibuye village, he owns two fishing ponds, where he installed a hatchery. In the ponds, 50 young female fish and 25 male fish are grouped in five net cages.
On the shore, he mounted a food processing plant that processes and blends rice, oil fish, silver fish, maize, cassava flour and other ingredients.
Every cage is fed with estimated 2 kg of the blended food per day. The feeds which smell like fish are quite nutritious and help fish to produce eggs 25 days later, and to sustain its 3 month reproduction cycle. Fish produces 10% of their weigh every cycle.
Selling Lake Kivu, the way out 
Baby fish, technically called fingerling, spend three months in the incubator, before being transported to the Lake's floating cages through a cold container supported with oxygen cylinder.
Musomandera is part of pioneers in this technology. Since the last two years, he has acquired over 30 cages of eight and 25 cubic meters respectively at an estimated Rwf400, 000 each.
He placed them in part of his 3.5 hectare fish farming concession on Lake Kivu. "Acquiring fish farming concession is much easier than obtaining a piece of land," says Musomandera.
All it takes is to go to your favourite lake and choose your convenient place. Then you apply for a 10 year concession from the Ministry of Natural Resources, upon payment of Rwf35,000 and technical advice from Rwanda Agriculture Board.
The main requirement, says Rutaganira, is to stay away from others' territory on the lake. A cage can accommodate between 2000 to 5000 finger rings of 10grams each. They can weigh about 500grams each six months later. A kilogram of fish is sold at Rwf2500.
The government is currently encouraging investors to embrace the floating cage technology. Development Bank of Rwanda (BRD) has allocated Rwf3 billion to finance private initiatives in this sector.
However, Rutaganira still needs more. He told KT Press, if they had Rwf5 billion now, they could produce 130,000 tons annually with ease.
Farmers like Musomandera are ready to make this happen. "We can bring fish imports to zero in a couple of years."