Thousands of Rwandans this Saturday flocked to several sites for community works-Umuganda, all expecting to contribute to an activity of common interest, but some of them had a promise to even get a take home bonus.
Members of Six families from Sectors of Nkotsi, Muko and Kimonyi in Musanze District joined their neighbors in Kivumu village to construct a new street, and all went really well.
After Umuganda, as local leaders took the floor to thank the participants, they started with a communiqué, that six needy families were to be given a cow each.
"We (District) got six cows from Musanze Polytechnic and right now, we are going to give them to needy families that were identified. The families were informed and they committed to take good care of the cows," said Marie Claire Uwamariya, vice mayor for social affairs-Musanze District.
It turned a memorable day to those family members who said, they never thought they could one day own a cow.
"I don't remember when I last had milk. My family is such poor that even to buy milk seems lavish. We never drink milk at home," Celestin Ntezimana 40, one of the beneficiaries told KT Press.
"I will take good care of this cow which, in the future will serve us with milk. Milk is life; when you take milk you stay healthy and live longer."  Ntezimana added
The six cows cost Rwf 2 million and were donated by Musanze Polytechnic, a public technical school in Musanze, "to give back to the community."
Rwanda's home grown solution-Community works-Umuganda has always been thought to be an activity that is meant to clean, build public infrastructures.
As community centered however, umuganda has been widening to include an aspect of philanthropic and social activities which always put a smile to several members of the community in several ways.
Meanwhile in Musanze District, the school paid community health insurance to 321 needy families. All the school donations today amounted to Rwf 2.5 million.
In another area 'Huye District' the whole community converged to the farm of a needy widow and helped her plant her seeds as it is planting season.
Communities helped vulnerable people to build houses in several other villages, an activity which is timely at a rainy season where a shelter is considered priority.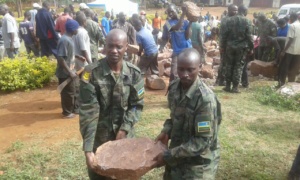 Beside social activities, Umuganda today achieved much more.
Civilians, both men and women, youth and men in uniform as well as the clergymen woke up early morning and grabbed machetes, hoes and  spades among other tools and gathered at several sites across the country for the monthly community work; a voluntary activity that every adult Rwandan considers essential.
Central government officials, MPs and senior officials of both the military and police drove from the capital city to join local leaders and the citizen in the Umuganda ready to offer their services to the Nation in various villages, centers, towns and cities. They do so every month.
Major activities of the month were construction and rehabilitation of public infrastructure, like classrooms, the case of Burera District in Northern Province where the community cleared the ground and built foundation for construction of two more classrooms at Cyanika Primary School.
With 1,600 pupils, the school will next year, be able to admit at least 160 more pupils given the current pupil classroom ratio-80 pupils on average, or to decongest the School's densely populated classes.
For the community in Mushikiri sector, Kirehe District, the commitment was even higher. They laid foundation for construction of three classrooms, with the help of Rwanda Defense Forces (RDF) operating in the area, working with the new governor of Eastern province, Judith Kazayire.
For GS Shyorongi in Nyarugenge District, it was not only about construction but also safeguarding the environment around the school. The Reverend Sister Director of the school mobilized her students to come and help their parents to plant trees and make a garden at the school, before the rainy season is over.
Boarding a bus was Rwanda's First Lady Jeannette Kagame who also joined the community for Umuganda in Shyorongi where she launched the 3rd year campaign of 12+ Ni Nyampinga.
The program implemented by First Lady's Imbuto Foundation and partners aims to empower 10-12 year old girls with health, economic and social assets, using young women mentors.
Other activities backing infrastructure consisted of refurbishing several roads, constructing new ones and clearing bushes around highways.
The community which owns Umuganda did not forget that planting season is ongoing. In Gisagara district, southern province, Umuganda consisted, among others of a farmer field school whereby communities learnt by doing the construction of a vegetable garden, commonly, Akarima k'igikoni.
This is a great initiative in a country where stunting is still very sensitive with 39% of children affected, according to the Integrated Households Living Condition Survey (EAICV4) 2015.
Very interestingly, some Rwandans participate in Umuganda through their domain activities. For example, it makes a colorful event to see taxi-motor riders parading after Umuganda, which they most of the time, organize as a team.
Umuganda consists of two essential parts including the manual works and a meeting which discusses significant issues in the community.
Sharing food and drinks and dancing to celebrate Umuganda achievements is most of the time incorporated in between.