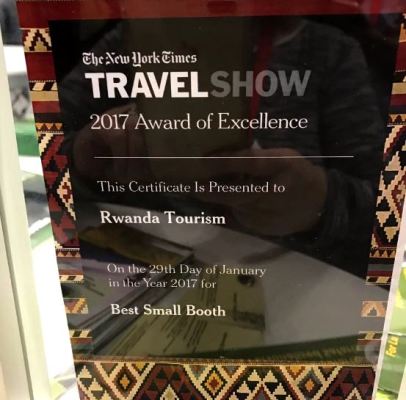 Rwanda is considered a wonderful destination tourists can quietly escape to and enjoy a great experience of pristine nature.
At the 2017 New York Times Travel Show organised today, Rwanda Tourism has been recognised with a certificate '2017 Award of Excellence' –  Rwanda put up the 'Best Small Booth' at the show.
The prestigious award is a major boost to the country's tourism promotion efforts.
New York Times Travel Show is a 3-day event held from 27th January to 29th January 2017 at the Jacob K. Javits Convention Center in New York, US.
Several independent organisations, tourism agencies and individual visitors continue to recommend the East African nation that is home to the world's only surviving mountain gorillas – Rwanda alone hosts 480 of the 880 population of these massive primates.
The New York show hosts a Travel Industry Conference and exclusive trade-only viewing of 500 exhibiting companies in the Exhibition.
The Conference featured more than 270 speakers including; Ben Baer, managing editor, Forbes Brand Production, Rainer Jenss, president & founder, Family Travel Association.
Other speakers included ; Eduardo Santander, executive director, European Travel Commission, Alison Metcalfe, executive vice president United States and Canada, Tourism Ireland and chair of the European Travel Commission's Operations Group in USA and, Bruce Poon Tip, founder, G Adventures.