Four months from now, thousands members of the Anglican Church from across the world will be flocking at Gahini – Kayonza district, Eastern Rwanda for miracles, probably like the Roman Catholic members at Kibeho – southern Rwanda.
The Archbishop of Canterbury, the Most Rev. and Rt. Honorable Justin Welby and his wife arrived in Rwanda yesterday to lay a foundation stone at the East African Revival Heritage Center at Gahini Diocese.
From the hill that hosted first established Mission Center of Anglican Church of Rwanda and spread the Pentecostal fire across the region,   the Anglican church supreme leader launched construction of; A Wall of Miracles, a Fellowship House on which the foundation stone will be laid, a Covenant House, a new Cathedral under construction – 10 times bigger than existing one, and an office block.
The new cathedral has 2000 sitting capacity compared to 200 places of the old church. It will cost Rwf2billion upon completion.
All these facilities are set to be finished in June this year, allowing local Christians a fellowship in smart infrastructure and tourists to visit a new reputed Holy land in Rwanda.
Meanwhile, the Archbishop of Canterbury in his first official visit to Rwanda can't wait for the launch of the facility; he has good memories of Gahini.
In early 1970s, 18 – year old Justin Welby was a volunteer teacher at a Kenyan school. Little did he know that today, he would be the Archbishop of Canterbury – thanks to the revival Spirit that brew him all the way from Gahini hill.
The hill is famous for having spread Holy Spirit fire across the region, according to Rwanda Christian ancestors. As a matter of fact, the Protestants' Classical Chorus Book loosely called – Cantique includes many songs that were allegedly revealed by Holy Spirit to Gahini Christians barely after the arrival of colonialists  and  European Missionaries who preached indigenous the Good News since 1930s.
"It is a great pleasure for me to be in Gahini…a river that pushed me to who I am today," said Archbishop Justin as he led a prayer service at Gahini Diocese.
Bishop Alex Birindabagabo, the head of Gahini Diocese told KT Press that the center will not only act as a historical place, but also as a touristic destination to many people visiting the country.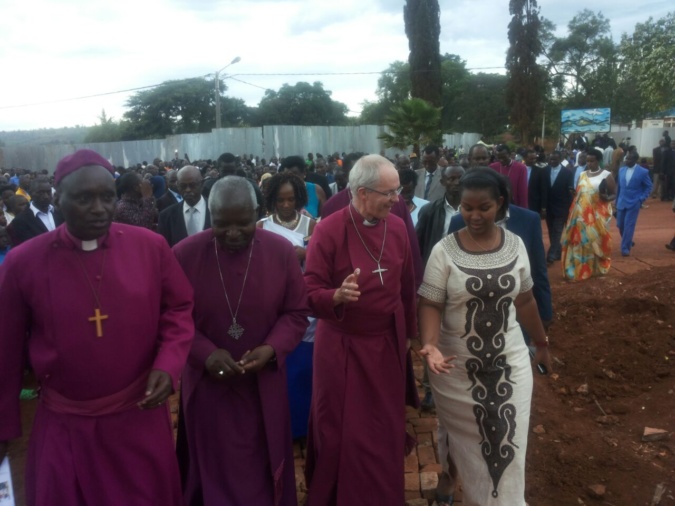 Eastern Province Governor, Judith Kazaire said the government is committed to work with EAR like any other religious organization in fostering development.
It is expected that the Archbishop of Canterbury will also visit Kigali Anglican Theological College where he will give a word of encouragement to the administration, staff and students.
The imminent visit of Archbishop Justin Welby will be the third to Rwanda since he assumed office, but the first official visit to Rwanda.
Archbishop Justin will leave the Country on Tuesday 21st February 2017.