Works on the second phase of Nyabarongo Hydro Electric power project are expected to begin soon to generate an extra 17MW of electricity.
India's Vice President Shri Hamid Ansari today promised that the two Indian Engineering Companies subcontracted to implement this project will swiftly execute the work.
His Excellency Ansari who arrived on Sunday in the country for a three-day official visit, today met with President Paul Kagame at village Urugwiro where they held talks including possibilities of starting the second phase of Nyabarongo Hydro Power project.
In March 2015, President Kagame inaugurated a $108.7M first phase of Nyabarongo Hydro Electric power house located in Muhanga district in Southern Rwanda.
The 28MW plant was constructed by two Indian Engineering Companies, Bharath Heavy Electrical Ltd (BHEL) and Angelique International Ltd (AIL), after a bilateral agreement signed on July 8, 2008 between Rwanda and India.
The project was completed after India offered the two firms a credit of $91M through Export-Import Bank of India, while Rwanda contributed the remaining US$17.7M.
Claude Nikobisanzwe the Permanent Secretary in Foreign Affairs Ministry, told KT Press that Vice President Ansari assured President Kagame that works on the project will start soon.
"The study was conducted but did not reach final stages. Ansari said an immediate plan is underway for a successful execution of the project."
Rwanda government is under pressure to meet target of generating 563 MW of electricity to the national grid before end of next year.
With a recent successful inauguration of methane gas power project in Lake Kivu, Rwanda has invested heavily in peat energy, with a possibility to generate about 200 MW of power.
The new Nyabarongo II project is expected to generate 17MW of electricity at a cost of $98M.
More investment deals in the pipeline
The Indian Vice President is accompanied by a delegation of investors, diplomats and lawmakers. His meeting with President Kagame, according to Permanent Secretary Nikobisanzwe, "Looked at more investment opportunities and bilateral relations between the two countries."
The new investment deals centre on ICT, Energy, among other sectors. According to data from Rwanda Development Board (RDB), Indian companies in the country have projected worth of $317.5 million investment registered in last six years.
This evening, a business forum and an exhibition bringing together ICT sector players has convened at Radisson Blu and Convention Centre in the capital Kigali to establish mutual partnerships for both Rwanda and India ICT companies.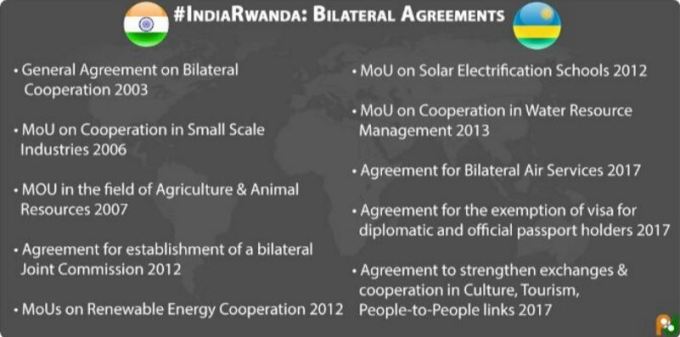 Before his meeting with President Kagame, Indian Vice President visited Gisozi Genocide Memorial site where 250,000 victims of the genocide against Tutsi in 1994 are laid to rest.
After witnessing Rwanda's transition journey since the dark 100 days of the genocide, Vice President Shri Hamid told President Kagame that; "Nothing matches the beautiful crafting of this country. It is a tribute to you and your people who have done it."
Meanwhile, Claude Nikobisanzwe Rwanda's Permanent Secretary in the Foreign Affairs Ministry, on Sunday received copies of credentials from new High Commissioner of India to Rwanda, Ravi Shankar.
This afternoon, the First Lady Jeannette Kagame received Mrs Salma Ansari, spouse of the Vice President of India, for a presentation on Imbuto Foundation projects. Mrs. Salma Ansari pledged $5000 support to Imbuto.