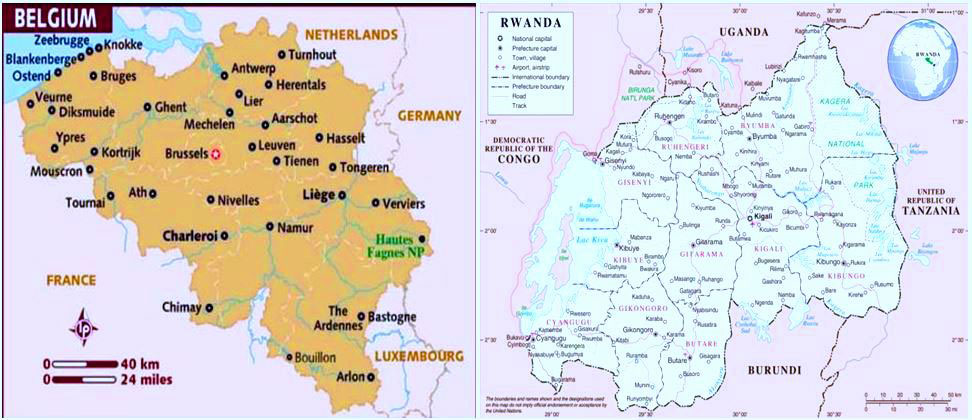 Demographics – As of January 2015, the total population of Belgium was 11,190,845. Almost all of the population is urban, at 97% in 2004 As of 2015, Rwanda's population was estimated to be 11,262,564. With most aged between 16 and 64.
Size– Rwanda is 26,338 km2  slightly smaller than Belgium  30,528 km2.
Languages– Rwanda has four official languages- Kinyarwanda, English and French,Kiswahili.
Official languages in Belgium include; Dutch, French and German.
Religion– Catholicism is the biggest faith in both countries.
Healthcare – In Belgium Healthcare is financed through both social security contributions and taxation and Health insurance is compulsory just like in Rwanda Health care is delivered by a mixed public and private system of independent medical practitioners and public, university and semi-private hospitals.
Economy – Rwanda is a country of few natural resources and the economy is based on subsistence agriculture – 80% of the population in agriculture.
Rwanda's economy suffered heavily during the 1994 genocide, but has since strengthened, with per-capita GDP estimated at $2 090 in 2017, compared with $416 in 1994 Belgium economy is characterized by a highly productive work force, high GNP and high exports per capita.
Belgium's GDP expanded to 1.61 % in March 2017 and Nominal GDP reached $1.1 trillion in March 2017.
Currency– From 1832 until 2002, Belgium's currency was the Belgian franc. Belgium switched to the euro in 2002.
The standard Belgian euro coins designated for circulation show the portrait of the monarch (first King Albert II, since 2013 King Philippe).
Rwanda currency is the Rwandan Franc (Rwf) printed in notes and coins. Rwandan francs contain imprinted images of touristic attractions.
Food– Rwanda depends on subsistence crops such as matooke (bananas), potatoes, beans, sweet potatoes, cassava, wheat and maize.
Coffee and tea are the major cash crops for export.
Belgium is famous for beer, chocolate, waffles and French fries with mayonnaise.
Territorial administration– The territory of Belgium is divided into three Regions, two of which, the Flemish Region and Walloon Region, are in turn subdivided into provinces; the third Region, the Brussels Capital Region, is neither a province nor a part of a province.
Rwanda is divided into four provinces- Southern Northern Eastern and Western plus the City of Kigali
Flags– Rwanda flag has four colors: blue, green, and two forms of yellow- which hangs horizontally with "sun yellow" at the right side edge. The flag was adopted on October 25, 2001.
The national flag of Belgium is a tri-color of three bands of black, yellow, and red. It was adopted on January 23, 1831.