For over twenty years, Rwanda has endured bashing from critics as the country rebuilds after 1994 genocide against Tutsi which claimed a million lives.
However, with tireless transformation efforts, Rwanda continues to win several global accolades that detractors also approve of.
President Paul Kagame said on Saturday that Rwanda has proved its detractors wrong.
"I am not the one who records these rankings. Even those who detest Rwanda agree with global accolades the country gets," President Kagame told over 2000 Rwandans from across Europe gathered for Rwanda Day event in Ghent Province, Belgium.
Kagame told thousands of Rwandans amid applause that today, Rwanda is a dignified nation not just to us Rwandans but recognized across the world.
According to Kagame, the secret behind Rwanda's rapid growth is solely based on its history and collective efforts by all citizens in nation building.
"Our achievements are founded on our unity, all Rwandans are equal irrespective of where they are from or who they are. Our history has taught us the lesson that our past should not be our future."
The President said that the country is writing a new destiny, "One based on unity, hard work, truth and self-reliance."
For the first time in Rwandan history, Kagame said, the global index have positioned Rwanda as the 1st, 2nd, 3rd and among the world's 10 best countries in different rankings.
"By all measures from women empowerment, economic growth, to fighting corruption Rwanda is always amongst leading countries," Kagame told a cheering crowd.
The country has been a shining star in global rankings – from Gender equality, Good governance; Security and Doing business.
In 2015 alone, Rwanda scooped eight top international rankings – ranging from ICT promotion and Human Development.
According to World Bank's 2016 'Doing Business Report' Rwanda was ranked Second Easiest Place to Do Business in Africa, after Mauritius.
The Global Competitiveness Report (2015) ranked Rwanda as the Best Place to be a Woman in Africa and Sixth Globally.
Also, the World Bank ranked Rwanda's capital Kigali among the six top cities in the world that demonstrate global competitiveness.
The bank put together a collection of detailed economic data for 750 cities in the world, which it used to distill the factors that drive economic competitiveness.
Moreover, Gallup Global Report- 2015 placed Rwanda the safest place walk at night in Africa and Fifth safest country in the world.
The World Travel Guide 2015 also ranked Rwanda the Third Greenest Place in the World after Costa Rica and Ecuador.
In ICT, Global Technology Report 2015 ranked Rwanda the First globally in ICT Promotion and also the most available Open Data government in Africa by the Global Open Data Index of 2015.
For all these achievements, Kagame said they have been attained simply due to the zeal of Rwandans in initiating home-grown solutions.
For instance, the President said, while the world has been expecting Rwanda to depend on aid to run its businesses, the trend is already a gone case.
Paying tribute to private sector, for example, Kagame said that "Overnight, the private sector and their friends brought together all the necessary resources for the upcoming elections and even surpassed the budget required."
Rwandans will go to polls in August this year and electoral commission announced Rwf5 billion ($6 million) will be used during elections.
It was a colourful event in Ghent Province. Young Rwandans dominated the event, with children singing the national anthem – a sign that Rwandan culture exists not only within but outside its borders.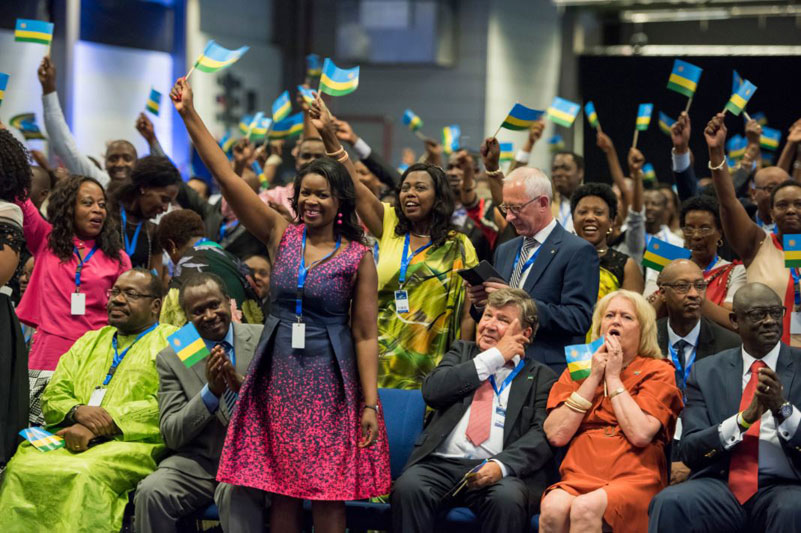 For President Kagame, "Rwandans living in Rwanda and those living abroad can complete each other, and become a Rwanda that goes beyond our borders."
"Living abroad does not mean forgetting your home; you can use what you gain to improve your nation from where you are."
The President called for unity, saying, "When insecurity, poverty and disease strike they don't differentiate Hutu Tutsi or Twa."
Since morning, Rwandans in Belgium have been warming up to receive President Kagame – seven years since he last met them.
The President later held an interactive session with Rwandans and friends of Rwanda.
Dr. Patrick Mwamba – a clinical director and specialist in Hair transplant, requested President Kagame to help him achieve his dream of investing in Rwanda.
A hair transplant specialist, Dr. Patrick Mwamba owns World Hair Transplant Center (WHTC) in Brussels, Belgium.
In response, Kagame said: "We need you to deploy your skills in Rwanda. The only question is when you are coming to start your investment in Rwanda."
Dr. Mwamba said he will visit the country before August this year.