Jean Marie Pierre Ngirumugenga was insulted, booed and also his fiancée threatened to leave him in 2012. Why?..because he decided to leave a well paying job that many young graduates would not dare resign from.
By then, Ngirumugenga worked as an agronomist in Rwamagana district and earned a monthly salary worth Rwf 350,000 for three years. He remembers how several young graduates in Sibagire cell, Kigabiro sector looked up to him.
"Graduates always looked for office jobs where they feel comfortable. Some of them reached a point of selling their land in search for a job in Kigali," Ngirumugenga told KT Press.
"I took a risk and decided to quit my job and go into farming," however, Ngirumugenga remembers that he became a laughing subject in his neighbourhood.
His fiancée was not convinced about his decision and she was about to quit the relationship.
Ngirumugenga took Rwf 5 Million he had saved for since he started working and  built livestock sheds and bought 25 pigs to start his venture.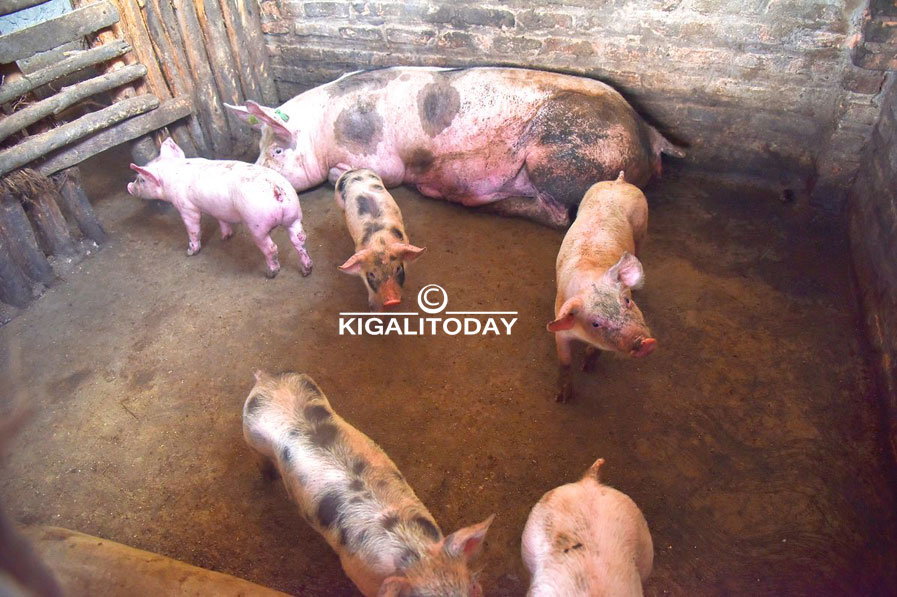 Five years later, his piggery has grown to 700 pigs – all imported from Brazil known for world's best hybrids. This project now generates Rwf 20 Million annually.
"It is so encouraging when whatever you are doing is for yours. But when you know you are running someone's business, it's not easy to give it all your energy," he revealed.
Today, Ngirumugenga is a role model to his colleagues. He has acquired a brand new car and built two houses each worth Rwf 15 Million.
Ngirumugenga's request is to have the ministry of Agriculture encourage people to reduce prices on animal feeds, provide more butcheries for pigs and markets.
Dr. Mukeshimana Geraldine, minister of Agriculture and Animal husbandry said, "We have cancelled all taxes on animal feeds," she said in a press conference.
"Apparently, we need to put more effort in connecting farmers to markets."
According to latest figures from Rwanda Agriculture Board (RAB), the number of pigs in Rwanda is estimated to 1,115,000 units.
The largest export destination for Rwandan pigs is the Democratic Republic of Congo. Over 200,000 pigs are exported to DRC annually.
With the current high demand, Ngirumugenga's targets to increase to 1,000 pigs by the end of this year and employ more people. So far, he employs 20 permanent staff and 32 temporary.