The love affair between Rwanda and FIFA could hatch into something big if all the reading on the wall remains as it is.
First in February it was FIFA President Gianni Infantino that visited Rwanda and upon arrival, he went straight to Amahoro National Stadium to watch a match between Police Fc and Rayon Sports. Later in June, President Paul Kagame visited the FIFA World Football Museum in Zurich – he was given a 45-minute guided tour of football history.
For Infantino after watching a football game in Kigali, he said, "Rwandans have got an amazing soccer talent, but there is a need to exploit this talent for bigger football competitions. Rwanda football association should not relent its effort in developing young people into international soccer stars."
Rwanda has submitted a formal request to the world football governing body to host the FIFA U-17 World Cup in 2019.
At the moment it is not yet known where the global tournament will be held.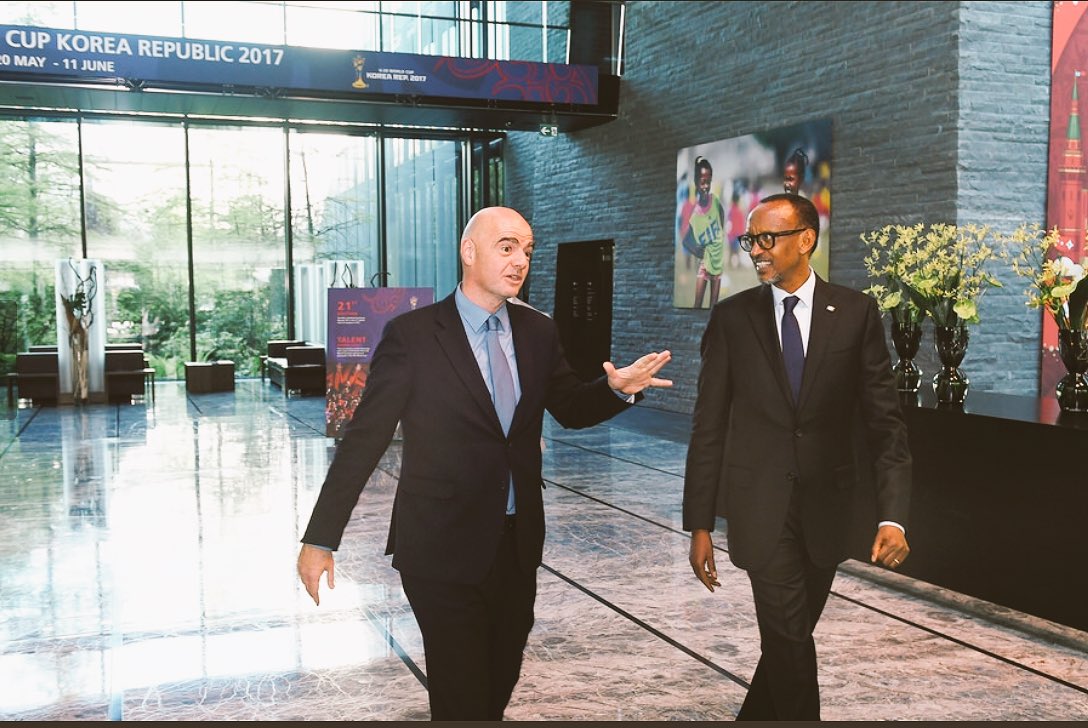 Rwanda has taken this opportunity to request the Federation of International Football Association-FIFA to allow the east African nation to host this prestigious tournament.
This year the FIFA U-17 world cup tournament will be hosted in India. A total of 52 games will be played to decide the winner.
Last year between January16th and February7th, Rwanda hosted Africa's biggest sports event- the African Nations Championship (CHAN).
During the CHAN tournament, a total of 200,000 football fans descended to Rwanda from across the African continent to cheer their teams. A total of 16 teams played in the tournament.
If Rwanda's request is honoured to host the FIFA U-17 World Cup in 2019, football enthusiasts more than those that arrived for CHAN will flood the hilly nation. CHAN 2016 was a big success.
Rwanda targets to transform into a high-end touristic and events destination.
According to Rwanda Development Board RDB, it was estimated that during CHAN, a regular participant spent at least $189 (Rwf141, 089) implying that at least $37million was directly injected into the economy.
The Rwanda football governing body Ferwafa, last year told KTPress that CHAN tournament budget worth Rwf4,000,636,000 ($571M). And infrastructure was revamped by an extra Rwf4b ($570M). Most of this infrastructure is still intact and well maintained and thus Rwanda is well prepared for another big event.
Hosting the FIFA U-17 World Cup would expose Rwandan football talent to global soccer scouts but of course illuminate the country's touristic, investment and market potentials.