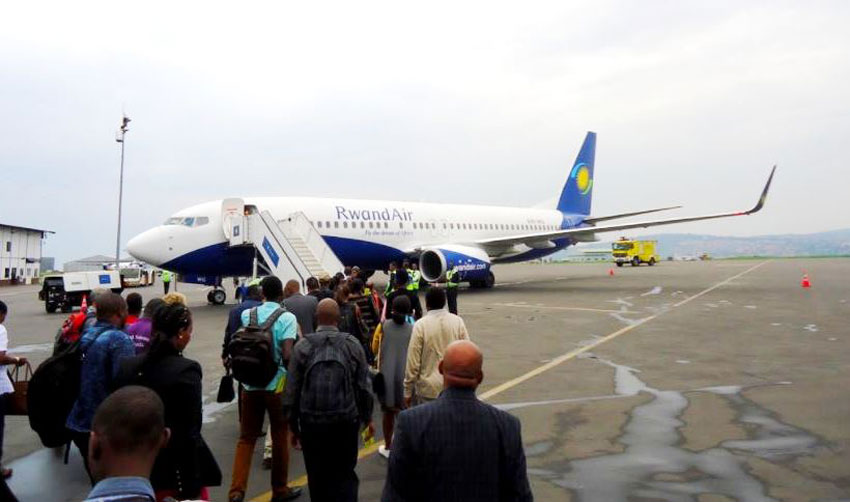 Rwanda's National carrier RwandAir has significantly reduced its annual losses signaling growing stability as the airline expands to new and distant destinations.
According to financial performance results, in April 2017, the airline managed to reduce its loses to $1 million last year from $2.8 million and finance costs rose to $15.1 million.
The decrease in losses, according to experts has been attributed to increased numbers of tourists and revenue, business destinations, and more exports.
Rwanda has so far opened 26 destinations across the globe. But as other airlines continued to face loses, RwandAir survived the aviation crunch with support from government investing largely in airport space, hosting global events and increased tourism innovations- such as Tembera u Rwanda and Gorilla Naming Ceremony.
For example Rwanda development board (RDB) says that Rwanda's tourism sector recorded more than $400 million revenue earnings last year up from $370 million in 2015.
RDB says that it is working with the private sector to increase on tourism revenues, "This is still work in progress. Together with the private sector, we are working on a plan that we shall share once ready" Belise Kariza, Chief Tourism Officer at RBD said recently.
In coffee exports Rwanda revenues realised from January to June 2017 amounted to $15.86 million, an increase by $35,937 compared to $15.82 million compared to a drop from $60.7 million) to $58.5 million in the previous financial year (July 2016 to June 2017).
While meat exports increased by 29.7% for the year ended June 2017 driven by good prices and high volumes, according to the National Agricultural Export Board (NAEB) annual report.
Even when Rwanda revised gorilla permits from $750 to $1500 the numbers show that foreign visitors increased from May –June, making significant change in the revenues by 15%.
Last year, there was a 17% increase in domestic tourists in national parks indicating that there was a legitimate interest with 600 local tourists visiting the parks accounting for only 3% of total tourists.
Apparently Rwandair has embarked on its expansion plans across the continent and beefed up its flights purchasing new planes.
Last month, the carrier opened its route to Contonu in Benin, and plans to start flying new routes to three West African cities- Libreville in Gabon, Brazzaville in the Republic of Congo, and Abidjan, Ivory Coast, at the end of September, 2017.
The airline is already flying direct from Kigali to London and is planning to launch flights to New York and new Asian destinations, including Guangzhou in China in the near future.