Baryan Manvir has emerged as the winner of the 2017 Mountain Gorilla rally beating Last year's winner in Rwanda, Bukera Valery and Khetia Nital from Burundi.
Manvir was navigated by Drew Sturrock a Skoda Fabia R5 clocking 1h47'06 as the top time throughout the three-day rally that kicked off on Friday.
Manvir's victory in the Mountain Gorilla rally in Rwanda has won him another chance to eye the 2017 African Rally Championship (ARC) which
will be determined in Zambia next month in order to be crowned African champion.
"I am confident of winning the Zambian challenge but I have to beat Leroy Gomes," Manvir said.
In his league of best five, Manvir was followed by Giancarlo Davite/Sylvia Vindevogel –Mitsubishi Evo 1h51'40 .Bukera Valery / Khetia Nital –Subaru Impreza clocking 01h52'09, Gomes Leroy / Gomes
Urshlla-Mitsubishi Evo clocking 10 1h52'09 .Nizette Christophe/Fabrice Semana-Subaru Impreza clocked 1h55'02.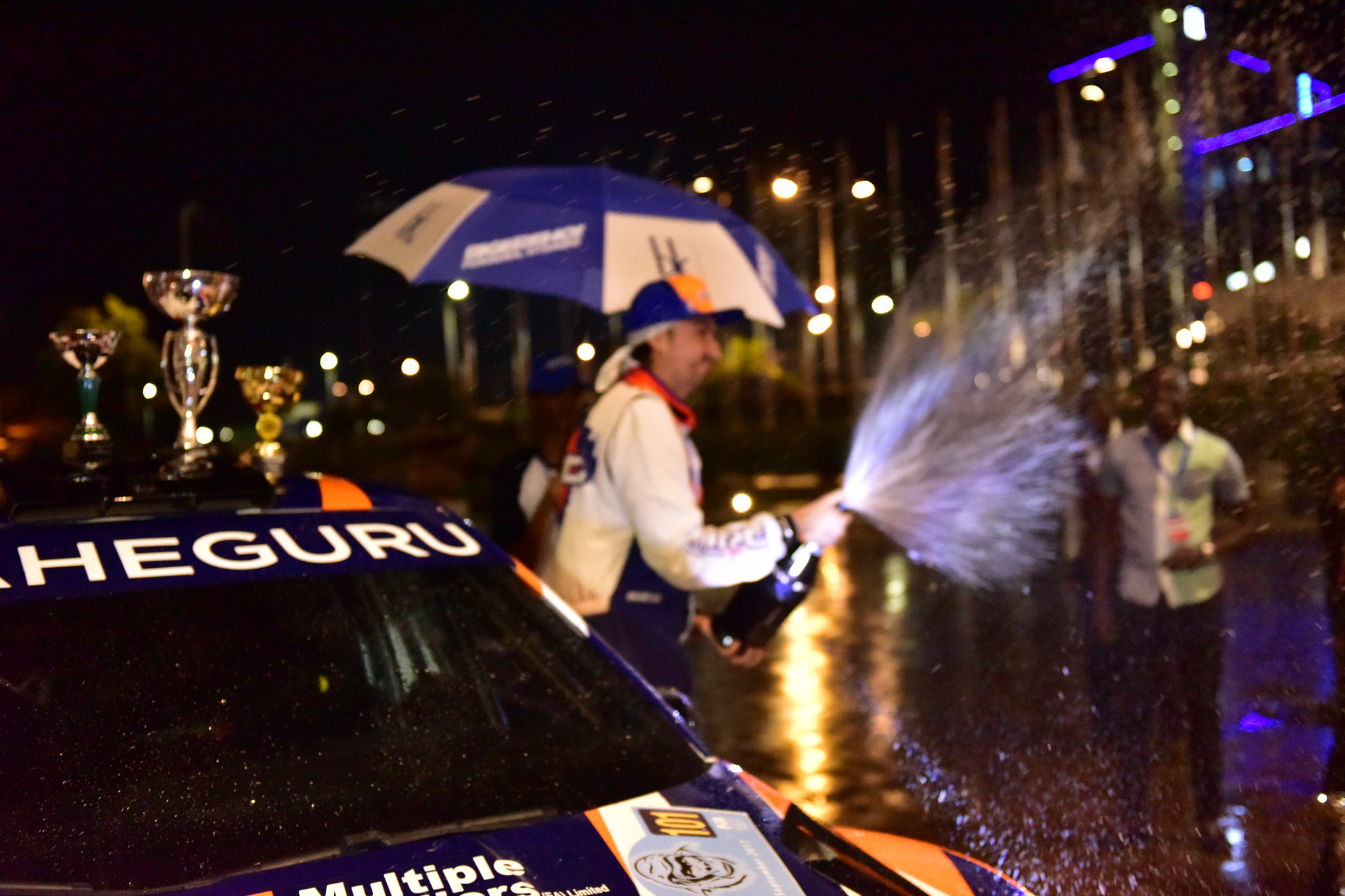 The Rwandan duo Jean Claude Gakwaya and Jean Claude Mugabo failed to finish the final debut race when their Subaru Impreza crashed.
Rwanda Mountain Gorilla Rally is organized by the Rwanda Automobile Club as a National Rally Championship and also the sixth round on the African Rally Championship calendar.
This year's edition attracted 19 drivers from different countries including; Rwanda, Kenya, Uganda Zambia and Burundi, and it has a number of corporate sponsors such as Bank of Kigali, Akagera Aviation, Akagera Business Group, Radisson Blu, Ministry of Sports and Culture.
This year's racing challenge in the two stages started from Kigali Convention Centre to the dusty routes of Rugende in the morning before returning to Kigali for the Super Stage at Amahoro National Stadium in the afternoon.
Action resumed on Saturday in Bugesera with crews racing through competitive stages including; Nyamizi – Gashora (19.69kms), Gaharwa – Nemba (11.56kms), Gako-Gasenyi (14.41kms) and Gasenyi-Nemba (22.22kms).