Planning your itinerary for Rwanda trip may be quite an experience nowadays because there is a variety to choose from.
However, an interesting hideout away from prying eyes and yet in a jogging distance from Kigali city centre has become a much sought after souvenir- the 'Discover Rwanda Youth Hostel'.
This hostel is located in Kimihurura, a suburb hosting high end bars, restaurants, government institutions, embassies and classy residential facilities.
The stone road leading to the hostel gives a medieval feeling. People jogging and others walking their pets is a common sight. Almost all buildings are surrounded by perimeter walls and so is this hostel at the extreme end of the stone road.
Inside the hostel compound, all your senses are turned on, you start to breath in fresh air from the gardens as the birds sing in the trees.
At the reception, there is an open space where coffee, lunch buffets, snacks and juices are served as the guests overlook Rwanda's green hills.
From outside, the building looks small but there is more than meets the eye. The hostel accommodates 45 guests, there is a barbecue, outdoor camping tents and a neat flower garden.
According to Pascaline Uwamahoro, the guest relations officer, one of the challenges is that the hostel has space for a limited number of guests.
"This place is small, we are only able to host 45 guests which is a challenge to us according to the big number of guests we receive. At times there are those who insist to stay and decide to camp," she said.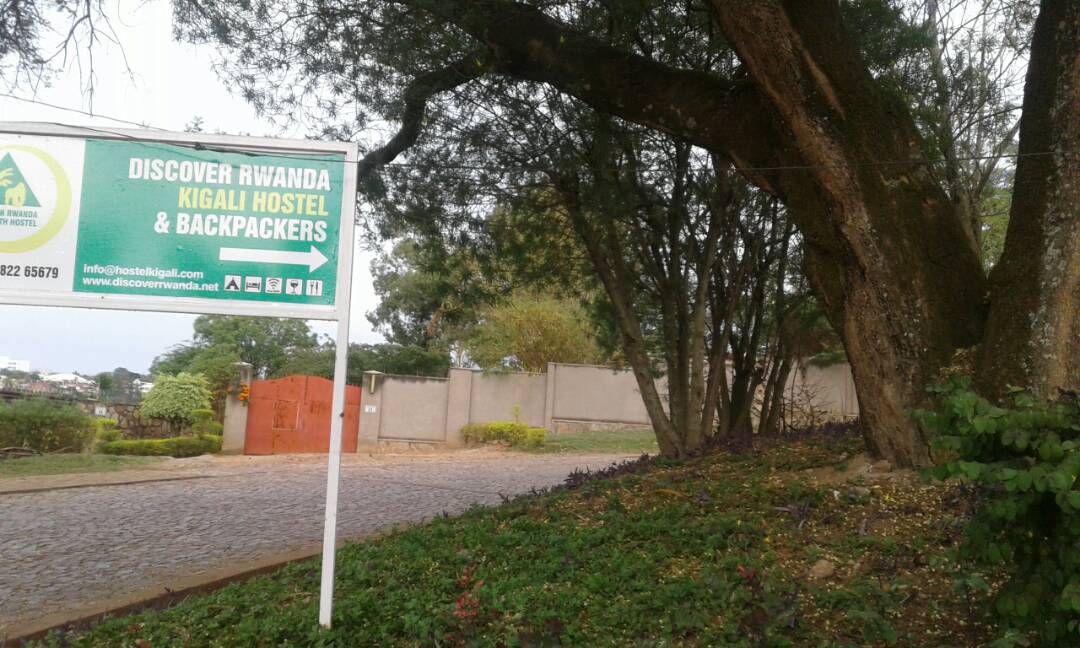 Usually, to be on a safer side; bookings are done three weeks before however, there are those who book even 5 months before so secure their places earlier.
Inside the Hostel
The hostel is the first of its kind in Rwanda-  it comprises of a bar, terrace, private rooms, dormitories, camping, a gift shop and an extra balcony overlooking the flower garden which provides a lovely atmosphere.
Discover Rwanda Youth Hostel is a project initiated to support the work of Aegis Trust – a nongovernmental organization that works to prevent genocide, crimes against humanity and mass atrocities worldwide.
Funds generated from the hostel are used to support survivors of the 1994 genocide against Tutsi.
Consequently being one of the main reasons this place is always packed with guests. Prices range from $16 to $50 per night.
In a conversation with KT Press, some guests feel the hostel is a home far from home.
Daniela Ramos 22 from Mexico who was at the hostel when KT Press visited said that when she was traveling to Rwanda, her family told her to be very careful because they thought it was a dangerous country.
"I remember when I told my family that I was coming here, they told me to be cautious and avoid people,' she said.
However, when Ramos arrived in Rwanda her experience was very different and far beyond her imagination.
"I was here for my first time this year in February from then I came back twice. I love Rwanda and everything about this country," she added.
She  told KT Press that what pushed her to come to Rwanda was to see how the country had transformed after the tragedy of 1994 genocide against Tutsi.
For Ramos, discover Youth Hostel is an ideal home away from home. She wanted to live in an environment that allows her to learn, discover and engage.
"The hostel is an amazing place to stay, a home environment that connects you with different people that you can exchange ideas with," she said.
"This is a fine place to stay. The lobby room gives an experience of a home living room. The hostel has a specialized chef who prepares meals. You can buy local crafts," Ramos said.
"The location is another reason to like the place, it's relatively close to everything, you can walk to the city center or in a taxicab at an affordable price," she added.
Ramos also told KT Press that after finding Rwanda peaceful, she started a business of selling Rwandan handmade baskets in Germany.
"I live in Mexico but I do business in Germany where I export Rwandan baskets for sell and people like the materials so much," she said.
Uwamahoro, the hostel staff  connected Ramos to local basket weavers.
"She has now become my friend and every time I come back they remember my name. It makes me feel a stranger no more and helps us to easily connect. Staying here is living in a family," she emphasized.
Apparently, visitors coming to Rwanda are enjoying living in home environments that are peaceful, quite, fun and more relaxed than luxurious hotels.
Pascaline Uwamahoro, the Guest relations officer said that their visitors are mostly attracted by knowing that their money will be used to support vulnerable people since the hostel is part of a social program for AEGIS Trust.
"Many of our visitors enjoy living here because to them it is a way of donating. they like the home environment that we have established here and also the good services we offer," she said.
Uwamahoro further explained that visitors to the hostel are treated like children in a home, from the moment they enter the hostel until they leave.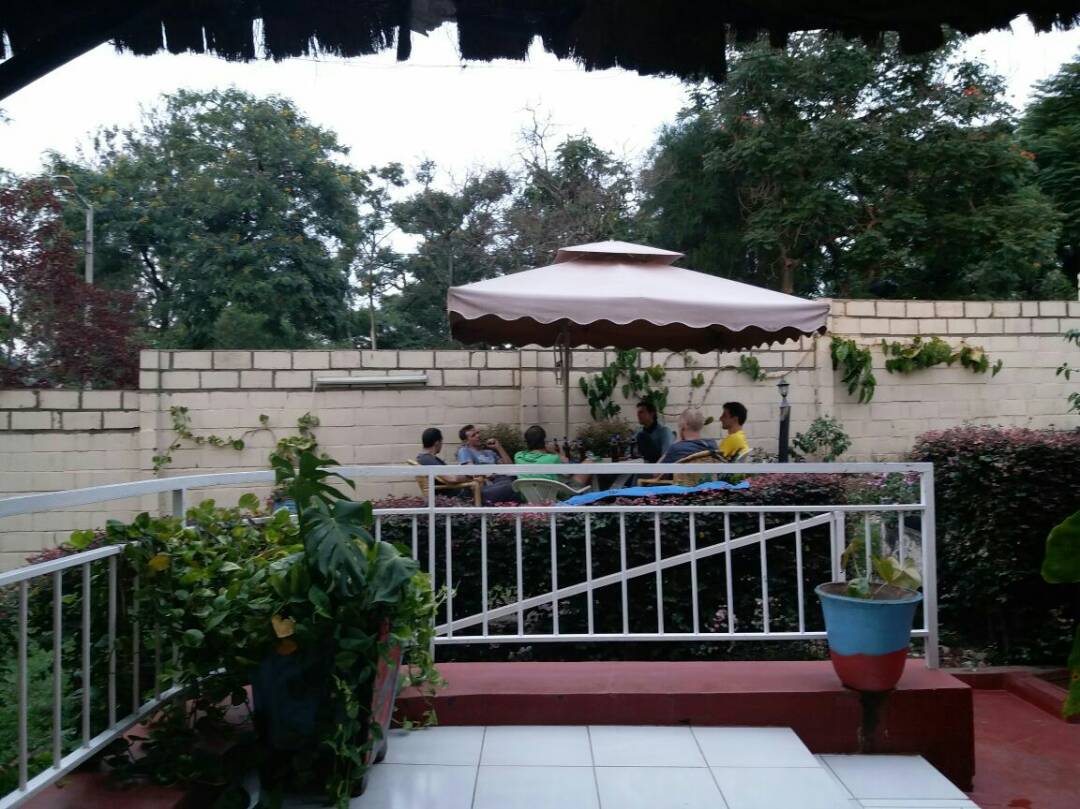 "We try to connect with each at a personal level and also introduce them to each other. We also engage them in local activities like community work (umuganda) which is a favourite to many," she said.
One may think Discover Rwanda is a hostel for Youth only but age doesn't really matter. It all depends on your thinking as Thomas Kullman 58, from Sweden, said in an interview with KT Press.
"I wanted a cheap place, relaxed and also full of life. That's how I got here, I was not terrified by the word Youth because I too thought I was still young," he said in laughter.
Kullman is on a two-month vacation and has been able to visit Discover Rwanda's youth hostel branch in Rubavu.
"Both places are beautiful, the local people are kind and friendly. They make me want to stay," he said adding, Rubavu has been his favorite.
One of his memorable moments is sleeping in the dormitory which he finds so cool and fun.
"I sleep in a dorm of 6 people and surprisingly, I find the whole world around me because of meeting people from different countries," he said.
Kigali Memorial's Discover Rwanda Youth Hostel was recognized by world's TripAdvisor as one of the best places to be in Rwanda.