Gen. James Kabarebe, Rwanda's Defence Minister has told the RPF youth league that they have role models to emulate in the struggle to take the country to the next level.
Men and women who fought during the liberation struggle 30 years ago will serve a good example for Rwandan next generations.
Gen Kabarebe said, had it not been a determined youth who made 99% of Rwanda Patriotic Front (RPF) Inkotanyi force, the struggle would not have been a success,
"There were a lot of challenges that could have distracted us from the cause, including death of our senior commanders, but we remained focused because of proper ideological orientation of RPF," Minister Kabarebe told party youth league members during celebrations to mark 30 years of RPF in Kigali this Sunday.
Gen Kabarebe who was young during the struggle, shared an encouraging message to the youth, saying: "When the liberation struggle started, I was relatively young, but I had been a soldier for about 5 years."
When the struggle began 30 years ago, Gen Kabarebe told the youth, "We were diverse right from when we joined the struggle and it was not an easy task to inculcate in us the values of RPF which we still espouse today."
He said, it was only possible because of leadership of RPF Chairman President Paul Kagame at the helm.
Gen Kabarebe said that what they did during liberation struggle was a noble call that should characterise today's youth.
He said there is hope that Rwanda has a determined youth to take it to the next level.
"I have conviction that we have a mobilised and motivated youth. They are as mobilised as those of the 90s only that what is demanded of them is different. What is most important is sustaining discipline," he said.
For Gen Kabarebe, the youth need to understand the role the country wants them to play in a post-Genocide Rwanda.
To go about this, he encouraged them to "be able to step in the shoes of RPF chairman President Paul Kagame."
According to Kabarebe, the most important tool for the youth to overcome today's challenges is a good ideological orientation.
They should also draw strength from challenges of the day as it has always been the case in RPF.
As a matter of example, he said; "We lost more fighters during the Genocide than we had in the entire struggle of nearly four years."
"What kept us going was the distinction of individuals from the cause at hand. We had to remain focused on our objective no matter what challenges we met."
One of the key slogans that shaped the persistence of RPF fighters was its encouraging anthem.
"It was first sung by a young man who joined the struggle from Kibungo. Unfortunately he later died on the front but the song became popular across RPA units," Gen Kabarebe told an attentively listening youth.
New Struggle New Fighters
Gen Kabarebe hailed the role of youth in rebuilding the current Rwanda that has started from scratch to a vibrant nation with an annual economic growth of 8% for the last two decades.
"Before 1994, there was no nation of Rwanda and we are proud to have one now as RPF celebrates 30 years," Minister Kabarebe said.
One of the panellists, Alain Ndagijimana who is a successful entrepreneur said that: "As the youth today, we have a lot of opportunities that we can exploit. My success as youth entrepreneur is built on the environment in which I operate: A country with a supportive leadership."
Assoumpta Uwamariya – an entrepreneur who brews wine from beetroot, said her entrepreneurial spirit is drawn from RPF Chairman President Paul Kagame.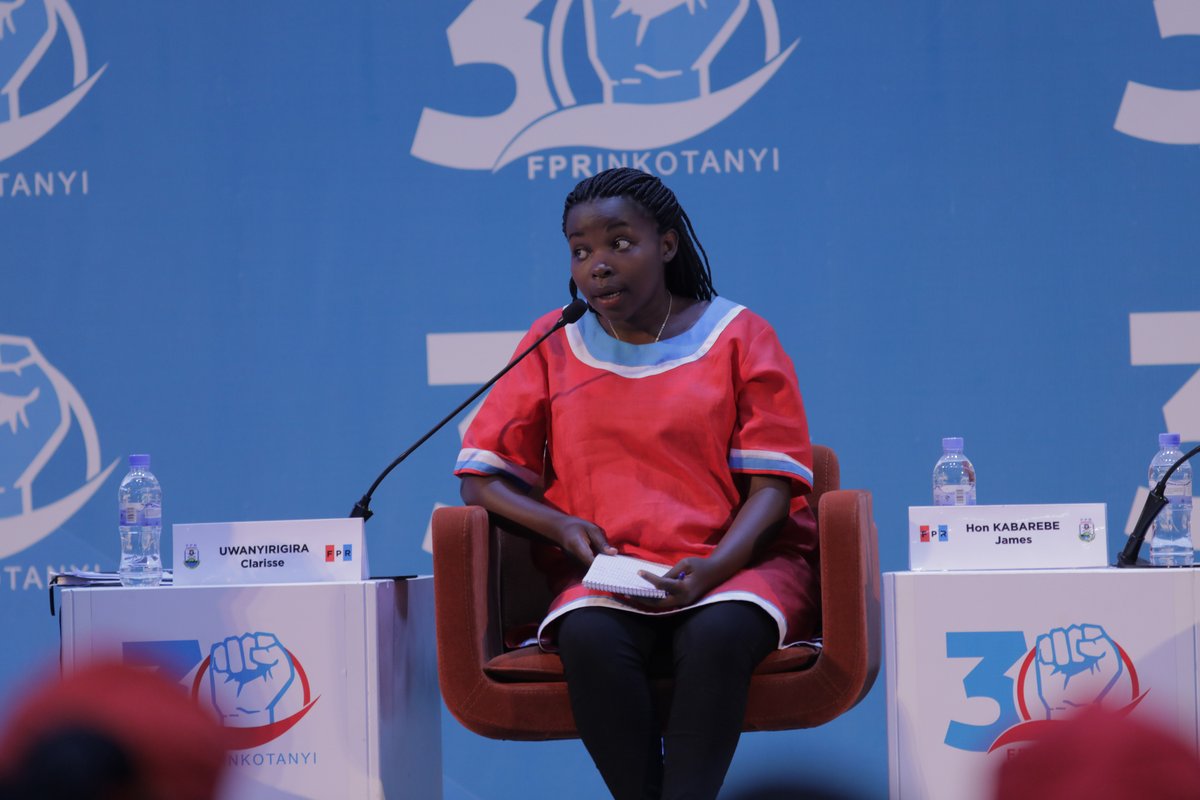 During celebrations today, RPF youth league members were challenged to fight drugs – one of the current pressing issues affecting the youth.
"To overcome drugs among the youth, the password is espousing the values on which the RPF is built. An Inkotanyi is always focused," said Youth Minister, Rosemary Mbabazi.
RPF members delivered success stories that serve as examples of today's entrepreneurial environment.
The RPF Youth League took place at party headquarters in Gasabo district. It was also attended by youth delegates from ruling parties across Africa including; Ethiopia, Djibouti, Tanzania; Congo Brazzaville and Angola.