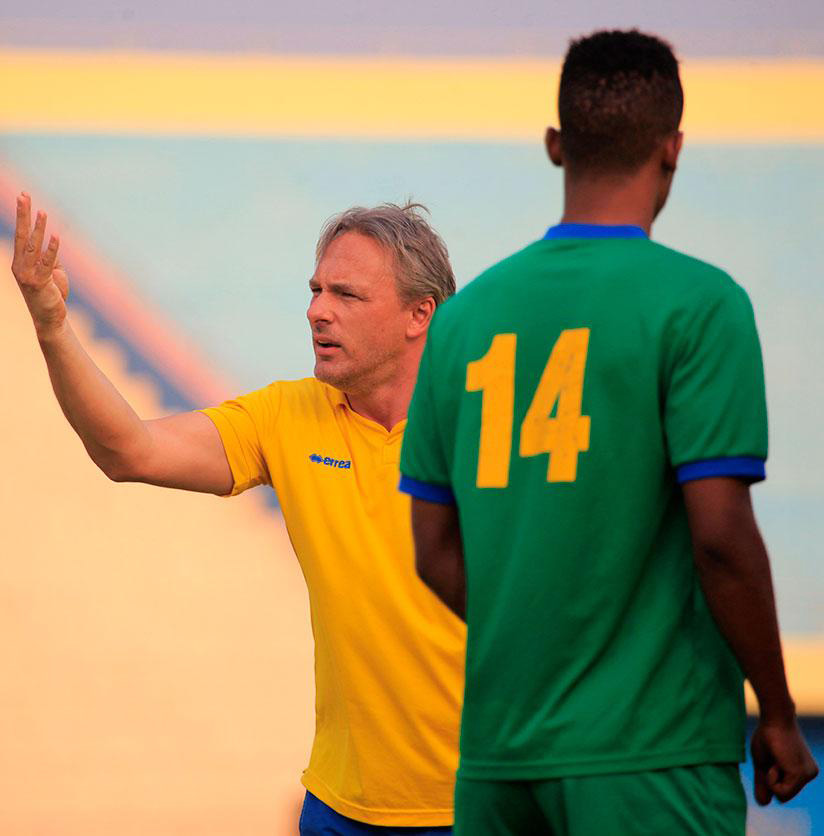 Rwanda national team head coach Antoine Hey believes has stated that his side will be eyeing good performances at the 2017 CECAFA Senior Challenge Cup.
Speaking to media on Sunday after the Amavubi team's first training session at Amahoro Stadium, coach Hey said, "We started preparations for Cecafa tournament today. We have included a new faces in the squad, all other players have been with us a while now, they have done extremely well in the last couple of months and now they have a chance to show that they want to be part of the CHAN team that is playing in Morocco in January. It's a fair chance for these players to prove that they deserve to be in the team that is going to Morocco.
"All in all, we have a very young team, very young players and all of them are playing in the local league, it gives them the opportunity now in Kenya to gain experience and show what they are capable of and to show that they are an option when it comes to the selection of the CHAN squad,"
He further added, "We have guest teams in Zimbabwe and Libya and this will make the tournament very interesting tournament and very competitive. Our plan is to get a very good and convincing result in Kenya and let players gain confidence ahead of the CHAN finals in Morocco in January.
"Since we have the CHAN finals coming up and being the second largest tournament in Africa and will be broadcasted in many parts of the world, this is the time for Rwanda national team to show what they are capable of and because we want to have a team that is ready to compete away from home in Morocco against countries like Nigeria or Libya and get a good result which makes everyone proud, we have to start preparing these players very early,"
"However, this doesn't mean that we are not taking the CECAFA tournament not serious. Ofcourse we do and we want to get a good result but it's also a sign that we trust this group of players that we have and believe in them and we think, they can give us a good result, a feat which will give us the confident boost of going to CHAN. It's also an opportunity for these young players to gain experience and to show us that they deserve to be in the CHAN squad. Apart from these, we have played against Tanzania, Uganda, Sudan and Ethiopia and besides the Uganda match away from home, our players did extremely well against these teams and they are the same crop of players going to Kenya, we trust and believe in them," added Antoine.
The Amavubi team begun preparations for CECAFA Challenge Cup on Sunday with eight players from Rayon Sports (7) and one from SC Kiyovu while the rest are expected to join camp after the climax of the Azam Rwanda Premier League's match day eight fixtures.
Rwanda face Harambee stars of Kenya, Kilimanjaro Stars of Tanzania, the Zanzibar Heroes and guest team the Mediterranean Knights of Libya, who are also preparing for the 2018 CHAN finals in Morocco.
The Amavubi Stars will kick off their CECAFA campaign against the hosts Kenya on December 3rd. They will then face off with Tanzania, Zanzibar and the Mediterranean Knights of Libya in the subsequent Group A fixtures.
Rwanda has won the regional tournament once in 1999 after beating 3-1 Kenya in the final at Amahoro National Stadium. In 2015, they lost the final to eventual 14-time winners Uganda in the tournament held in Ethiopia.
Rwanda full 23-man squad
Goalkeepers: Kimenyi Yves (APR Fc), Nzarora Marcel (Police Fc) and Eric Ndayishimiye (Rayon Sports Fc)
Defenders: Rugwiro Herve (APR Fc), Omborenga Fitina (APR Fc), Imanishimwe Emmanuel (APR Fc), Manzi Thierry (Rayon Sports), Usengimana Faustin (Rayon Sports), Rutanga Eric (Rayon Sports), Kayumba Soter (AS Kigali), Iradukunda Eric (AS Kigali) and Mbogo Ally (SC Kiyovu).
Midfielders: Bizimana Djihad (APR Fc), Hakizimana Muhadjiri (APR Fc), Nshimiyimana Amran (APR Fc), Mukunzi Yannick (Rayon Sports), Manishimwe Djabel (Rayon Sports), Niyonzima Ally (AS Kigali) and Niyonzima Olivier (Rayon Sports).
Forwards: Nshuti Innocent (APR Fc), Sekamana Maxime (APR Fc), Mico Justin (Police Fc), Biramahire Abeddy (Police Fc).